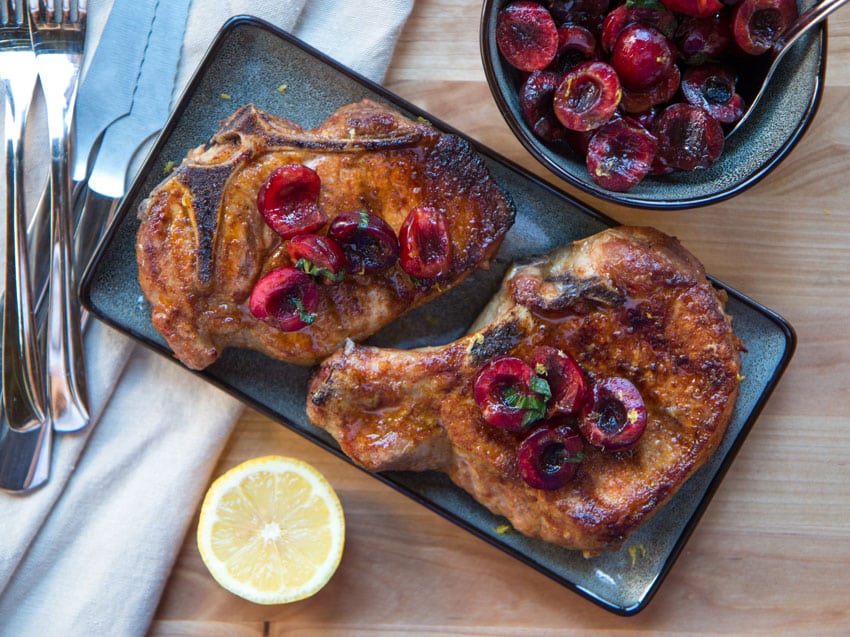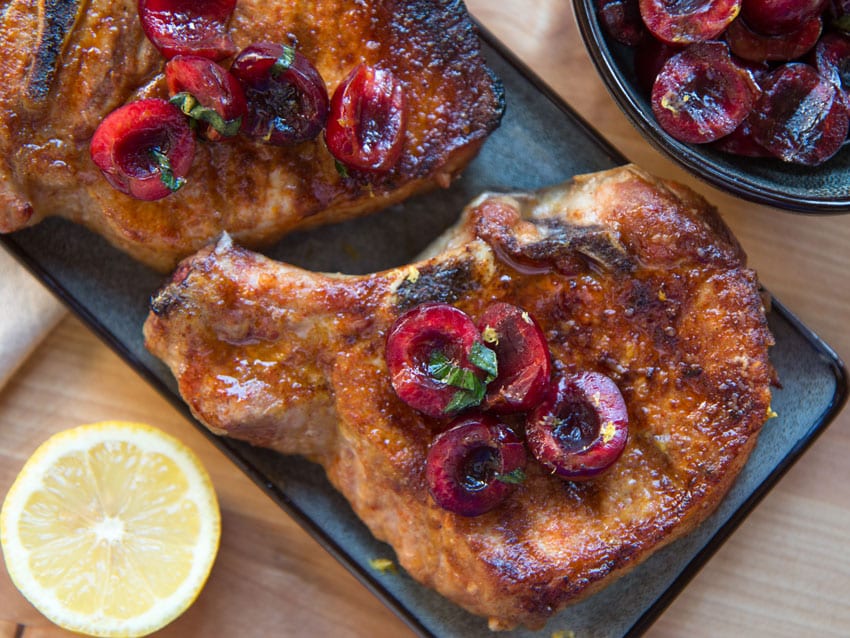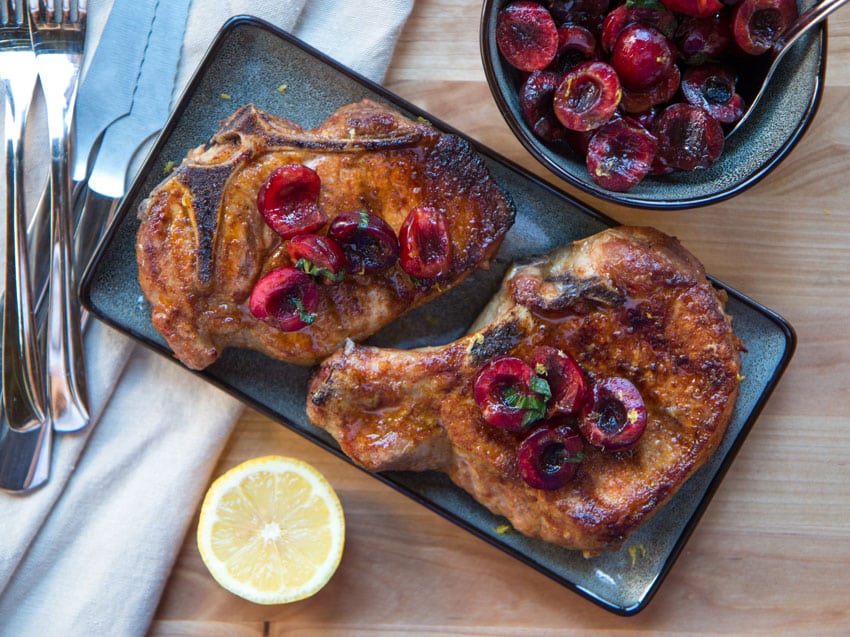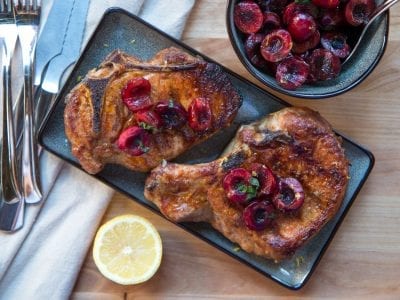 Grilled & Glazed Pork Chops with Cherry Relish
Grilled pork chops with fresh cherry relish.

Print
Ingredients
For the pork chops:
2

bone-in pork chops

like Porterhouse or Ribeye pork chops, about 1.5 inches thick

1.5

teaspoons

smoked paprika

1.5

teaspoons

ground cumin

Kosher salt
For the spicy orange glaze:
1

cup

orange juice

2

tablespoons

honey

¼

teaspoon

cayenne pepper

1

inch

piece of fresh ginger

sliced into 3 pieces

¼

teaspoon

kosher salt
For the cherry relish:
2/3

cups

fresh cherries

pitted & sliced in half

2

teaspoons

fresh mint

finely sliced

1

teaspoon

extra virgin olive oil

Zest of half a lemon

2

teaspoons

fresh lemon juice

¼

teaspoon

kosher salt
Instructions
For the pork chops, make the spice rub by combining the smoked paprika and cumin in a small bowl, mix well. Season the pork chops with ¼ teaspoon of salt and generous pinch of spice rub on each side. Let sit at room temperature for 20 minutes.

Meanwhile, make the orange glaze by adding the orange juice and remaining glaze ingredients to a small pot. Bring to a simmer and cook for 20 minutes or until the juice has reduced by just over half and the mixture has thickened up to a loose sauce consistency. Remove from heat and set aside.

Pre-heat one side of your grill to high and the other side to medium heat for 10 minutes. Sear the pork chops on the high heat side of the grill for 3-5 minutes, or until nice grill marks appear. Flip and repeat on the second side. Move the pork chops to the cooler side of the grill and allow to cook for 5 minutes. Flip the pork chops and brush some of the glaze on the top side of the pork. Cook for 3 minutes and then flip the chops and brush more glaze on the other side. Cook another 2 minutes and then use a probe thermometer to check doneness. The pork chops are ready when the internal temperature is 145 degrees F. The National Pork Board recommends to cook pork chops, loin roasts, and pork tenderloin to an internal temperature between 145 F and 160 F , followed by a three minute rest. Remove pork chops from grill, brush over a little more glaze, and rest the chops for 3 minutes.

While the pork chops are resting, make the cherry relish by combining all of the ingredients in a small bowl, mix well. Check for seasoning, you may need a little more lemon juice to make the flavors pop. If making ahead of time, don't add salt until right before you serve it otherwise it will make the cherries watery.

Serve the pork chops with extra glaze on the side and spoon some of the cherry relish right over the top of the chops. Enjoy!