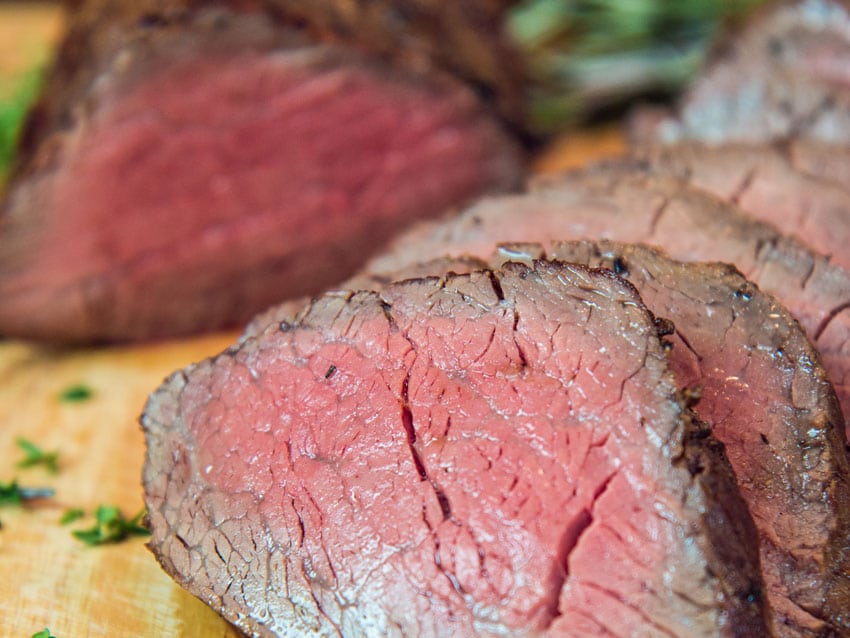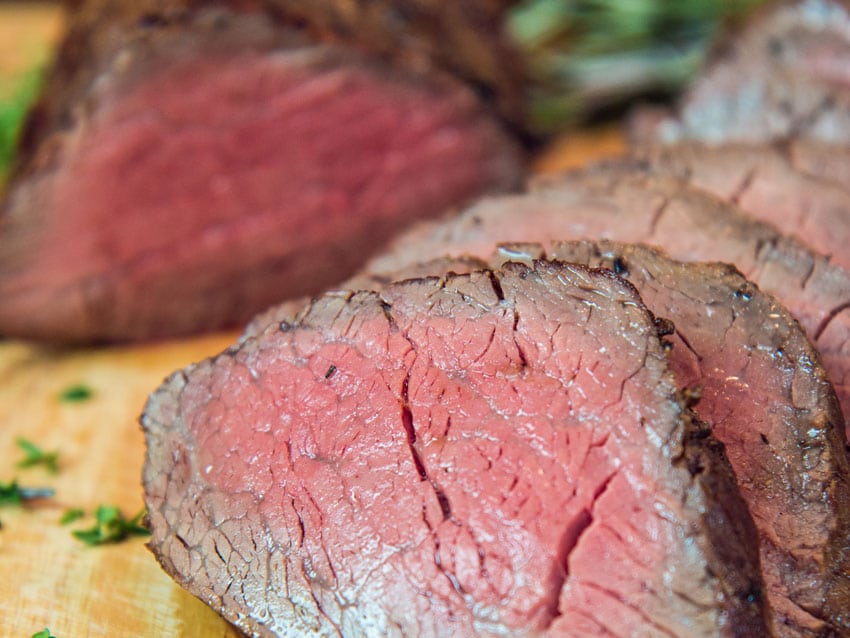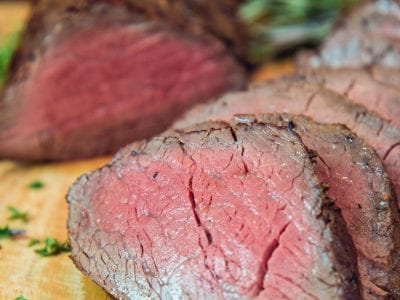 Beef Tenderloin Roast with Red Wine Sauce
Print
Ingredients
For the beef:
3

pound

beef tenderloin

1/4

cup

each of fresh rosemary & thyme

finely chopped

5

cloves

of garlic

smashed into a paste

Kosher salt

Freshly cracked pepper

Avocado or grapeseed oil
For the red wine sauce:
1

tablespoon

shallots finely minced

1/4

teaspoon

fresh thyme

finely chopped

1/2

cup

red wine

1.5

low sodium beef stock

Unsalted butter

1

tablespoon

all-purpose flour
Instructions
Pre-heat oven to 375 F. Use butchers twine to secure the tenderloin tightly, Rub some veggie oil all over and follow that with the garlic paste(watch the video below @ 1:20 mark). Season the tenderloin all over with a GENEROUS amount of salt and some pepper and follow that with the rosemary and thyme. Let the meat come up to room temperature for 1 hour, insert a probe thermometer in the deepest part of the meat, then roast on a sheet pan in the oven until the internal temperature hit 125 F for medium rare, about 35 minutes.

While the meat is cooking, make the red wine sauce by melting 1 tablespoon of unsalted butter in a medium size sauce pan. Add the shallots, thyme, and a small pinch of salt and pepper. Cook for 5 minutes then add the wine. Cook until the wine has reduced by half then add the beef stock. Cook until that has reduced by half and add a tiny pinch of salt. Mash 1 tablespoon of unsalted butter with the flour and add it to the sauce. Whisk for 5 minutes until the sauce thickens to desired consistency, if needed, you can add a little more butter mashed with flour. Strain the sauce so its smooth and reserve for later.

When the meat is done, pre-heat a large cast iron pan over medium-high heat with 1 tablespoon of veggie oil. Sear the roast for 2 minutes on all sides until nice and crusty. Rest the meat for 15 minutes then slice and serve with the sauce.