This prime rib roast recipe is a holiday show stopper and such an easy recipe for prime rib. One of the most popular recipes on my site!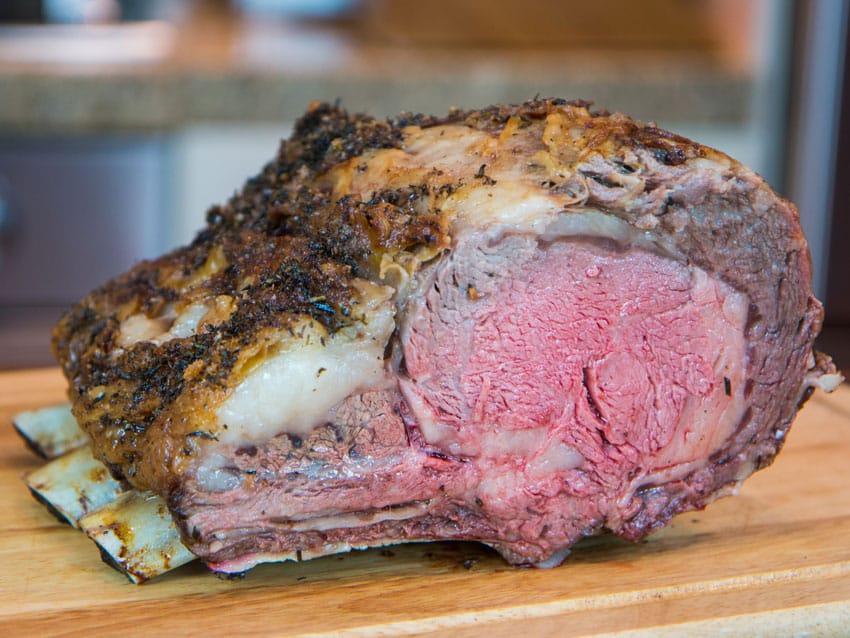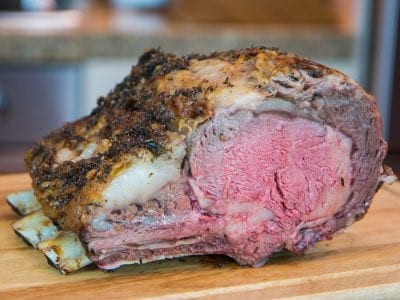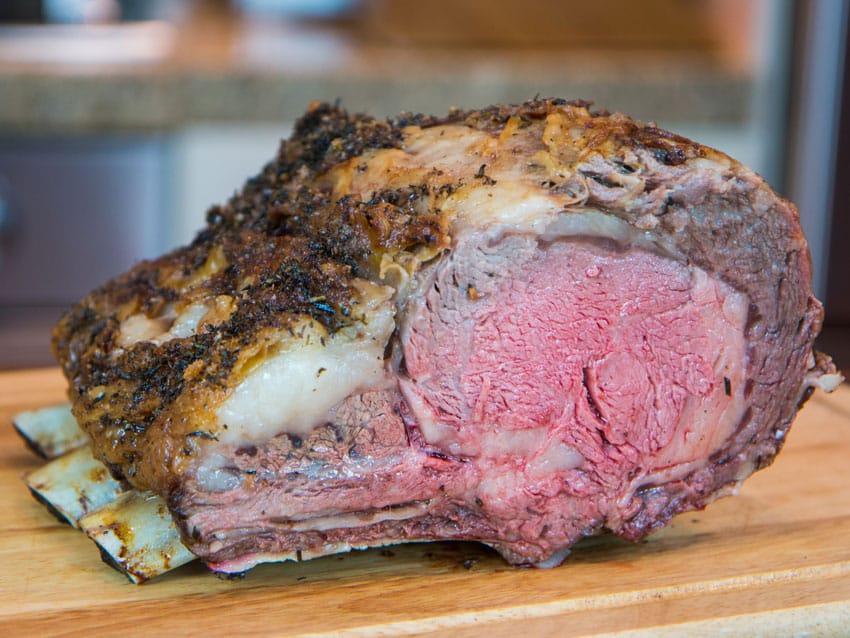 Herb Crusted Prime Rib Roast
Print
Ingredients
8

pound

bone-in prime rib roast

¼

cup

each of fresh rosemary & thyme

finely chopped

8

garlic cloves

Kosher salt

Freshly cracked pepper

Vegetable oil
Horseradish butter:
1

stick unsalted butter

room temperature

2

tablespoons

freshly grated horseradish

use a microplane zester

1

lemon

zest

1

clove

of grated garlic

1

teaspoon

each of fresh thyme & Italian parsley

finely chopped

¼

teaspoon

kosher salt

Couple cracks of fresh pepper
Instructions
Rub the prime rib all over with some veggie oil. Season both sides of the meat with an aggressive amount of salt, including the end caps. You want a generous amount all over so it helps form a crust while cooking. Continue seasoning with some pepper(not as much as the salt), and a good amount of fresh herbs all over the meat. Use a knife to cut slits of the top side(fat side) of the meat. Make the cuts just big enough to stuff the garlic cloves all around. Ideally, let the roast marinate uncovered overnight in the fridge. This will help infuse lots of flavor and help form a great crust. Alternatively, you could let the roast come up to room temperature for 1-1.5 hours with the seasoning on before you cook it.

Pre-heat oven to 325 F and setup the oven rack so the roast will sit on the bottom rack. Put the prime rib on a roasting rack in a pan. Insert a probe thermometer in the deepest part of the meat(don't touch the bones), and roast in the oven for 2.5 hours, or until the internal temperature reaches 130 F(120 F for medium rare). You may need to add 1 cup of water to the bottom of the roasting pan if the fat starts to smoke.

While the meat is cooking, make the butter by adding all the ingredients to a bowl and mix well. Butter can be made ahead of time and stored in the fridge for 1 week.

When the meat reaches 130 F, take it out of the oven and loosely cover it with tin foil. Let rest for 30-60 minutes so the juices can re-distribute. Slice the meat, top it with the butter and enjoy!