Healthy Breakfast Meal Prep
This healthy breakfast meal prep recipe features an easy veggie frittata with my wife's famous quinoa power muffins. It's meal prep for breakfast you guys gotta try!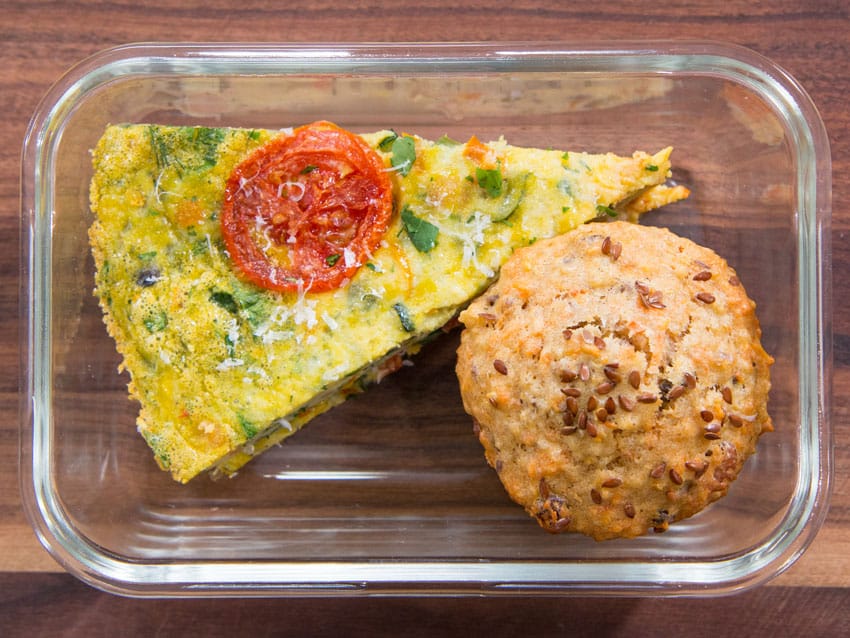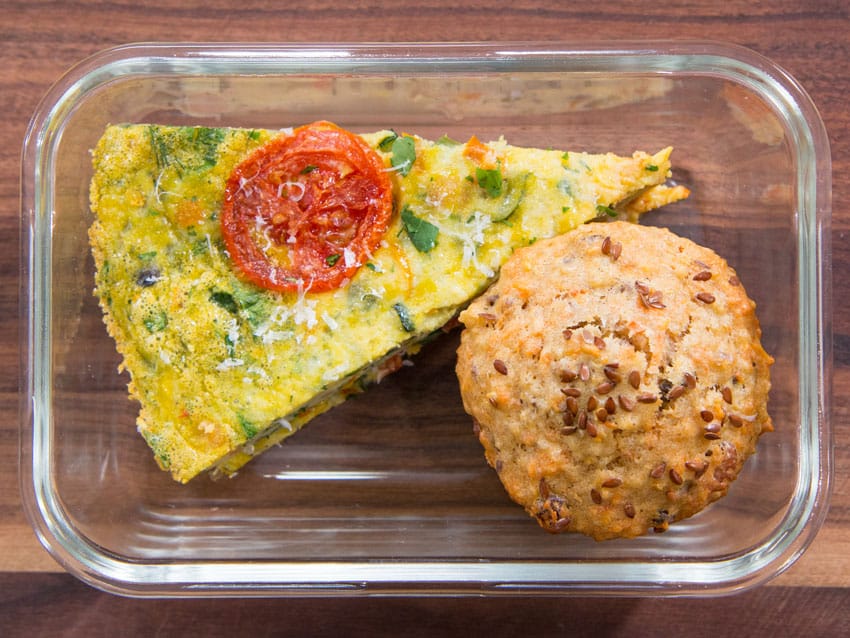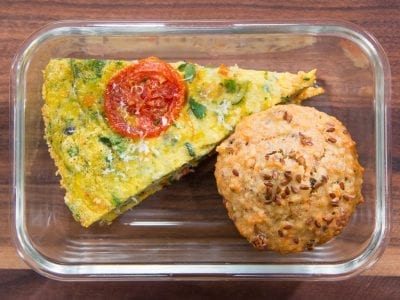 quinoa muffin Breakfast Meal Prep
Print
Ingredients
For the quinoa muffins:
Dry ingredients:

1

cup

of all-purpose flour

¼

cup

plus 2 tablespoons light brown sugar

½

teaspoon

baking powder

½

teaspoon

salt

1

cup

cooked white quinoa

that's about 1/2 cup raw quinoa

½

cup

grated carrots

about 2 medium size carrots

1/3

cup

raisins

1/3

cup

pecans or walnuts

chopped & toasted(optional)

½

tablespoon

flax seeds

plus a little extra for garnish
Wet ingredients:
1

egg

lightly beaten

1

teaspoon

vanilla extract

3

tablespoons

coconut oil or veggie oil

½

cup

greek yogurt

nonfat

½

teaspoon

baking soda
For the frittata:
12

eggs

½

a red onion

diced

1

orange pepper

diced

1

medium size zucchini

diced

½

cup

canned unsalted chickpeas

drained & rinsed

1

tablespoon

each of freshly chopped dill & Italian flat leaf parsley

2

tablespoons

of finely grated pecorino romano or parmesan cheese

Homemade sun dried tomatoes

recipe below(optional)

Olive oil

Kosher salt

Freshly cracked pepper
For the bulletproof coffee:
1

cup

hot brewed coffee

1/2

tablespoon

of ghee/clarified butter

recipe below, or unsalted grass-fed butter

1/2

tablespoon

coconut oil
Instructions
Cook's Notes:

To save money, you can buy the flax seeds in the bulk section of whole foods or your local grocery store, because you only need a small amount.

To make the quinoa, bring just over 1 cup cups of water to a boil in a pot and add 1/4 teaspoon of salt. Add the quinoa, mix well, and reduce to a simmer. Cook for 20 minutes with the lid off the pot, you may need to add a splash more water at the end if the quinoa is not thoroughly cooked. Turn the heat off, fluff the quinoa with a large fork, and let it cool down to room temperature.

To make the homemade sun dried tomatoes, preheat oven to 300 degrees F. Cut two plum or roma tomatoes in ¼ inch thick round slices and toss with a slash of olive oil, and a small pinch of salt, pepper, and sugar. Place on a tin foil lined sheet tray and bake for 45 minutes, or until the tomatoes look like they have wilted by half their size. Remove from oven and carefully use a spatula to remove tomatoes off the tin foil, set aside.

To make homemade ghee/clarified butter: https://www.flavcity.com/clarified-butter

BEGIN COOKING:

To make the quinoa muffins, preheat oven to 350 degrees F. In a large bowl, add the flour and next 3 ingredients, mix well. Measure 1 cup of cooked quinoa and at that to the bowl along with the remaining dry ingredients, mix very well so everything is equally coated in flour, set aside.

In another large bowl, lightly beat the egg and add the next 3 ingredients. Add the baking soda and mix well for 30 seconds. The mixture will bubble and grow as the soda reacts with the yogurt. Add the wet ingredients on top of the dry ingredients and mix until everything is thoroughly combined, about 20-30 seconds.

If your muffin tin is not non-stick, spray it with non-stick spray and dust a little bit of flour inside. Scoop enough batter to make 6 muffins, filling the tins all the way to the top. Bake in the oven for 25-30 minutes, you will know they are ready when a toothpick inserted in the middle of the muffin comes out clean. Set aside.

For the frittata, preheat oven to 400 degrees F and preheat a large non-stick pan over medium heat with 1 tablespoon of olive oil for 2 minutes. Add the onions and next two ingredients along with ¾ teaspoon salt and a few cracks of pepper. Cook for 10 minutes, stirring a few times. Meanwhile, add 12 cracked eggs to a large bowl along with the chopped herbs, ½ teaspoon salt, and a couple cracks of pepper. Whisk vigorously for 30 seconds until the mixture is light and frothy. After 10 minutes, add the chickpeas to the pan along with the egg mixture. Use a rubber/silicon spatula to constantly stir the mixture while you cook it for 3-5 minutes. The goal is to prevent any chunky egg curds from forming, so you need to constantly stir, turn the heat down a little if the eggs are cooking too fast. After about 5 minutes, when the mixture has just come together a bit, but still looks very loose, kill the heat and add the grated cheese on the top of the frittata along with the slices of sun dried tomatoes. Place in the oven for 7-8 minutes, or just until set in the middle. You will know it's done when the center doesn't jiggle when the pan is shaken and the center feels firm. Remove from oven and set aside.

For the bulletproof coffee, add all ingredients to a blender and carefully blend everything on high for 60 seconds. Hold a towel securely over the blender lid to prevent any spillage. Enjoy immediately or take it on the road.

Slice the frittata into wedges and store in the fridge for up to 3 days or in the freezer for 2-3 months. When time to serve, eat cold out of the fridge, room temperature, or warm it up in the microwave or oven. Store the quinoa power muffins in a zip-top bag on the counter for 5 days or put in freezer. Enjoy!
Recipe Notes
Macros not including the coffee:
528 calories per meal
29.2 grams of fat per meal
45.2 gram of carbs per meal
24 grams of protein per meal
4.5 grams of fiber per meal
Macros for the bulletproof coffee:
134 calories & 15 grams of fat per 8 ounce cup of coffee