Winter is coming, and you need to start thinking about seriously tasty comfort food recipes that will keep you warm, which is why I want to share with you my braised lamb shank recipe with cheesy cauliflower mash. Just look at these photos. The lamb shanks scream comfort and the recipe is extremely easy to make. If you are looking for more comfort food recipes, check out my homemade gnocchi with red wine ragu and my Instant pot chicken pot pie.
I am happy to share this post as a collaboration with my buddies over at Austerity Wine and The FeedFeed. Not only do Dessi & I love their wines, but we also love to cook with them! The Pinot Noir adds so much flavor to this braised lamb shank recipe, the ripe red fruit flavors really come through, and when you drink a glass of it with the final dish, it's culinary heaven! You can also use Austerity Cabernet Sauvignon wine for this recipe. Both bottles are around $15 and always on our wine rack. 😉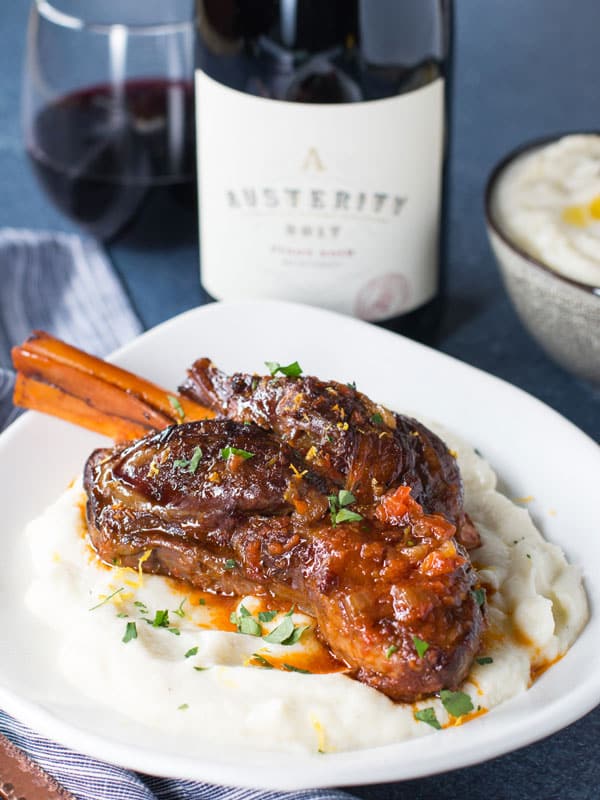 How Do I Cook Braised Lamb Shanks?
To cook lamb shanks you first need to allow them to come to room temperature before searing in a  hot dutch oven pot. Season the lamb shanks with a generous amount of salt and pepper all over and sear until golden and crusty on all sides for about 10 minutes. Don't be tempted to skip this step as it adds incredible flavor. Remove the lamb shanks in from the pot and cook the veggies and fresh herbs for 15 minutes until they really wilt down. Don't rush this process.
Next for the lamb shank recipe. Add some tomato paste and some of the Austerity Pinot Noir to the pot and cook until most of the wine has reduced. Add the lamb shanks back to the pot along with crushed tomatoes and beef stock or water, slap a lid on the pot, and transfer to a 325 degree F oven for 3 hours, flipping the lamb shanks half way.
While the lamb is cooking, you can make the cheesy cauliflower mash – it is a great low carb alternative to mashed potatoes and so easy to make. Just boil the cauliflower and garlic and toss it in the blender with a generous amount of cheese and a big nob of butter. Blend away until smooth and creamy – such a winner of a side dish.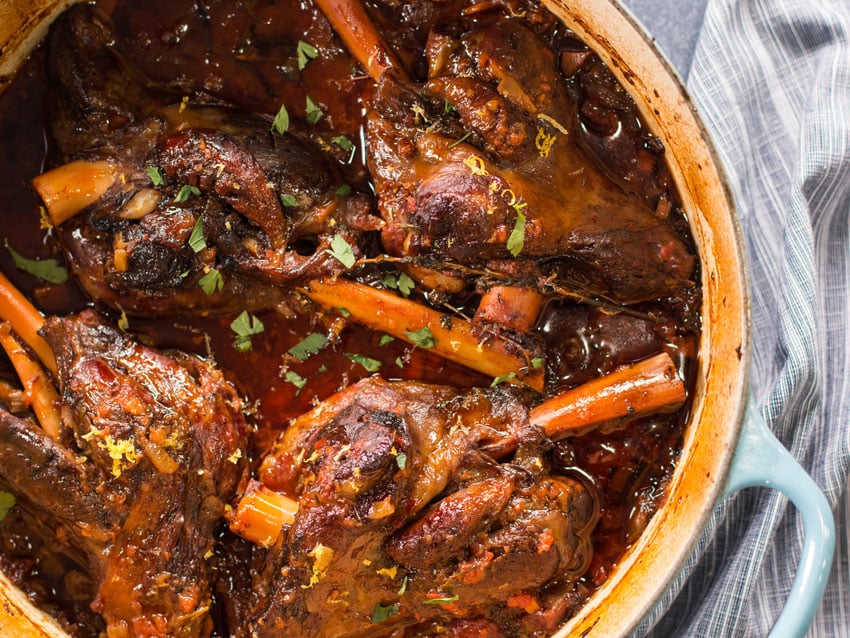 How Do I Cook Lamb Shanks In A Slow Cooker?
To cook lamb shanks in a slow cooker, follow the exact steps listed in this recipe and set the slow cooker on low for 8 hours. You can either brown the lamb shanks and cook the veggie in a separate pan or you can just dump everything in the slow cooker and press go!
Make sure to check out some of my other comfort food recipes: