Now that fall is upon us, I decided to finally buy an Instant Pot and start recipe testing lots of yummy comfort food dishes. Holy cow!  I now see what all the fuss is about regarding The Instant pot. This machine is pure magic. It works so much better than other multi-cookers I have used, and it browned the chicken thighs for this veggie loaded pot pie recipe so beautifully. My old multi-cooker did not brown food that well, but the Instant Pot showed these chicken thighs who's the boss! If you need more fall inspired recipe, check out my post for 3 fall soups and my chili meal prep recipe.
This easy chicken pot pie recipe makes 5 servings of meal prep for the week and is loaded with yummy veggies like sweet potatoes, spinach, and peas. Thanks to the Instant Pot, this homemade pot pie recipe only takes 10 minutes on the pressure cooker high setting. I could not believe how tender the chicken thighs were after just 10 minutes in the Instant Pot. One really cool thing about this Instant Pot recipe is that I did not have to use cornstarch to thicken the chicken pot pie. The sweet potatoes did all the work for me, so that saved some calories and carbs.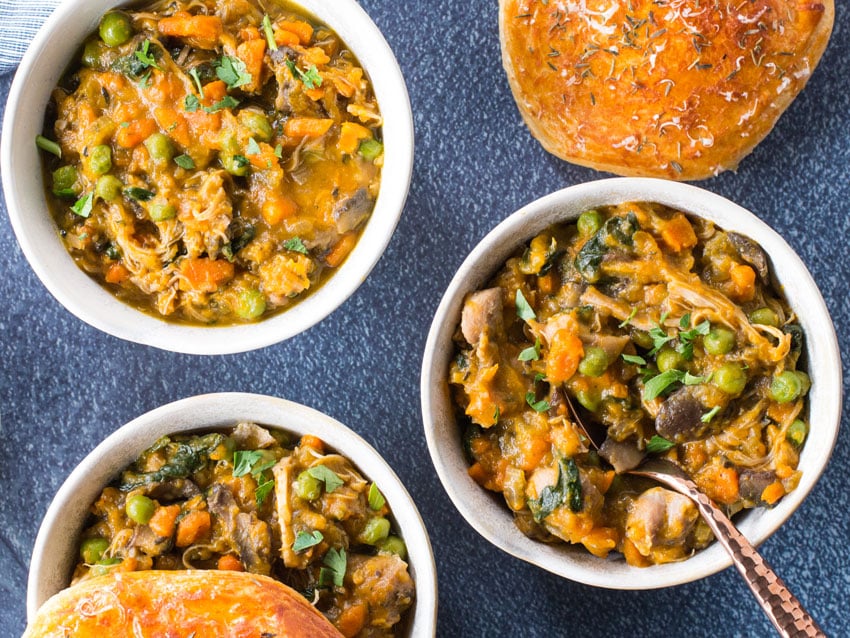 The Best Chicken Pot Pie Recipe
With juicy chicken thighs and lots of yummy winter veggies, this Instant Pot recipe for homemade chicken pot pie is a must if you are looking for healthy comfort food. Please avoid the urge to toss everything in the Instant Pot and press cook. If you take the time to brown the chicken thighs, that will add a lot more flavor to this easy pot pie recipe. The same is true for the veggies, and oh boy, there are lots of veggies in this recipe. Cook them down in the Instant Pot for a good 12 minutes. That will help release their water and make them ever more tasty.
I made this chicken pot pie recipe with boneless and skinless chicken thighs. They have so much more flavor than breasts and will shred so nicely after a 10 minute cook in the instant pot. If you are craving a comforting, easy chicken pot pie recipe, then this recipe has your name written all over it.
Instant Pot Recipes for Chicken
The first step is to thoroughly brown the chicken thighs with the Instant Pot set to the saute more setting. After that step is complete, remove the chicken thighs and add all of the veggies and let those cook down for a good 12 minutes. I like using chicken thighs in the Instant Pot as they will get really tender and fall apart after just 10 minutes of cooking.
After the Instant Pot has been pressure cooking for 10 minutes, allow it to sit for 10 minutes and then safely release the kraken…I mean the pressure. Shred the chicken thighs with a couple of forks and add them back to the pot along with the spinach and frozen peas.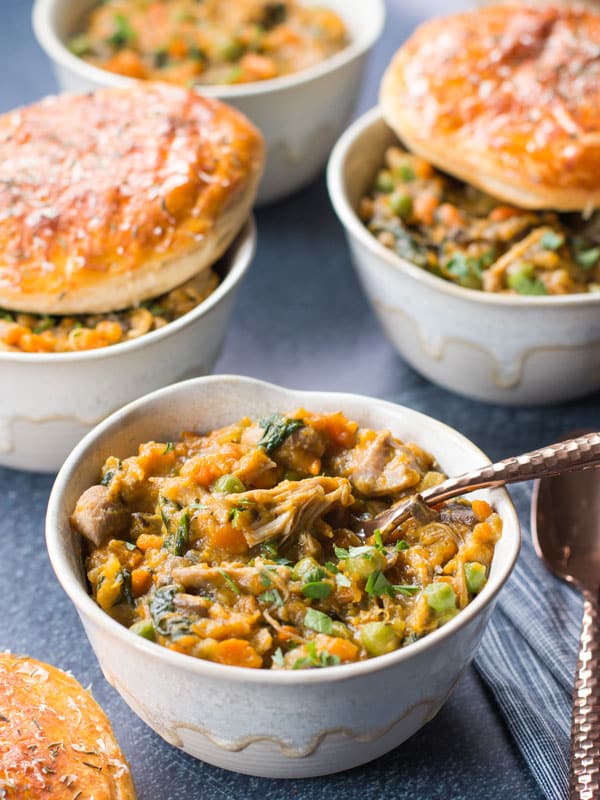 How Many Calories in Chicken Pot Pie
Chicken pot pie has 316 calories without the puff pastry and 456 calories with the pasty. If you are looking for a low carb topping for your chicken pot pie, then use my almond flour biscuit recipe. They only have about 1 gram of carbs per biscuit.
Can I Freeze Chicken Pot Pie
You can freeze chicken pot pie for 2-3 months or store it in the fridge for 5 days. The puff pastry can be stored in a zip-top bag on the counter for 2 days or in the fridge for 5 days. The best way to reheat the chicken mixture is in a hot pan or place a wet paper towel over the container and microwave it, making sure not to overheat it.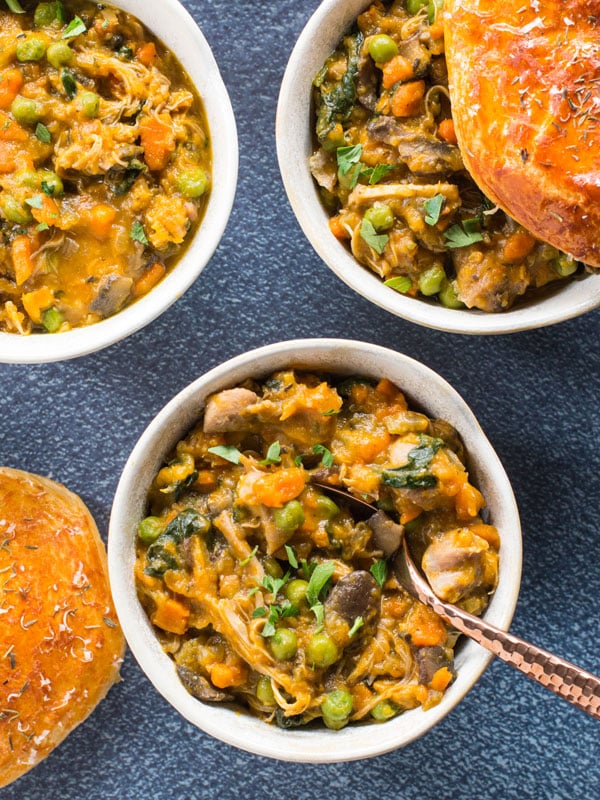 Check out more of my healthy comfort food recipes and meal prep:
Salisbury steak meal prep
Beef enchilada meal prep
Low carb keto gnocchi and pesto sauce
Low carb keto meatloaf and veggies