If you have been digging our low carb recipes lately, like Dessi's keto dessert biscotti and her now famous keto bread, then you are going to love this recipe for low carb gnocchi. Make sure to exactly follow the instructions below. These gnocchi are delicious and incredibly similar to the real thing, but they are very temperamental!
First you need to mix the dough thoroughly using a pastry cutter preferably, and then you need to rest the pasta dough for 20 minutes so the almond flour can get hydrated. Think about this for one second. This keto recipe for gnocchi has no starch or gluten. They are merely held together by almond flour, eggs, and mozzarella cheese, so it's only by Dessi's magic touch that this recipe actually works!
Now I have recipes for low carb pastas using shirataki noodles, like this ramen soup, which by the way is perfect for the fall, and my low carb pesto pasta.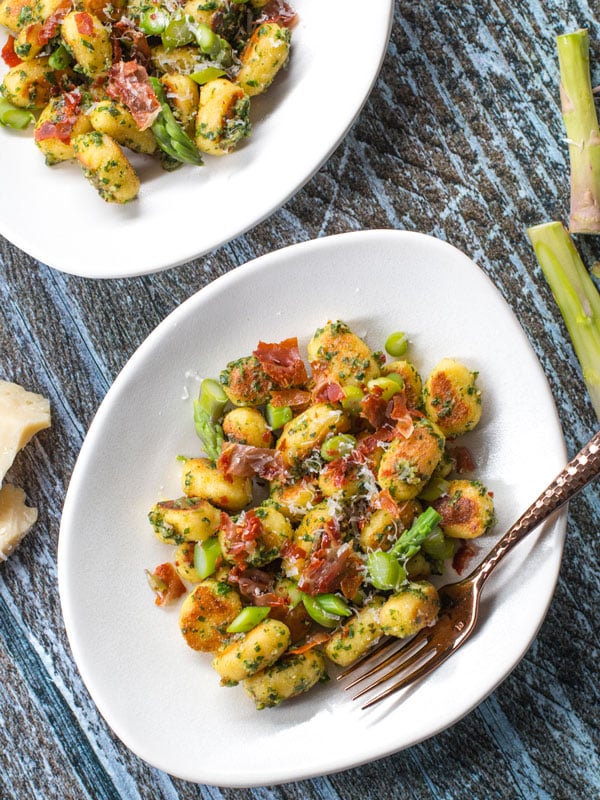 How To Make Homemade Gnocchi
Once the gnocchi dough is rested, follow Dessi's steps in the video on how to cut the pasta dough into four pieces and then roll it out into a sausage shape. I'm telling you this keto pasta dough looks just like the real deal. In fact, I have a ricotta gnocchi recipe I posted the other week, and the dough feels the same. Once you roll and cut this low carb pasta dough into tiny cute little gnocchi pieces, roll each one really tightly in your palm, and then shape them back into a football or gnocchi shape, and stash them in the freezer for 20 minutes. This step is crucial for the keto gnocchi. If you try to boil them right away, they will fall apart in the water. Trust me, I know from experience dude – Billy Madison reference. 😉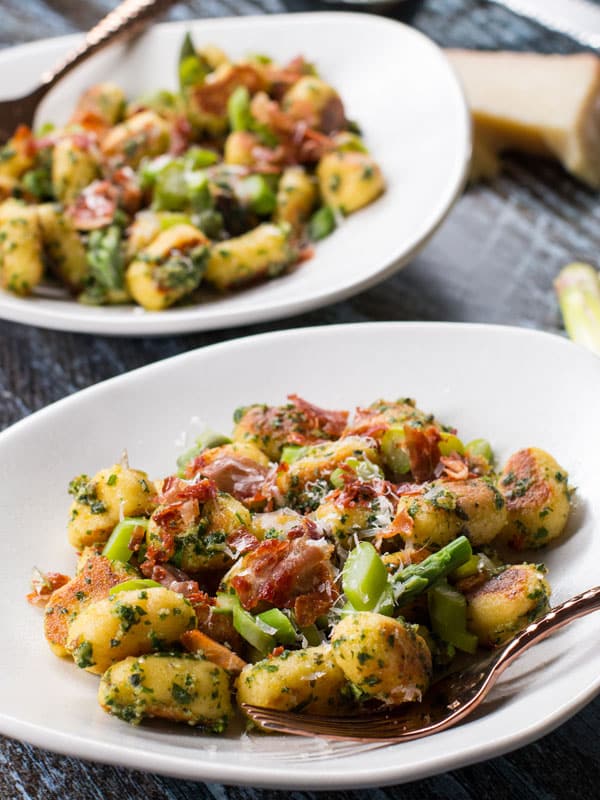 Low Carb Recipe For Pasta
To cook these gnocchi, bring a pot of water to a bare simmer. If you drop these gnocchi in boiling water, they will fall apart. The water has to be a bare simmer and you must only boil these low carb gems for 30 seconds. Oh, and you have to work in batches. If you drop all the gnocchi pasta in the water at one time, they will get mushy and stick together once they are pan seared after. I know, this recipe is a bit of a pain in the…but trust me, it is so worth it!
Once the low carb gnocchi have cooked for 30 seconds, you transfer them to a hot non-stick pan to get nice a crusty on the outside. The crispy edges with creamy soft interior make this keto pasta recipe over the top, and I am telling you, they taste almost like the real thing!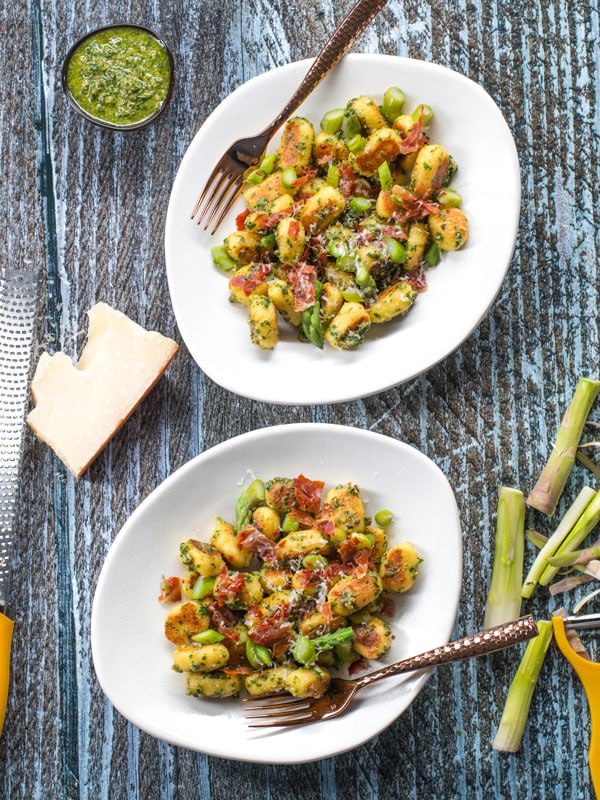 How Do I Make Pesto Sauce
All you need for a tasty pesto sauce recipe is some fresh herbs like parsley and basil, any kind of nuts, and a food processor. Just pulse the herbs, nuts, garlic, lemon, and slowly add some really good extra virgin olive oil while the machine is running. Once the pesto looks well blended and the consistency is loose, add some grated Parmesan cheese, mix one more time, and you are done. For some really good extra virgin olive oil, check out the fresh pressed olive oil club and use my promo link to get one bottle for $1 – no strings attached!
Make sure to check out my other low carb keto comfort food recipes for meal prep: