I always tell people who think they don't like Brussels sprouts that if you try my methods, you will absolutely fall in love. These ain't your mama's boiled to death Brussels sprouts that make the whole house smell like sulfur. These are so crispy and caramelized on the outside, and creamy inside. If you need some recipes to pair with these crispy Brussels sprouts, then try to roast turkey breast or creamy mashed potatoes. Both are perfect for the holidays
I first came across this technique for cooking Brussels sprouts at a restaurant in Manhattan beach LA. They cooked the sprouts like a steak and the result was veggie heaven. I knew I could make this at home and do it for a fraction of the price. All you need is a cast iron pan and some oil and you are ready to make the best Brussels sprouts you will ever taste.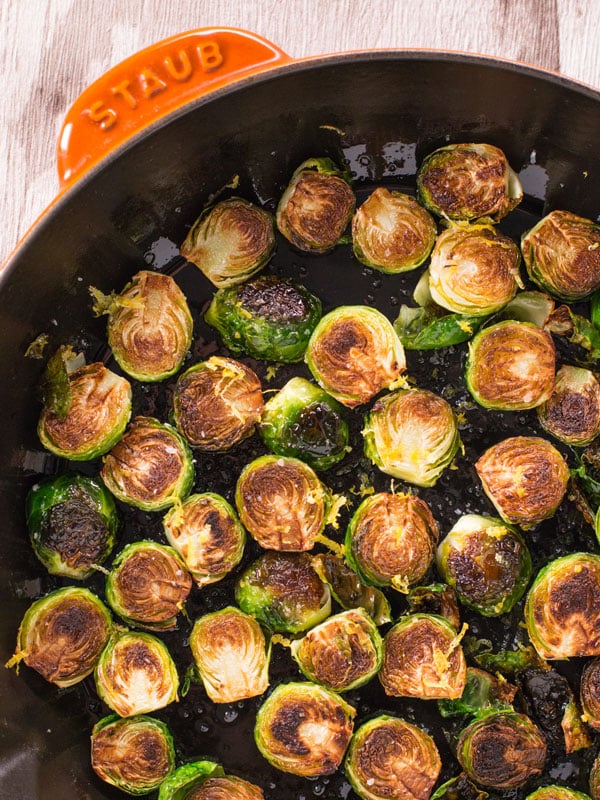 How To Cook Brussels Sprouts
The first thing you need to do is trim a sliver off the end of the Brussels sprouts, making sure not to cut too much away or the leaves will fall apart, and then cut them in half. Next up, preheat a cast iron  or non-stick pan just above medium heat for 2 minutes. Add a couple of tablespoons of butter, ghee, or olive oil to the pan and wait 30 seconds for it to warm up. Add the Brussels sprouts, cut side down, and allow them to cook for 5-7 minutes or deep golden brown and crusty. Flip and season with a generous pinch of salt and cook another 3-4 minutes or until the other side is deep golden in color.
You may have to do this in two pans or work in batches. The goal is to allow the Brussels sprouts to cook undisturbed so they can form a beautiful crust just like a steak would. There is no need to season them before they go in the pan. Just make sure to hit them up with some kosher salt after you flip them. It's such an easy technique, but yields the best tasting Brussels sprouts you will ever taste. They are nutty, roasty, creamy, and sweet – such a game changer!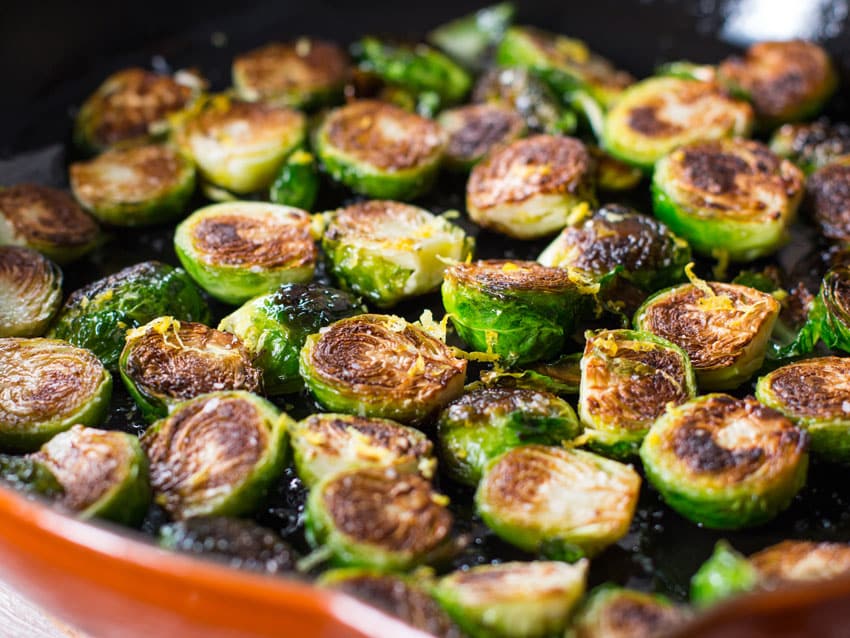 Can I Bake Brussels Sprouts In The Oven?
The best way to bake Brussels sprouts in the oven is to preheat oven to 450 degrees F and cut sprouts in half. Toss the Brussels sprouts with 2 tablespoon of olive or avocado oil, 1/2 teaspoon of salt, few cracks of pepper. Tossed well and transfer to a single layer on a sheet tray. Roast in the oven for 30 minutes, or until golden brown and blistered in spots, No need to toss them half way. Try roasting Brussels sprouts along with squash and tossing with a warm bacon dressing in this Thanksgiving recipe.
How Many Calories Are In Brussels Sprouts?
One pound of Brussels sprouts has 195 calories, 1 gram of fat, 40 grams total carbs, 23 grams net carbs, 17 grams fiber, and 15 gram protein. For each tablespoon of fat/oil you add to the recipe, you will add 120 calories and 14 grams of fat.
Check out my other favorite side dishes and Thanksgiving recipes: