This keto recipe for low carb mashed cauliflower is a dead ringer for the real deal. You guys won't even be able to tell you are not eating mashed potatoes. The key is not to over-boil the cauliflower (otherwise it gets watery), and then to whip it real good in the blender with a nice knob of grass fed butter – so silky and good! You can serve this cauliflower mashed potatoes for Thanksgiving or Christmas and everyone will be a happy camper at the dinner table!
Make sure to check out my other keto cauliflower recipes like this cauliflower and broccoli mash and my cauliflower fried rice.
How To Make Keto Mashed Cauliflower
Bring a large pot of salted water to the boil and cut the head of cauliflower into bite size florets. Add the cauliflower florets to the water along with 4 cloves of peeled garlic. The key to this keto recipe is not to boil the cauliflower too long – about 7-9 minutes should do. Otherwise, it will get water logged and ruin the consistency of the mash. Drain very well, saving a bit of the cooking water, and place the cauliflower florets in the blender along with grated parmesan cheese, unsalted grass fed butter, salt, and pepper.
Blend the cauliflower mashed potatoes very well, and use the plunger stick to help the blender get all of the cauliflower. The more air you whip into the mash, the creamier the mashed cauliflower will be. At this point, check for seasoning, I can guarantee the cauliflower mash will need more salt.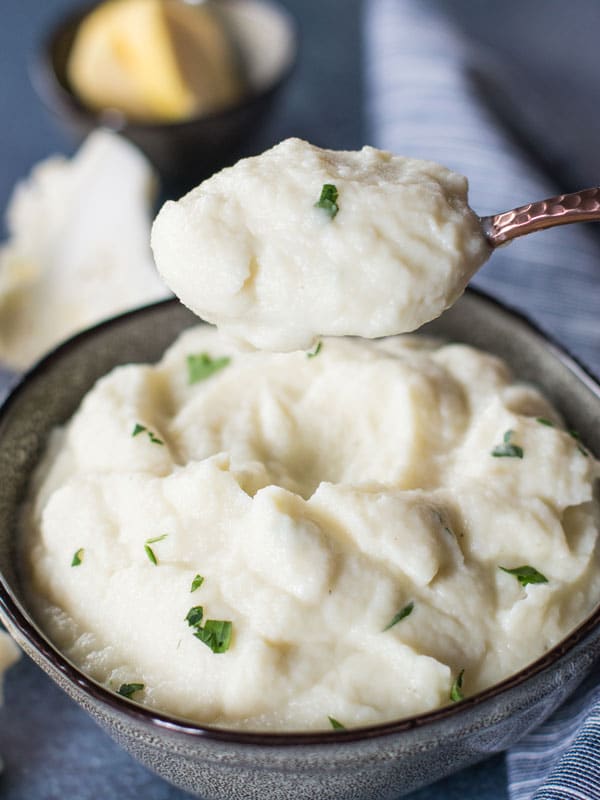 How Do I Reheat Cauliflower Mashed Potatoes?
Reheat the mashed cauliflower the same way you would potatoes. Place the mash in a medium size metal bowl and place that on top of a pot that has a couple inches of water. Keep the flame over medium-low heat and cover the bowl with the cauliflower mash with tin foil. You can do this for a couple hours, stirring the mash every once in a while. This is a great way to keep the cauliflower mashed potatoes warm before dinner or Thanksgiving.
Keto Recipes With Cauliflower
Cauliflower is a great low carb vegetable if you are on the keto diet. The florets from one large head of cauliflower have 210 calories, 18 net carbs, 35 total carbs, 0.84 fat, 21 grams of fiber, and 16.6 grams of protein. Cauliflower is a blank canvas, it will take on flavor, which is why it's the perfect replacement for potatoes in this mashed cauliflower recipe.
Make sure to check out some other of my favorite keto cauliflower recipe: