Not everyone has a big family who comes over to their house for Thanksgiving dinner. Sometimes it is just the two of you and perhaps a couple of friends. In this case, the last thing you might want to do is roast a 14-pound turkey only to have so many leftovers you won't even know what to do with! And this is why I wanted to share with you my Thanksgiving roast turkey breast recipe with citrus herb butter and no drippings gravy. If you need some side dishes for your Thanksgiving table, make sure to check out my homemade cranberry sauce and skillet cornbread.
The first thing you want to do for this turkey breast recipe is go to the grocery store and buy a single turkey breast with the bone and skin on. Don't buy boneless turkey breasts as they are tough to cook and will dry out very easily. If the butcher only has the double breasted turkey breasts, ask them to cut it in half so you can buy just one turkey breast that is enough to feed 3-4 people.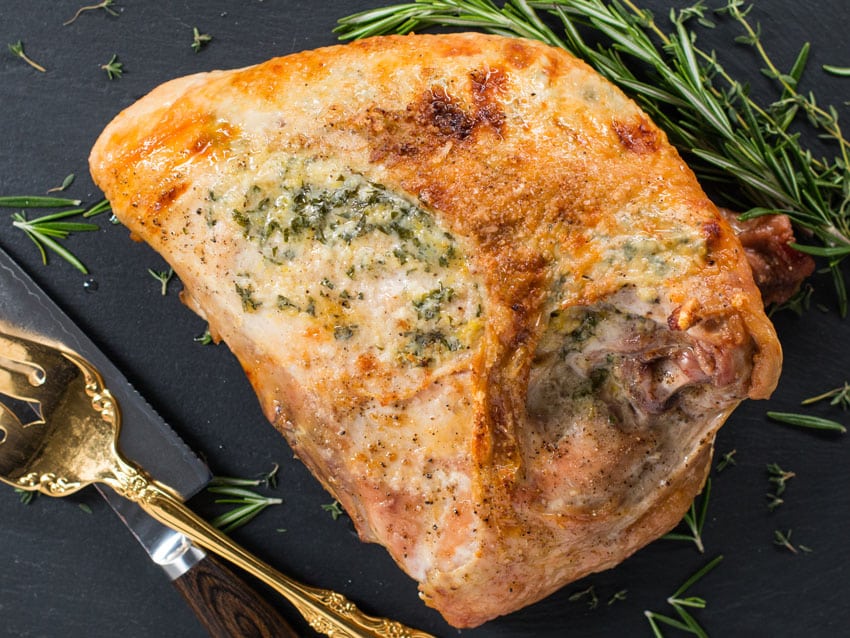 How To Cook A Turkey Breast
Always allow the turkey breast to come to room temperature before you put it in a 350 degree F oven. The turkey breast will cook unevenly and be tough if it is cold. Turkey breast does not have much fat and can dry out easily, so you need to make a compound flavored butter to stuff under the skin. It's Thanksgiving after all, so butter is a must. Combine 1/2 stick of room temperature unsalted butter with chopped parsley, grated garlic, lemon zest, and salt.
Carefully peel back the skin on the turkey breast. You may have to cut a hole so you can get your fingers underneath – watch how I do this in the video below. Stuff the butter underneath the skin and make sure it is evenly spread out. You can even use the other 1/2 stick of butter if you feel like it needs more – it will only add more flavor to the turkey breast. Place the turkey on a tin foil lined sheet tray. If you have leftover sage, rosemary, or thyme, place a handful of it under the turkey so it can flavor the breast while it cooks.
Insert the probe thermometer into the deepest part of the turkey breast and roast in the oven for 45 minutes or until the internal temperature reaches 154 degrees F.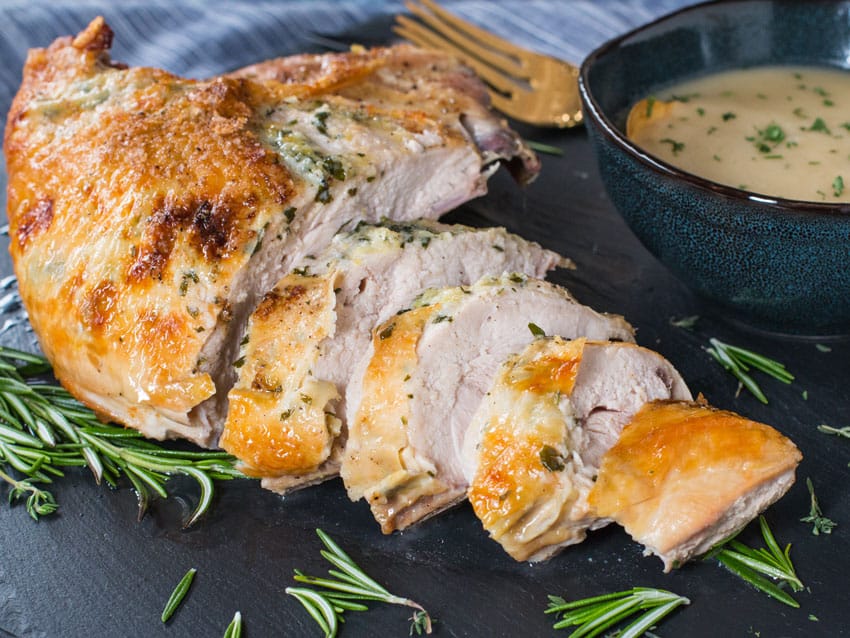 How Long Do I Cook A Turkey Breast For?
A turkey breast on the bone will take about 50 minutes to cook in a 350 degree F oven. But this is the key to making sure you never overcook another turkey breast again. You need to use a digital probe thermometer and pull the turkey from the oven 5-7 degrees before it reaches the final cooking temperature of 160-165 degrees F. The turkey will continue to cook even though you take it out of the oven. This is known as carry-over cooking, and is THE MOST IMPORTANT step for not cooking a dry turkey.
Now, we all want that golden brown, crispy skin on the turkey breast. So when the internal temperature reaches 154 degrees F, turn the oven setting to broil and cook until the skin looks golden and blistered. This will happen quickly, so don't you dare walk away from the oven! Once the turkey breast is out of the oven, allow it to rest under some tin foil for 10-20 minutes. Why…well I am glad you asked!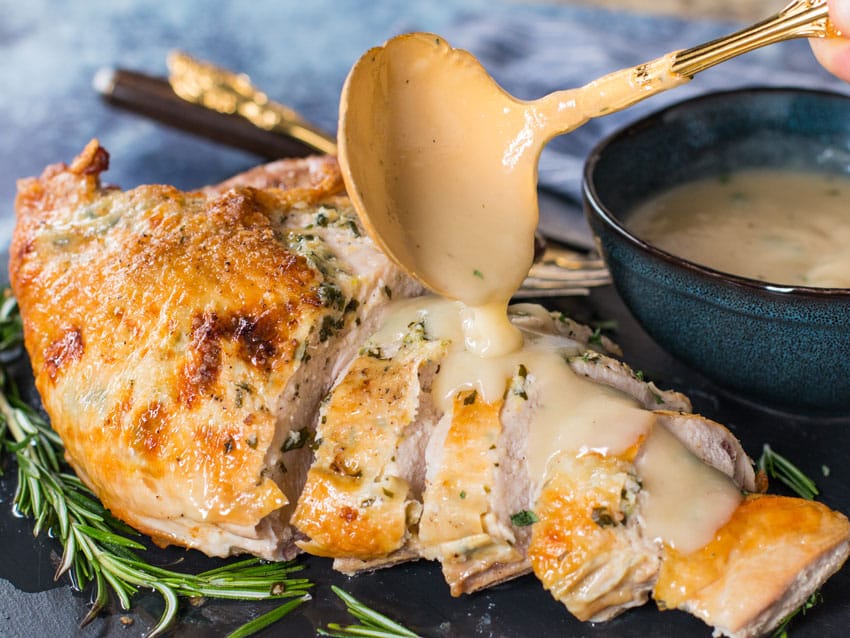 Why Is My Turkey Breast Dry?
Your Thanksgiving roast turkey breast is dry because you most likely did not allow it to rest for 10-20 minutes after it finished cooking in the oven. The juices inside the turkey breast are very hot, and if you cut into the turkey, the juices will run everywhere and the breast will dry out. If roasting a whole turkey, you need to rest it for 45 minutes, or even up to 2 hours, and it will still be hot!
The turkey breast may also be dry because you did not use a digital probe thermometer and pull the turkey from the oven when the temperature reached 155 degrees F. Read about that in the paragraph above 😉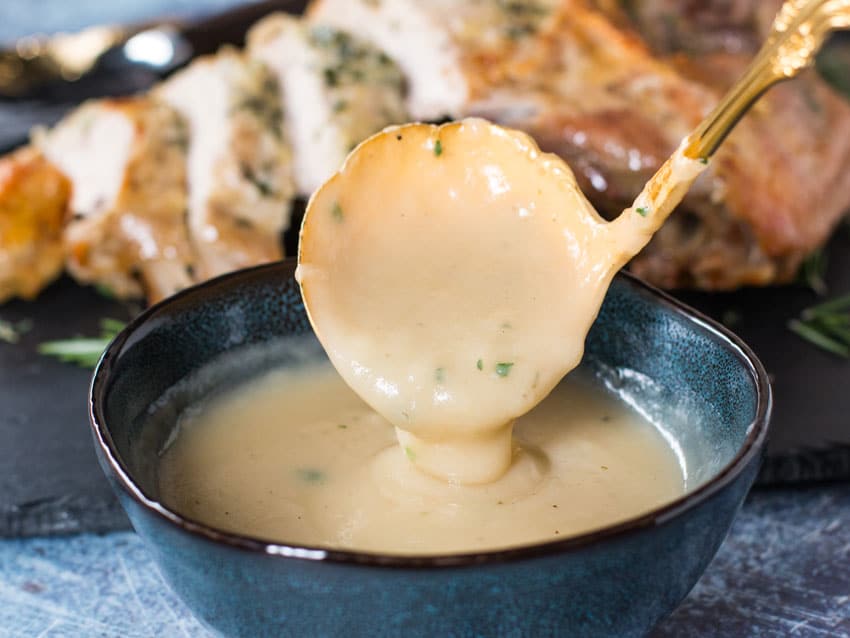 Easy Turkey Gravy Recipe
To make a tasty turkey gravy without any pan drippings, just cook 1/2 cup of onions with fresh thyme and 2 cloves or garlic for 7 minutes. Make a roux by adding butter and flour, and then add chicken stock and cook until thick and has the consistency of gravy. The key to this easy gravy recipe is to squeeze in some fresh lemon juice to make the flavors pop and strain the gravy into a bowl to make sure it is silky and smooth. Serve the gravy with the turkey breast and enjoy.
Make sure to check out my other Thanksgiving recipes: