It's about time for another Bobby's kitchen basic recipe, and I thought they don't get much easier or tastiest than this egg salad. My egg salad recipe is made with best in class ingredients along with a few tips to help up the flavor and texture. As with all simple recipes, the devil is in the details, which is why I believe using organic pasture raised eggs is a must for this recipe along with low carb and sugar free avocado oil mayonnaise.
This egg salad recipe will make enough for 3-4 servings, but remember that cooked eggs can only last in the fridge for 3 days and you can't freeze the egg salad either. Next up try my best ever tuna salad recipe!
How To Make Egg Salad
The first thing you want to do for this egg salad recipe is boil 6 pasture raised and organic eggs for 11 minutes. Make sure to use a pot that has enough water to cover the eggs with 2 inches of water and don't start the timer until the eggs are in and the water is boiling. While the pasture raised eggs are boiling, make the dressing by combining the avocado oil mayonnaise, lemon juice, stone ground mustard, capers, tamari, sesame oil, and salt.
The dressing should be on the tangy side, so check for seasoning and adjust if necessary. Next up chopped some naturally fermented pickles, green onions, and parsley. The pickles will add a nice crunch and tang to the egg salad. Fermented pickles means there is no vinegar used and you will find them in the fridge section of the grocery store. They are loaded with tummy friendly probiotic bacteria.
Peel and chop the hard boiled eggs and then toss with enough creamy dressing to coat well along with the pickles and herbs. Check for seasoning and enjoy!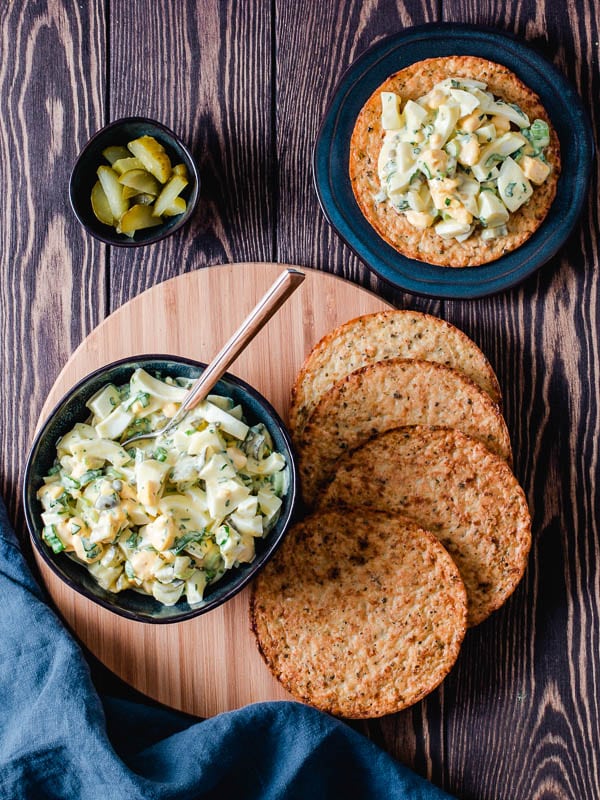 How To Hard Boil Eggs
I have one tip that will make peeling hard boiled eggs so easy! The first thing you want to do is bring a medium size pot of water to a boil and make sure there is plenty of water, enough to cover the eggs by 2 inches. Add the eggs and wait for the the water to return to a boil and set a timer for exactly 11 minutes.
Here is the key to making perfect hard boiled eggs: when they come out of the boiling water, immediately put them in a bowl and run ice cold water over them for 3 minutes. Also, slightly crack the shells so the water can get between the shell and the egg white. This will make peeling the eggs much easier and the cold water prevents the eggs from overcooking.
To peel the eggs, tap the shells all around on a cutting board and gently roll them with your hand so they fracture everywhere. Run cold water over the eggs while peeling and the shells will fall right off!
Check out my other lunch recipes: