These low carb homemade biscuits are one of the recipes in our new keto meal prep cookbook coming out in May! It's my take on those incredibly buttery biscuits at Red Lobster – you know the ones that are full of all the stuff you should probably stay away from? Well my version of these cheddar biscuits recipe is keto-approved, easy to make, and incredibly delish!
Once you make these Homemade Red Lobster biscuits, you can use them in so many tasty ways. Try topping my instant pot chicken pot pie with these biscuits or you can use them for my low carb sausage Mc'Muffin sandwiches.
How Do I Make Low Carb Homemade Biscuits?
Here are the easy steps you need to follow to make my low carb homemade biscuits that are just like the ones from Red Lobster.
In a large bowl, mix together 2 cups of sifted fine almond flour with some baking powder, onion and garlic powder, salt, and sliced green onion. This will be the dry ingredients for our biscuit recipe.
In a another bowl, whisk 2 eggs and add 1 stick of melted unsalted butter. Make sure the butter has cooled down so it does not scramble the eggs. Mix well and add that to the dry ingredients.
Add1/2 cup of freshly grated cheddar cheese and mix until the batter is well combined. Make sure to grate your own cheese – the pre-grated stuff is coated in anti-caking agent.
Roll the dough into rounds the size of a large golf ball, making sure not to place them too close together. Bake in the oven for 25 minutes or until golden brown. Let cool for a few minutes and enjoy!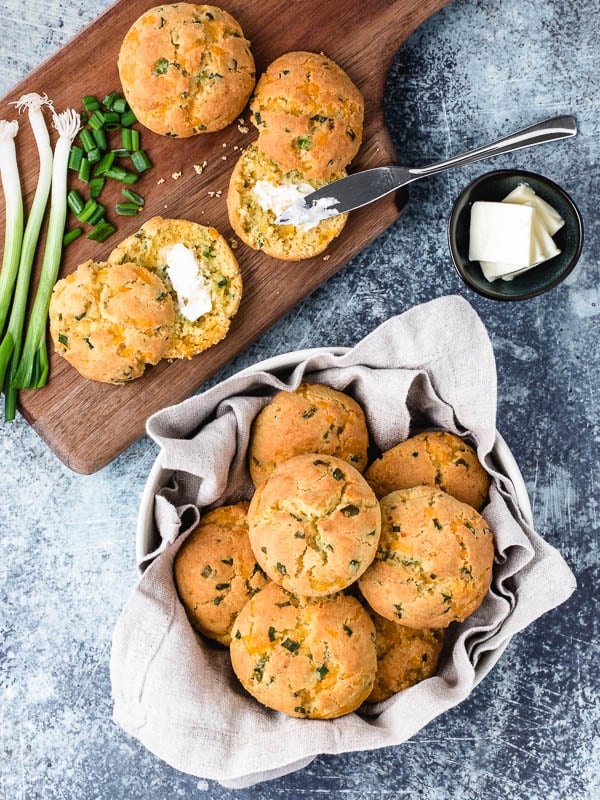 Can I Use Coconut Flour To Make Keto Biscuits?
Coconut flour is very dry and won't work for this recipe. You are much better off using finely ground almond flour. Costco has the best price I have ever seen at $4.00 per pound. Make sure to use almond flour and not almond meal. Otherwise the biscuits won't have the right texture.
Can I Freeze Homemade Biscuits?
Freshly made biscuits will last in the freezer for 3 months stored in a air tight zip-top bag. When ready to eat them, pop direct in a 200 degree F oven for 10-15 minute0 so they can thaw and warm up. Homemade biscuit will last for 5 days in the fridge. Make sure not to keep them at room temperature.
Make sure to try my other low carb snack recipes: