Last week I flew to L.A. to film some collaboration videos, and I made this tuna salad recipe at home and ate it at the airport before my 4 hour flight. The folks over on Instagram wanted the recipe so bad, so here it is! This tuna salad recipe is made with low mercury tuna, top quality ingredients like organic kale and avocado oil mayo, and only takes a few minutes to make.
If you need another lunch recipe, check out roasted chicken salad, it's very similar to the recipe.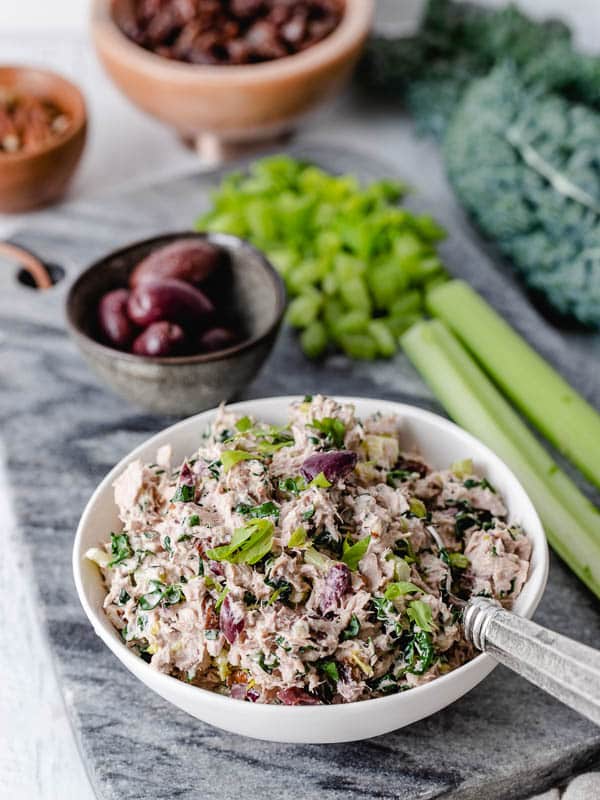 How To Make The Best Tuna Salad
Making epic tuna salad starts with buying the best canned tuna at the grocery store, and that means either getting skipjack or chunk light tuna. Both of these tuna fish are low in mercury because they are smaller, you want to stay away from large tuna like albacore, they are higher in mercury. Add two 5 ounce tins of tuna to a large bowl along with chopped pecans, sliced celery, olives, raisins, and mix well.
You will never find a tuna salad at the store that uses high quality mayonnaise, but my recipe does. Avocado oil mayonnaise is the most heart healthy mayo on the market, just try to buy one without added sugar. Add 5 tablespoons of mayo directly to the tuna along with 1 teaspoon stone ground mustard, lemon juice salt & pepper, and tamari. Tamari is gluten free soy sauce, and just a splash adds a nice bit of umami.
Mix everything well and add the finely chopped lacinato kale at the very end. Make sure to buy organic kale because it's on the dirty dozen, and look for black/lacinato/dinosaur kale, it's tender and not so rough as green kale. Check for seasoning, your tuna salad may need a bit more lemon juice or a pinch of salt.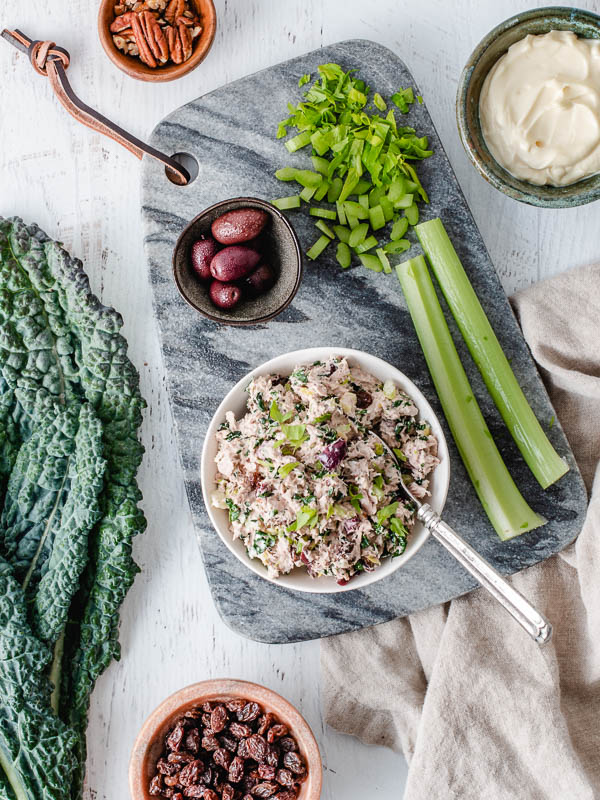 How Long Will Tuna Salad Last For?
Homemade tuna salad will last for 3-4 days in the fridge in an airtight container. Don't freeze tuna salad, it will get watery and mushy when you thaw it out. The tuna salad actually gets better after it's been sitting for a couple hours, or even overnight. When i started eating it at the gate of my southwest flight, it was so much better than 2 hours ago when I made it at home.
Check out my other lunch recipes: