Grilling season is not over yet friends. If you have not tried grilling fall veggies, then you are missing out on some serious flavor. And this is why I am partnering with Kingsford® Original Charcoal to show you how easy it is to grill veggies over charcoal and make a fall inspired meal that has big flavors. Grilling imparts a smoky and charred flavor that you just can't get in the kitchen or even on a gas grill. Imagine grilling fall veggies like sweet potatoes, squash, and zucchini until they are charred and blistered on the outside and creamy on the inside.
Paired those perfectly grill veggies with some grilled bone-on chicken thighs and you have a meal that is easy to make and absolutely delicious. We all know that Kingsford® is great for grilling meat, but something magical happens when you grill veggies – it takes the flavor to the next level. I mean, just look at the photo of the veggies on the grill!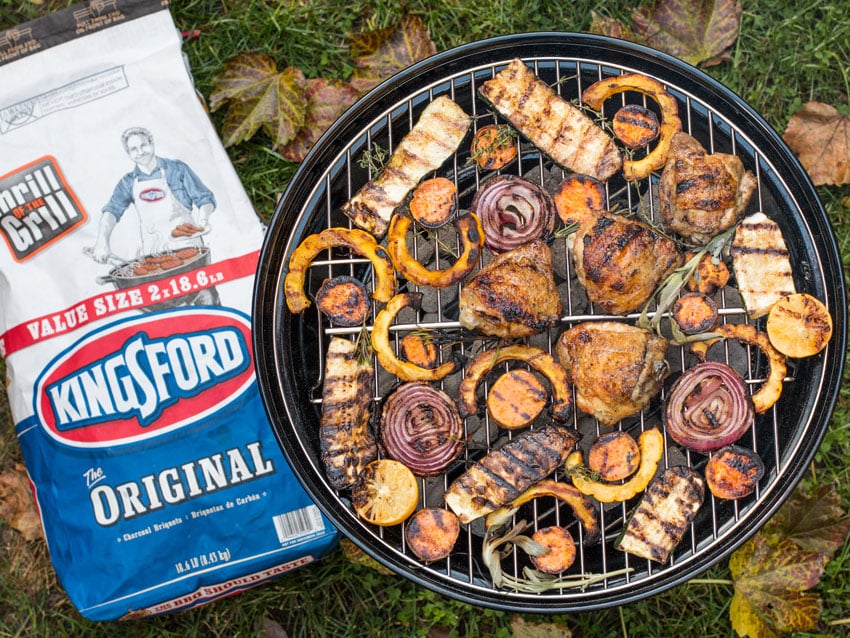 How To Grill Vegetables and Chicken Thighs
The first thing you want to do is set up two zones with your Kingsford® Original Charcoal, one hot and one cool. You will cook the veggies over the hot zone until nice char marks form on both sides and then move to the cool zone to finish cooking. To grill the chicken thighs, you will start them in between the zones for 10 minutes to render out some fat and then move them closer to the hot zone until the skin is golden and crispy. Watch out for flare ups and move the chicken around I needed. Then flip and cook the chicken another 15-20 minutes or until cooked through.
The key to the this recipe is the grilled lemons! If you have never grilled lemons before you need to get on that asap. The flavors become sweet and smoky, and once you squeeze those lemons over the cooked food, OMG!
The grilling season is not over just because the calendar says it is not summer any more. I really want to encourage you to try grilling veggies this fall. I think you will love the flavor that the grill imparts and it's s darn easy. I really had fun setting up my grill in the yard with the leaves falling all around me and the smell of chicken and veggies filing up the backyard. It really makes me connected wit the food and helps me enjoy being outside during this beautiful fall weather! For more tasty veggie recipes you can make on the grill, check out Kingsford.com