This low carb meal prep recipe contains a method for cooking the most crispy and delicious keto chicken you will ever eat. It involves a couple of cast iron pans, the stove top, and the oven. Once those crispy chicken thighs are ready, they are doused with homemade Alabama style white BBQ sauce, which is creamy tangy, and so easy to make! As if that was not good enough, I recently discovered black soy beans, which is the only low carb bean you can eat on the keto diet and make a tasty black bean and bacon salad out of it. Make sure to check out my other low carb chicken recipes like this chicken saltimbocca and fennel spiced chicken and cauliflower salad for lunch.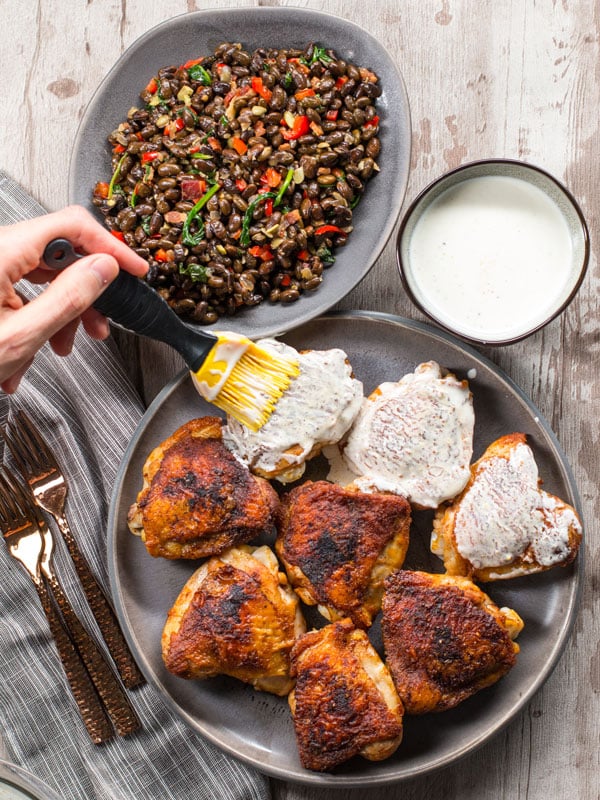 Low Carb Chicken Thigh Recipe
The most crispy and tasty low carb chicken thigh recipe starts with bone-in, skin-on chicken thighs that are at room temperature. Season the chicken thighs with smoked paprika and cayenne pepper and rub the seasoning all over the skin side. Grab two cast iron pans and preheat them for 2 minutes over medium-high heat along with a couple teaspoons of oil. Place 5 chicken thighs in each pan and allow to cook undisturbed for 8 minutes. Chicken thighs are ideal for the keto diet because of the extra fat from the skin.
If you overcrowd the pan, the chicken skin won't get brown and crisp because the pan temperature will get too low. If you don't have two cast iron pan,s you can use any oven safe pan. After 8 minutes, transfer the chicken thighs to the oven and allow to cook in the pan, still skin side down, for another 10 minutes. Flip and cook 3 minutes more and then remove the chicken thighs from the oven and transfer to a clean platter.
Now is the time you channel your inner Picasso and paint that Alabama white BBQ sauce all over the crispy spice crusted skin. Roll tide roll! The recipe makes 10 chicken thighs for 5 servings of keto chicken meal prep for the week. The entire recipe is low carb, coming in at only 11.3 grams of net carbs per meal.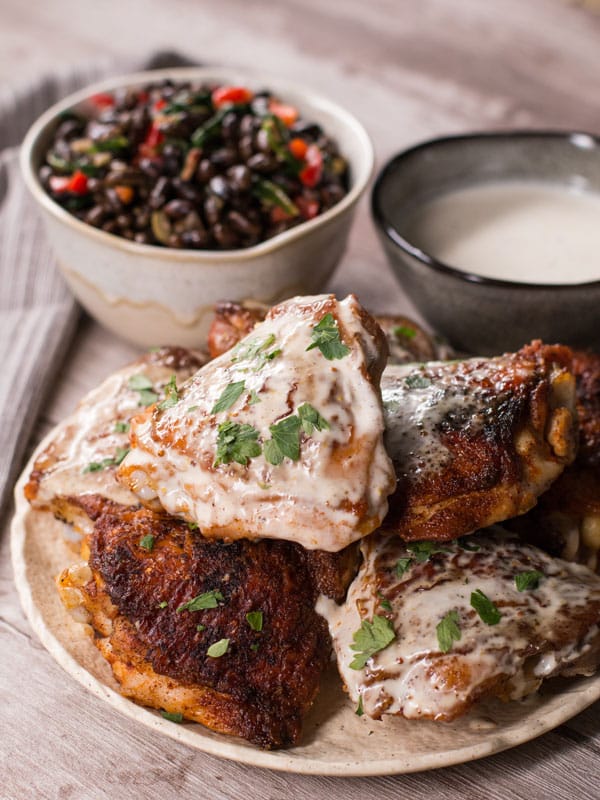 How To Make Alabama White BBQ Sauce
White BBQ sauce is a mayonnaise based sauce that has horseradish, vinegar, and lemon juice. It became popular in Decatur, Alabama when pit master big Bob Gibson invested in his restaurant and started dunking whole smoked chicken in a big bucket of this white BBQ sauce. White BBQ sauce is dairy free and contains no sugar, which makes it great for the keto diet.
In addition to the mayonnaise, you will need to add stone ground mustard, garlic, and salt. The Alabama style BBQ sauce is meant to be tangy, so it cuts through the richness of the BBQ chicken, so make sure to adjust seasoning accordingly.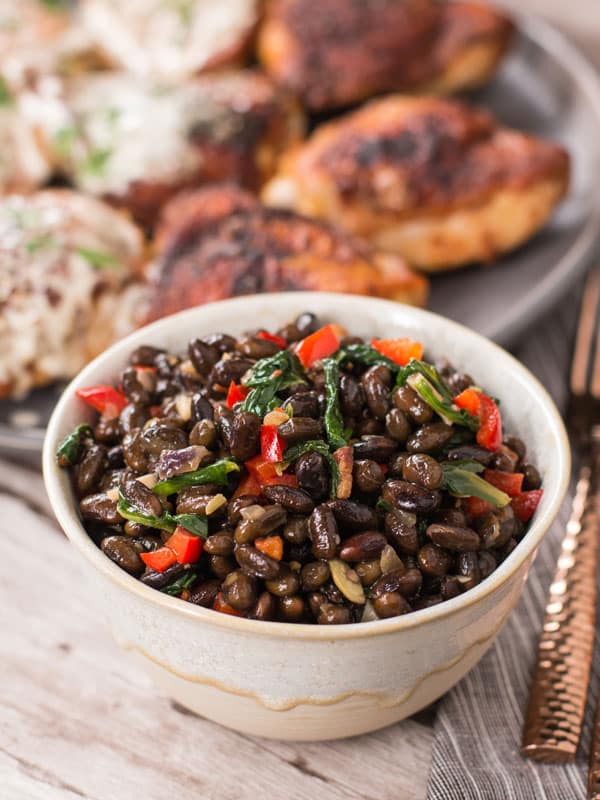 What Are Low Carb Beans For The Keto Diet
The only bean or legume you can eat while on the keto diet are black soy beans. You can buy canned black soy beans from the grocery store, but I recommend buying dried beans from Amazon and soaking and cooking them yourself. To prepare black soy beans, you need to soak them in water along with a 1/2 teaspoon of salt for 24 hours and then pressure cook for 10 minutes. Add fresh water when pressure cooking and once 10 minutes is up, allow the pot to sit for 10 minutes and then release the steam.
To make the low carb bean salad, you will first need to render some bacon in a large pan and then add some onions, pepper flakes, and garlic. Add the beans to the pan along with some chicken stock and cook for 15 minutes. Then add the spinach and red bell peppers. To make the low carb bean salad really tasty, I like to season it with coconut amino acid and toasted sesame oil. It adds a real depth of flavor to the keto meal prep.
How Do I Store Keto Meal Prep
This keto meal prep recipe will last for 5 days in the fridge. Make sure you keep the white BBQ sauce and chicken thighs separately and only combine when you want to eat them. You can freeze the chicken thighs for 2-3 months, but can't freeze the white BBQ sauce. The low carb black bean salad will keep in the fridge for 5 days or can also be frozen for 2-3 months.
The best way to re-heat the meal prep is in a 350 degree F oven for 8-10 minutes. If using a microwave, make sure to cover the contain with a wet paper towel so the food does not dry out.
Make sure to check out some of my other keto meal prep recipe: