You guys are always asking me for low carb breakfast ideas, so I thought I would put together a brekkie meal prep that was portable and so darn epic. This keto breakfast meal prep makes 5 servings of coconut chia seed pudding and 3 breakfast sandwiches. The almond flour biscuits make the perfect low carb bun (or English muffin) for these cute and tasty sandwiches. Keep in mind that cooked eggs can only stay in the fridge for 3 days, so feel free to freeze them and double up on the sausage McMuffin recipe.
The combination of the low carb almond flour biscuit, juicy chicken patty covered in melted cheddar cheese, and eggs is the best healthy knock-off of McDonalds, plus the entire recipe is keto diet approved. As if that were not enough, the keto breakfast sandwiches are paired with my creamy coconut chia seed pudding. The texture of these are silky and smooth!
If you are looking for more keto breakfast ideas, then try my Starbuck's egg bites and Dessi's low carb keto bagels.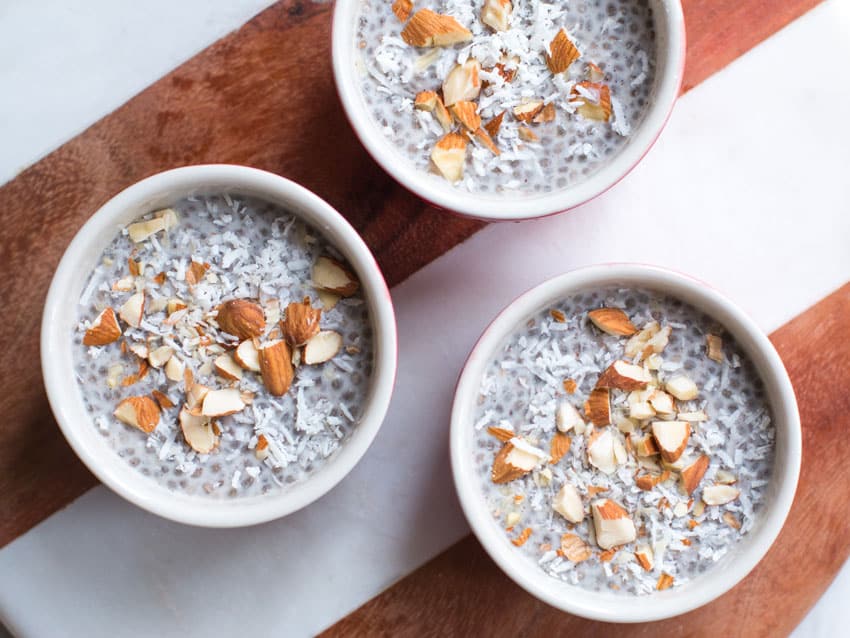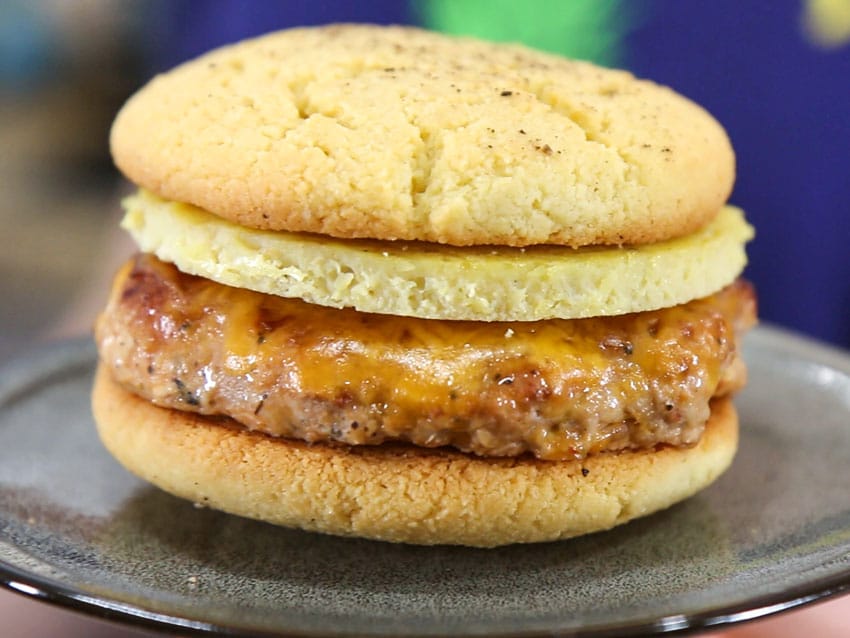 Keto Recipes For Breakfast
I decided to make the ultimate version of McDonald's sausage McMuffin sandwich by using ground chicken thighs to make the sausage patties. You can also use ground pork, but I wanted to mix it up, so I decided to use the pre-made sausages from Trader Joe's, but you can make your own breakfast sausage spice rub by using fennel, chiles, and cumin. In fact, you can use my recipe here for Starbuck's breakfast sandwich. I made my own spice blend for the pork.
When making a breakfast meal prep sandwiches, you need to have cheddar cheese melt over the top, but I can't stand cheese that does not melt all the way. Make sure to follow my instructions in the video and recipe post for adding an ice cube to the pan and closing the lid – the steam helps melt the cheese evenly. You can make 5 portions of the sausage patty for meal prep and keep them in the fridge for 5 days or freeze for 2-3 months.
How Do I Make Chicken Sausage
You can make sausage out of any ground meat. You just have to make sure to use spices that are typical for sausages like fennel, cumin, garlic, onion, and red pepper flakes. If you use those spices, you can make sausages from ground chicken, turkey, beef, lamb, and pork.
How Do I Meal Prep For Breakfast
Keep in mind that cooked eggs will only last in the fridge for 3 days, so if are prepping for breakfast, you can either freeze the cooked eggs or make more on day 3. The almond flour biscuits, chicken sausages, and chia seed pudding will all last in the fridge for 5 days, so by freezing some of the eggs, you can cook once and have 5 breakfast meals done. The best way to reheat the sandwiches is in a 350 degree F oven for 7-10 minutes or you can quickly microwave them, making sure not to overheat.
Check out more of my healthy breakfast meal prep recipes: