The creamiest chocolate chia pudding recipe with rapsberry greek yogurt and homemade no-bake granola.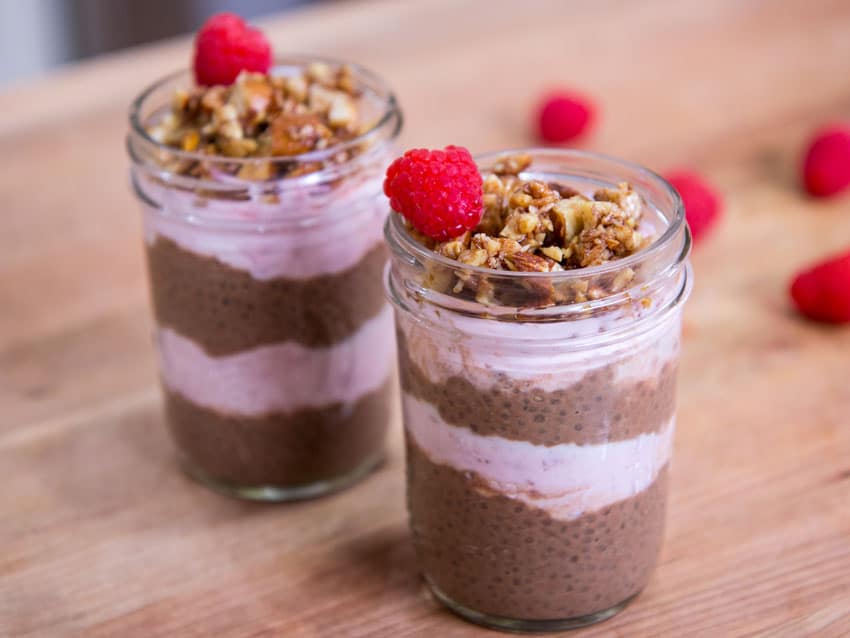 Easy breakfast meal prep ideas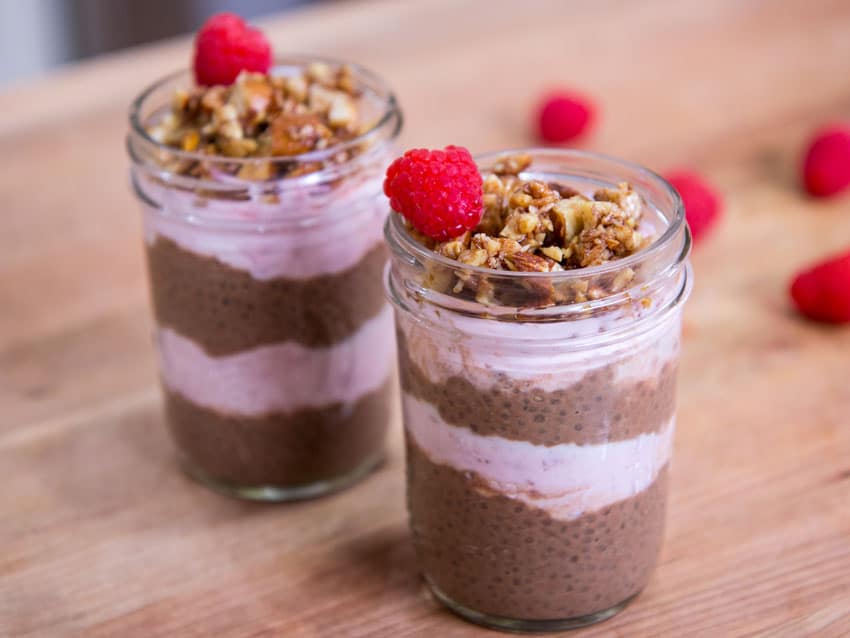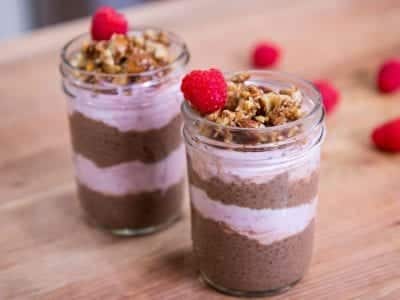 Chocolate Chia Seed Pudding Parfait
Print
Ingredients
For the chia seed pudding
1/2

cup

full fat coconut milk

½

cup

unsweetened & plain almond milk

2

tablespoons

unsweetned cocao powder

2

tablespoons

maple syrup or monk fruit sweetener

1/2

teaspoon

cinnamon

1

teaspoon

vanilla extract

Tiny pinch

of salt

3.5

tablespoons

of chia seeds
For the raspberry yogurt:
1.5

cups

greek yogurt

1

cup

fresh or frozen raspberries

2

tablespoon

orange juice

2

teaspoons

maple syrup
For the nut granola:
1

teaspoon

coconut oil

1/3

cup

chopped almonds

1/3

cup

chopped walnuts

1/2

teaspoon

cinnamon

Tiny pinch of salt

1.5

tablespoons

agave nectar

1

tablespoons

maple syrup

shredded coconut flakes
Instructions
To make the pudding, add all of the ingredients except the chia seeds to a bowl and mix well. Check for seasoning and add more cocao or maple syrup if desired. Whisk in the chia seeds and let sit for a few minutes. Whisk well and let sit another 5 minutes, then whisk again and transfer to the fridge overnight so the pudding can set up.

While the pudding is resting, make the raspberry yogurt by combing the raspberries and next 2 ingredients to a small pot or pan. Use a potato masher or fork to completely mash the raspberries. Bring the mixture to a simmer and let it bubble away for 5-8 minutes, stirring a few times. The jam is ready when most of the liquid has evaporated and the mixture has thickened up. Check for seasoning, you may need a little more agave nectar. Allow the raspberry jam to cool down a little bit and add it to a bowl with the greek yogurt. Mix well and keep in the fridge.

To make the granola, pre-heat a non-stick pan over medium-low heat with the coconut oil. Add the almonds and walnuts and cook for 3-5 minutes until the nuts become slightly browned. Add the cinnamon, salt, and cook for another minute. Add the agave nectar, coconut flakes, and cook for one more minute. Take off heat and check for seasoning, you may want a little more agave nectar or cinnamon.

To assemble the parfait cups, spoon some of the chia seed pudding on the bottom, add some raspberry yogurt on top, and repeat those steps one more time. Top it all off with some of the granola and keep in fridge until ready to enjoy! You may want to wait to add the nuts, otherwise they may get a little soggy.
Recipe Notes
Macros:
305 calories per meal
27 grams of carbs per meal
18 grams of fat per meal
13.4 grams of protein per meal
6 grams of fiber per meal