Healthy Lettuce Wrap Meal Prep
This healthy lettuce wrap recipe is perfect for weight loss meal prep. The lettuce wraps are made with lean ground beef and everyting is low carb thanks to the shirataki noodles with peanut sauce.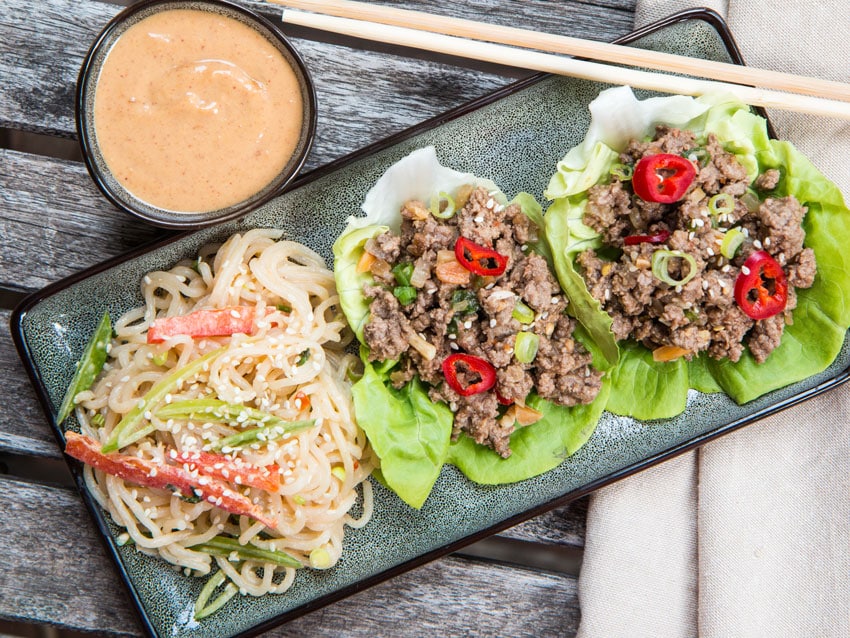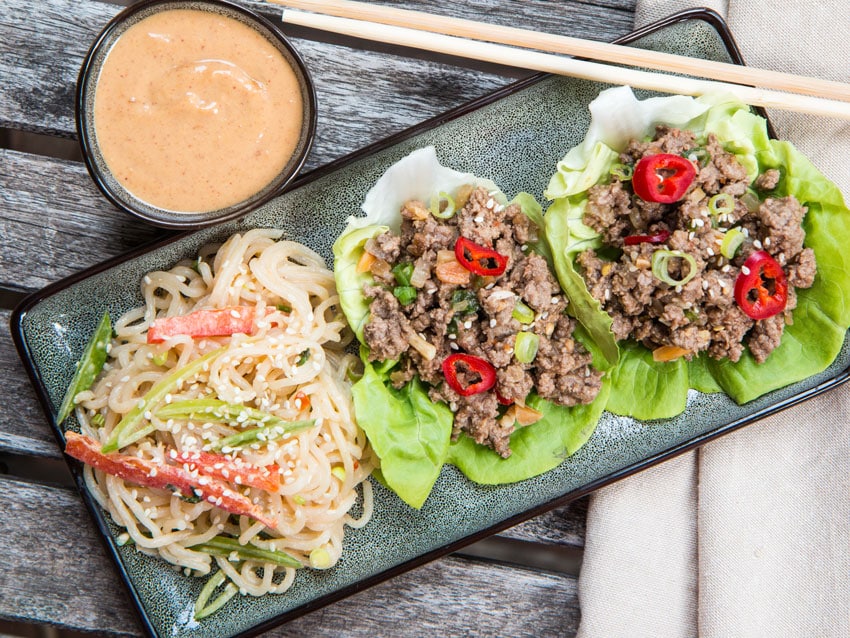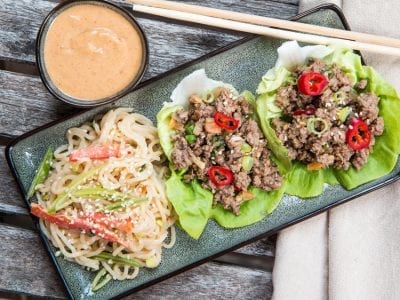 Beef Lettuce Wraps with Sesame Peanut Noodles
Print
Ingredients
For the beef lettuce wraps:
1.5

pounds

ground beef

90:10 beef to fat ratio

½

an onion

chopped

3

cloves

garlic

minced

1

teaspoon

fresh ginger

finely grated

1

teaspoon

of sriracha sauce or sambal olek chili paste

1.5

tablespoons

low sodium soy sauce

½

teaspoon

toasted sesame oil

2

teaspoons

rice wine vinegar or lime juice

2

tablespoons

unsalted & roasted peanuts

chopped

3

tablespoons

green onions

finely sliced

1

head of butter lettuce or iceberg lettuce

2

red hot chile peppers

thinly sliced for garnish

Grapeseed or veggie oil

Kosher salt

Fresh cracked black pepper
For the noodle salad:
1

pound

of shirataki noodles

¼

cup

smooth peanut butter

2

teaspoons

low sodium soy sauce

½

teaspoon

of sriracha sauce or sambal olek chili paste

1

clove

garlic

finely grated or pressed

Juice of half a lime

1.5

teaspoons

agave nectar or honey

½

teaspoon

toasted sesame oil

Water

½

a red bell pepper

thinly sliced

1

cup

sugar snap peas

thinly sliced on the angle

2

tablespoons

green onions

finely sliced

2

tablespoons

fresh mint

chopped

1

teaspoon

sesame seeds

toasted if desired
Instructions
Cook's Notes: This recipe is all about balance of flavors. You need to check for seasoning and adjust by adding more spice, more soy sauce, or more vinegar. It's entirely based upon your preference.

You can make the peanut sauce in a food processor like I did, or you can make it in a bowl using a whisk. A blender may not work because there is not enough peanut butter for the blades to grab on to.

Begin Cooking:

For the lettuce wraps, pre-heat a large cast iron pan over medium-high heat for 2 minutes along with 2 teaspoons of oil. Add the onions, 1/4 teaspoon salt, a couple cracks of pepper, and cook for 2 minutes. Add the beef, and use a wood spoon or spatula to break the beef into small pieces. Cook for 3 minutes and then add the garlic and ginger. Continue cooking a few more minutes until most of the pink color is gone from the beef and lower the heat to low. Add the chili paste, soy sauce, sesame oil, rice vinegar and mix well. Turn the heat off the pan as soon as the ground beef is cooked through, otherwise the beef will dry out. Check for seasoning, you will most likely need more soy sauce or chili paste. Add the peanuts and green onions, mix well and set aside.

For the sesame peanut noodles, add the peanut butter to a food processor along with the next 6 ingredients and blend to combine. Add 2-3 tablespoons of water to the mixture and blend until the sauce is smooth, creamy, and pourable, adding more water if necessary. Check for seasoning, you will definitely need to adjust based upon your preference of spice, soy sauce, or vinegar.

Drain the shirataki noodles thoroughly and cook them in a non-stick pan over high heat for 6-8 minutes. This will remove the excess moisture, you know the noodles are ready when the bottom of the pan is coated in a dry white residue. Take off heat and add them to a large bowl, season them with the juice of half a lime and 2 teaspoons of soy sauce. Add enough peanut dressing to thoroughly coat the noodles and toss well. Add the sliced red bell peppers along with the next 4 ingredients, mix well. Set aside.

To assemble the beef wraps, place a scoop of the beef mixture in a piece of lettuce and garnish with sliced red chiles and green onions. Serve with some noodle salad and enjoy!

Storage and Reheating Instructions:

Store the beef mixture separately from the noodle salad. Each will keep in the fridge for 5 days. The beef mixture can be frozen for 2-3 months, the noodles can't be frozen. When time to re-heat the beef, take the lid off the container, cover with tin foil, and reheat in a 400 degree F oven for 10 minutes. If re-heating in the microwave, take the lid off, cover with a wet paper towel, and make sure not to re-heat too long or the beef will dry out. Don't heat the noodle salad.
Recipe Notes
Macros:
403 calories per meal
25 grams of fat per meal
12 grams of carbs per meal
35 grams of protein per meal
5 grams of fiber per meal