Healthy Spaghetti & Meat Sauce
Low calorie spaghetti and meat sauce using low carb shirataki noodles. It's possible to eat a low calorie pasta recipe thanks to these low carb noodles with chicken meat sauce.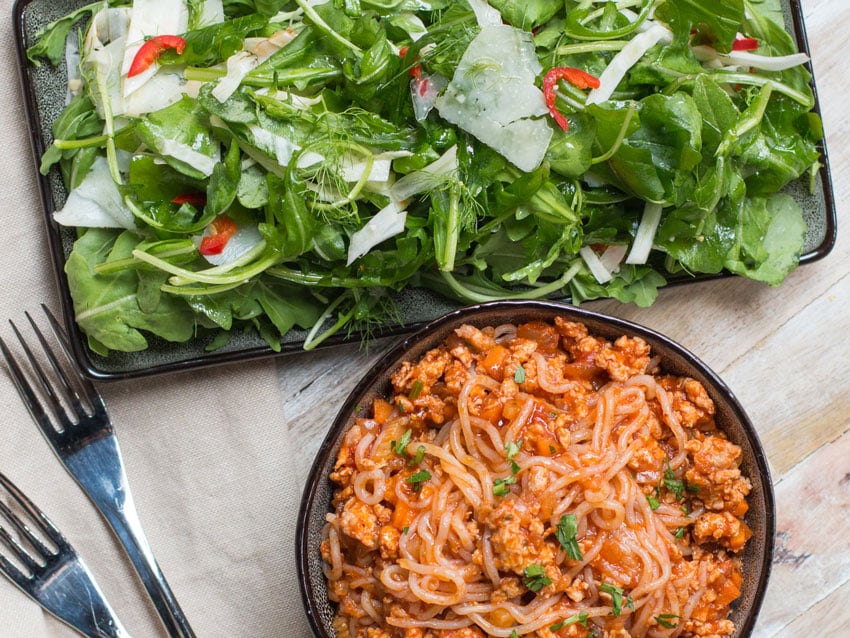 Healthy chicken meat sauce with pasta and side salad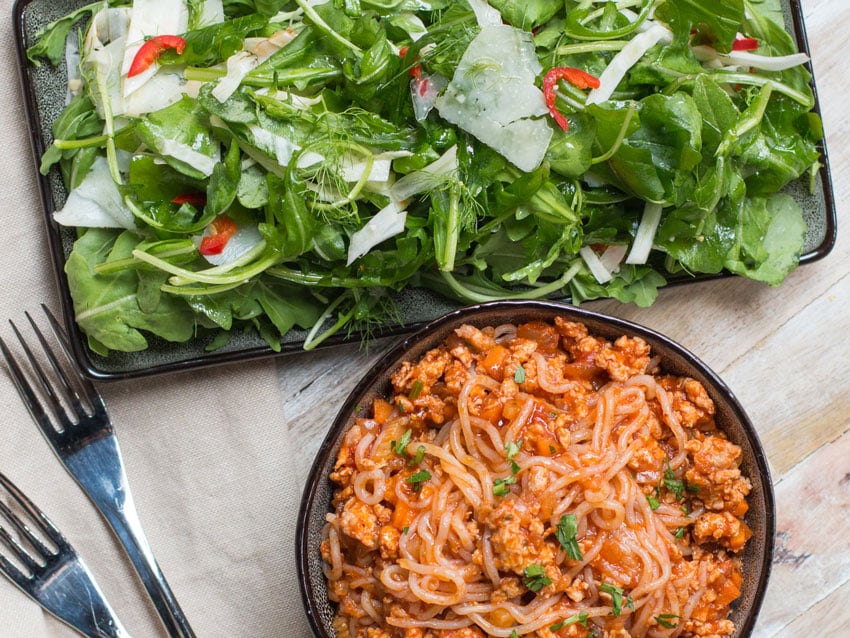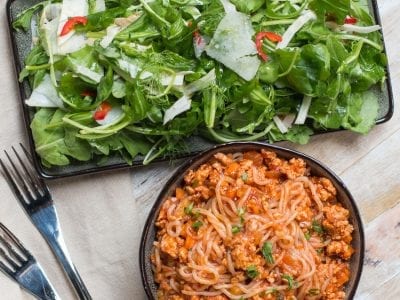 Healthy Spaghetti & Meat Sauce Meal Prep
Print
Ingredients
For the spaghetti:
5

bags of shirataki noodles

½ pound each

1.3

pounds

ground chicken thighs

1

medium size onion

chopped

2

medium size carrots

chopped

2

stalks celery

chopped

3

cloves

garlic

minced

1

teaspoon

dried oregano

½

teaspoon

red pepper flakes

3

tablespoons

tomato paste

24

ounce

jar of low/no sodium marinara sauce

½

cup

water

1

bay leaf

1

teaspoon

honey

Fresh flat leaf parsley

chopped

Olive oil

Kosher salt

Fresh cracked black pepper
For the salad:
7

ounce

bag of arugula

1

fennel bulb

thinly sliced

1

long

thin red chile pepper, sliced

2

tablespoons

shaved pecorino or parm cheese

2

lemons

Extra virgin olive oil

Kosher salt

Fresh cracked black pepper
Instructions
Cook's Notes: My favorite brand of Shirataki noodles are called "Pasta Zero by Naysoya". You can buy them at Walmart, target, and whole foods.

For the meat sauce, pre-heat a large pan over medium-high heat with 2 teaspoons of oil for 2 minutes. Make sure the pan has high sides or use a wide bottomed pot. Add the ground chicken to the pan along with 1 teaspoon salt, and a few cracks of pepper. Cook for 6-8 minutes, or until the chicken is 80% cooked, meaning it's still raw in the middle. Remove the chicken from the pan along with all of the juices and place in a large bowl. Add 2 more teaspoons of oil to the pan along with the carrots, onions, celery, oregano, red pepper flakes, ½ teaspoon salt, and a few cracks of pepper. Cook for 10-12 minutes or until the veggies have wilted by more than half, stirring often. Add the garlic, tomato paste, and cook another 2-3 minutes, stirring often so the garlic does not burn. Add the marinara sauce, water, cooked chicken, bay leaf, ½ teaspoon salt, and a couple cracks of pepper. Bring to a boil and reduce to a simmer, cook for 20 minutes. While it's cooking, and the honey and then check for seasoning, it may need more salt. The sauce is done when it has thickened up nicely and no longer looks watery. If the sauce gets too thick add more water.

While the sauce is cooking, drain the shirataki noodles thoroughly and cook them in a non-stick pan over high heat for 6-8 minutes. This will remove the excess moisture, you know the noodles are ready when the bottom of the pan is coated in a dry white residue. Take off heat and set aside. Use a knife or scissors to cut the noodles a few times, otherwise they have a tendency to stick together in one giant ball.

Add the noodles to the pan with the sauce and mix well. Stir and cook for 3 minutes so the noodle can really soak up the sauce. Turn the heat off and add 2-3 tablespoons of parsley, mix well.

Make the salad by adding the arugula to a large bowl. Use a hand slicer or a knife to thinly slice the fennel, and then roughly chop it with a knife. Add the fennel to the arugula along with the shaved cheese(use a veggie peeler), and chiles. Store the salad in an air tight container in the fridge. When ready to eat, dress each portion with a drizzle of oil, some lemon juice, a tiny pinch of salt, and a crack of pepper. Toss and enjoy. Only dress the salad right before you want to eat it, otherwise it will get soggy.

Plate the pasta with the salad and enjoy! The pasta and meat sauce will keep in the fridge for 5 days but can't be frozen. The undressed salad will keep in the fridge for 5 days, but can't be frozen. The best way to reheat the pasta is in a hot non-stick pan. Otherwise, take the lid off the container, cover with tin foil, and reheat in a 400 degree F oven for 10 minutes. If re-heating in the microwave, take the lid off, cover with a wet paper towel, and make sure not to re-heat too long or the chicken will dry out.
Recipe Notes
Macros:
380 calories per meal
15 grams of fat per meal
28.3 grams of protein
27.8 grams of carbs per meal
9.4 grams of fiber per meal