This healthy chicken meal plan recipe has been one of the most popular videos on the FlavCity YouTube channel. It features juicy spice-crusted boneless skinless chicken thighs finished with a sweet and sticky sour orange glaze. The flavor is next level. I like to grill the chicken in a cast iron grill pan, but you can use a regular pan for this recipe too. I put a funky twist on this tabouli salad by adding millet and black kale. Millet is gluten free and replaces couscous, which is typically used to make tabouli. For more easy chicken meal plan recipes, check out my Moroccan chicken stew with golden cauliflower rice, and 30 minute meal prep with chicken thighs and roasted veggies.
This chicken meal plan recipe makes 5 servings for the week and can be stored in the fridge. Just make sure not to dress the salad until the morning you want to eat it. Otherwise the tabouli will get soggy.
Juicy Boneless Chicken Thigh Recipes
These chicken thighs get a double dose of flavor by first seasoning them with smoked paprika, cumin, and coriander, and then finishing the chicken thighs with a sweet, sour, and spicy glaze made from orange juice. The key to making these boneless chicken thighs juicy is to season them with the spice rub and let them sit at room temperature for 20 minutes. This will do two things: first it will take the chill off the chicken because we never put cold meat into a hot pan, and secondly, it will allow the spices to marinate deep into the chicken thighs.
Chicken thighs will keep in the fridge for 5 days once cooked or can be frozen for 2-3 months. My preferred to reheat the chicken thighs is in a 350 degree F oven for 7-10 minutes. If using a microwave, make sure to cover the container with a wet paper towel and don't overheat. Otherwise the chicken thighs will dry out.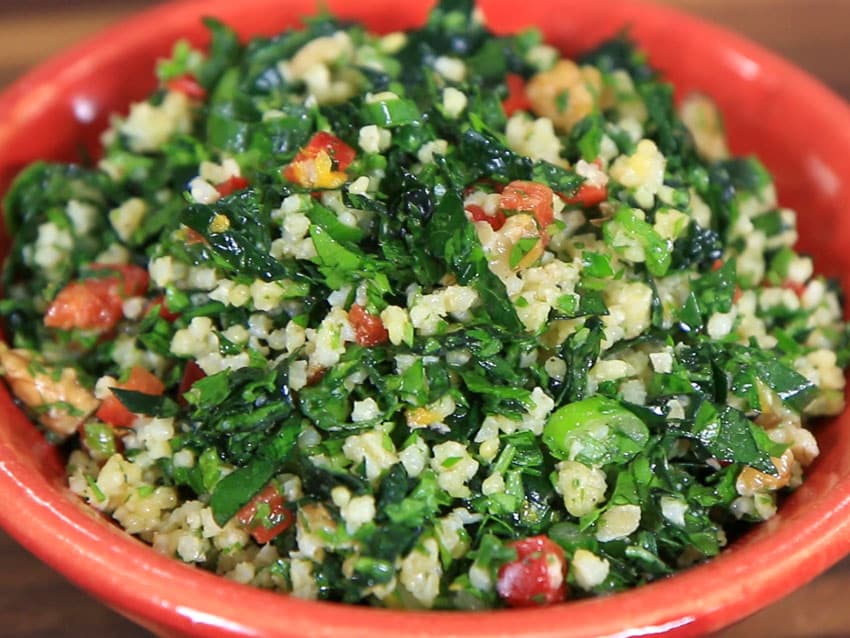 Tabouli Salad Recipe With Kale
This meal prep has a lovely little side that is my take on tabouli salad. It has parsley, millet, and kale, so definitely not very traditional, but the flavors are fresh and vibrant. The entire meal is gluten free thanks to the millet. In addition, this tabouli has lots cucumbers and walnuts for crunch. The dressing is super tangy thanks to some lemon juice, which makes the flavors of this tabouli salad pop.
Make sure to cook and cool the millet before adding to the salad. You can also use quinoa if you desire as it is gluten free as well. Since this salad makes 5 servings for meal plan for the week, don't dress the entire tabouli at once. Dress each portion as you want to eat it or the morning of as it won't get soggy by the time you want to eat it at work. For more tasty salad ideas, check out my kale, quinoa, and raisin salad that pairs with salisbury steak, and wild rice and veggie superfood salad.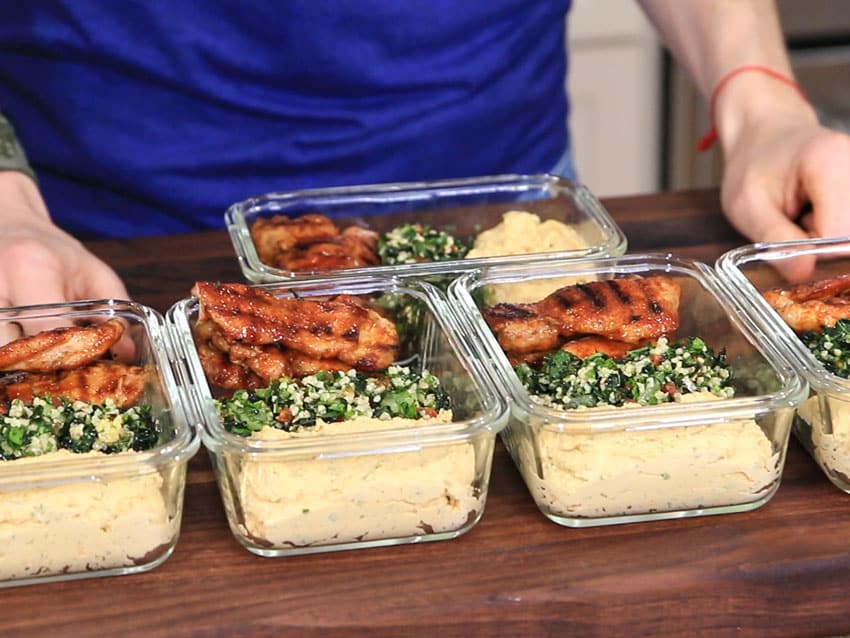 Healthy Chicken Meal Plan For The Week
I like to use boneless chicken thighs for this meal prep recipe. They have more flavor and are much juicer than chicken breasts, but feel free to use either one. You will need 10 chicken thighs that are about 4 ounces each. I like to buy organic chicken thighs from Costco or 365 Whole Foods brand. You can use a non-stick pan or preferably a cast iron pan for this recipe. Just make sure the pan is preheated for a couple minutes. You want the chicken to start searing as soon as it goes in the pan.
I have loads of healthy chicken plan recipes that you can prep ahead of time and store in the freezer. Many of my recipes use a flavorful spice rub just like in this recipe and will teach you the right way to cook chicken so it does not dry out. Some of my favorite chicken meal plan recipes are one pan chicken coconut curry and this easy sheet pan roast chicken and veggies.
The meal prep recipe also comes with a quick and easy hummus recipe, giving the whole meal a Middle Eastern vibe. The best hummus always comes from dried and soaked garbanzo beans, not canned garbanzo beans. So if you have the time, cook the garbanzo beans in boiling water and save some of the cooking liquid. You can use that later on to thin out the hummus in the food processor.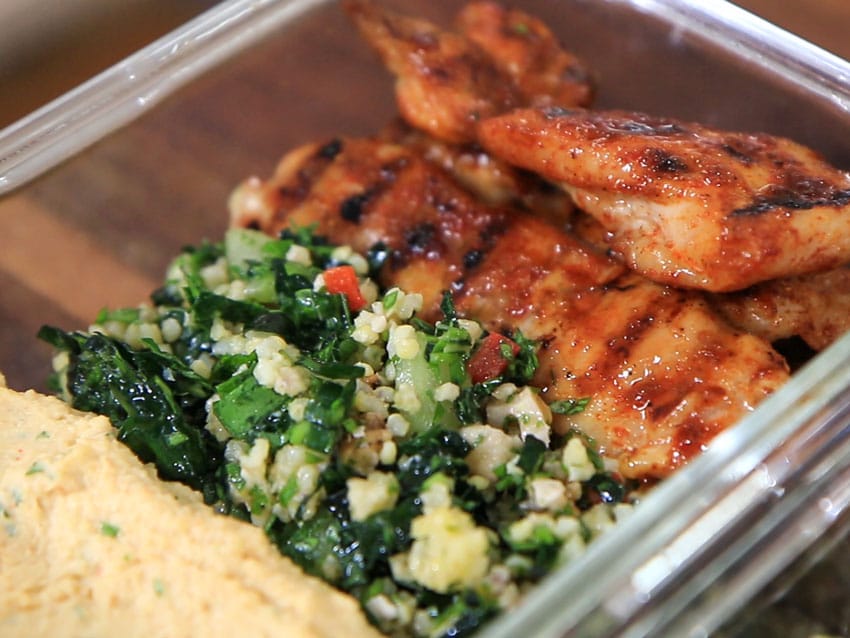 Check out some of my favorite chicken meal plan recipes: