This chicken meal prep could be my most poplar video on the FlavCity YouTube channel. Spice crusted boneless and skinless chicken thighs, cooked in a cast iron grill pan, and finished with a sweet and sticky sour orange glaze. The level of flavor on this chicken thigh recipe is insane, plus it is really easy to make.
You can grill the chicken thighs outside on a grill or use a cast iron grill pan like I did. Either way, just make sure to apply the glaze during the last few minutes of the cooking process otherwise it cam burn because of the sugar content.
Why I Love Boneless Chicken Thighs
If you like juicy, flavorful chicken recipes, than boneless chicken thighs are the only way to go. Here is the issue with breasts, they have almost no flat, so they dry out very easily ad are realy hard to cook properly. Chicken thighs give you some room for error, even if you overcook them a bit, they will stay moist and juicy because of the extra fat, and it;s not that much extra fat we are talking about.
Typically boneless and skinless chicken thighs are smaller and thinner than breasts, so they cook more evenly and quicker, which means you have less of a chance to overcook them compared to those big chicken breasts. You also need to check out my other recipes with boneless chicken thighs, this keto budget golden cauliflower rice and chicken recipe and this pork chops with sweet potato mash and kale salad recipe is fantastic.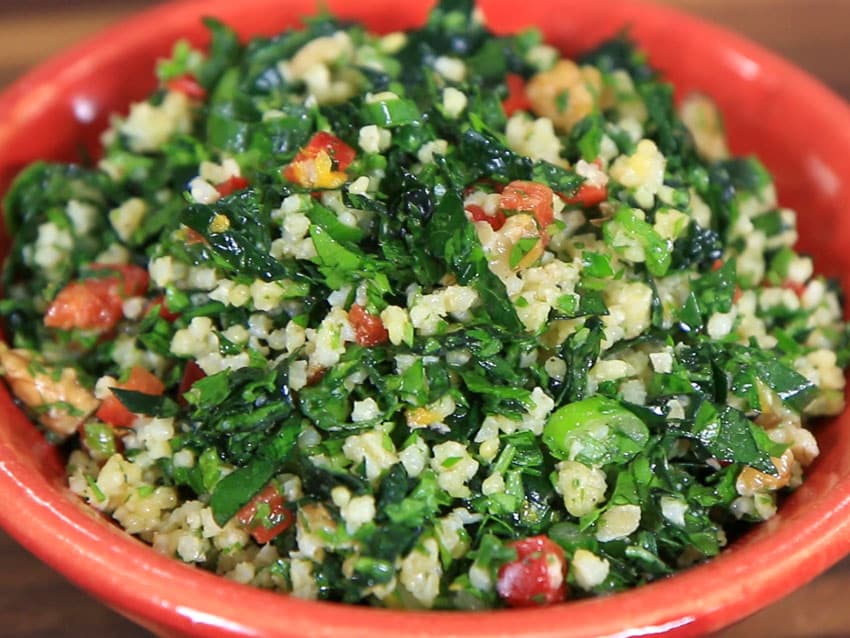 Tabouli Salad Recipe
This meal prep has a lovely little side that is my take on tabouli salad. It has parsley, millet, and kale..so definitely not very traditional, but the flavors and fresh and vibrant. The entire meal is gluten free thanks to the millet. This tabouli salad recipe has lots of fresh kale, parsley, cucumbers, and walnuts. The dressing is super tangy thanks to some lemon juice, and that makes the flavors of this tabouli salad recipe pop.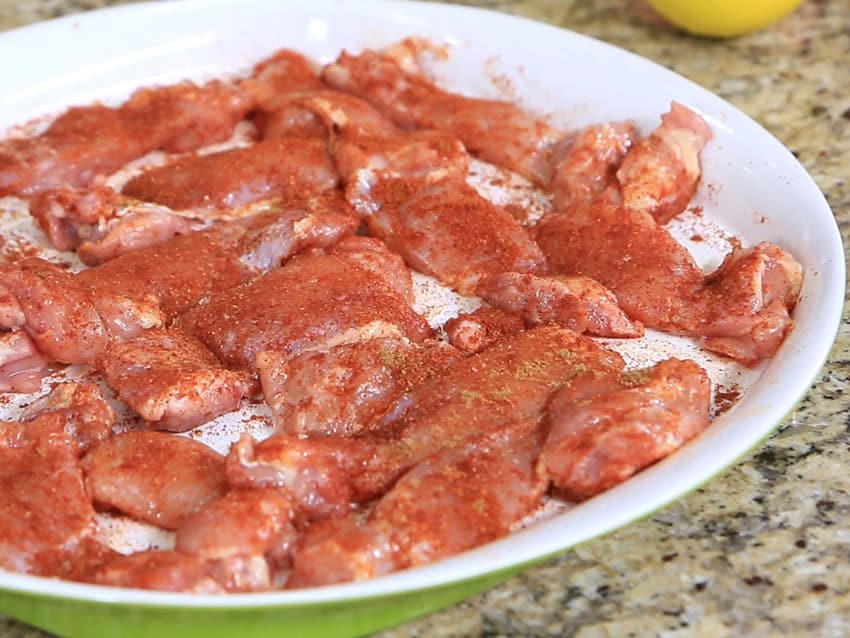 I used boneless and skinless chicken thighs for this recipe because they are cheaper than breasts, and go figure, they have way more flavor, so big win for us! Te recpe also works fr breasts, but trust me, the thighs is where it's at 😉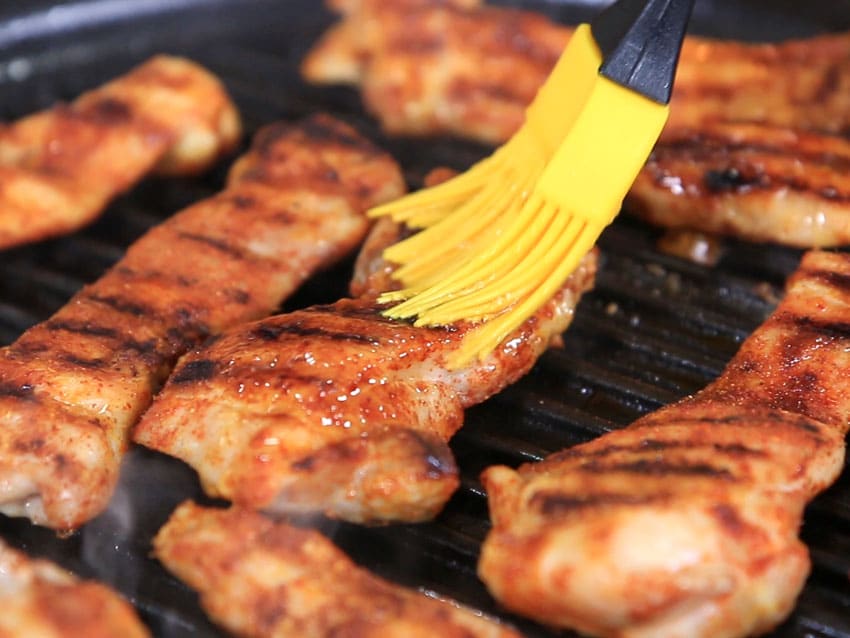 What makes this spice crusted chicken so darn god is the sour orange glaze that gets panted on the last few minutes of cooking. Don't apply the glaze to early, or it may burn because of the sugar content.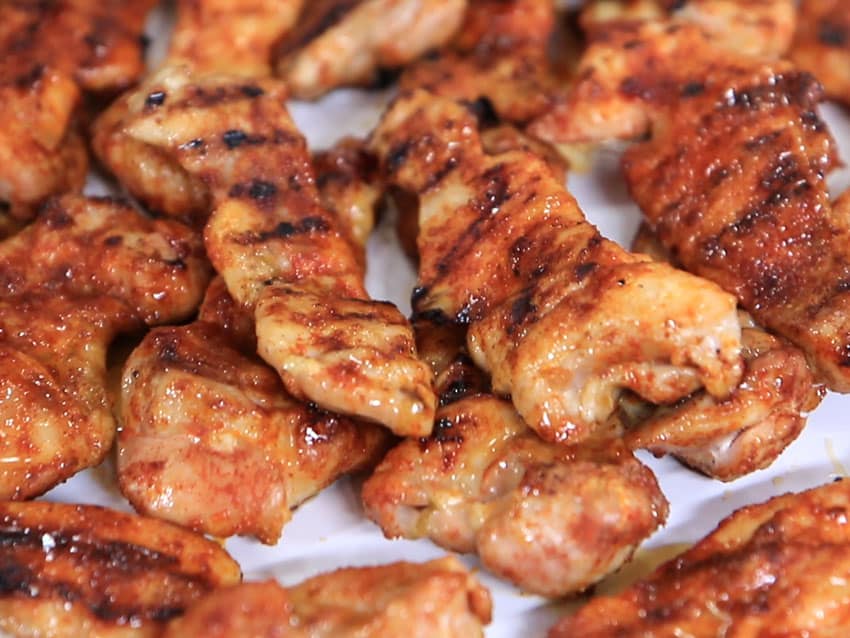 Just look at that cooked chicken, beautiful grill marks thanks to the grill pan, but you can also use a cast iron or non-stick pa for this recipe. Just make sure to let the chicken rest 5 minutes before cutting into it, otherwise the juices will spill out and the meat gets dry.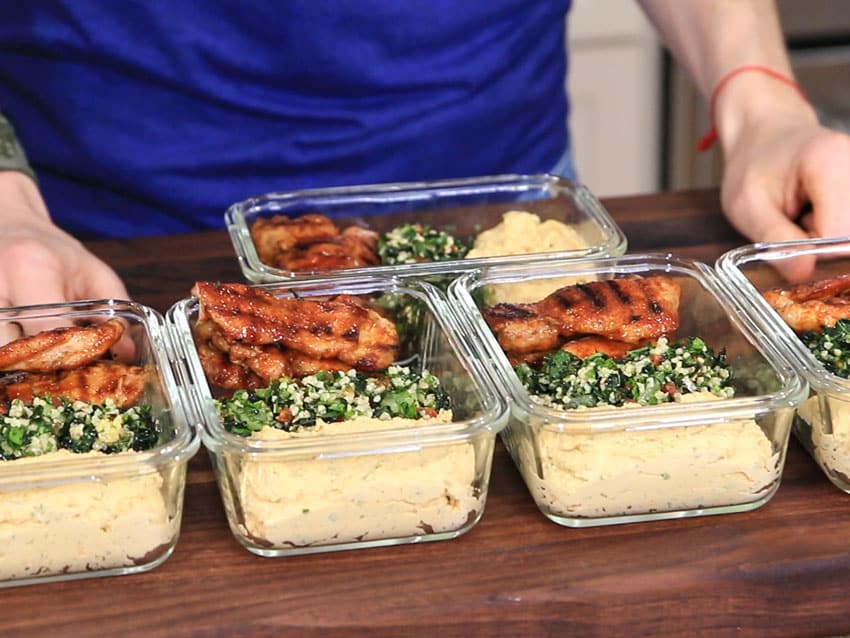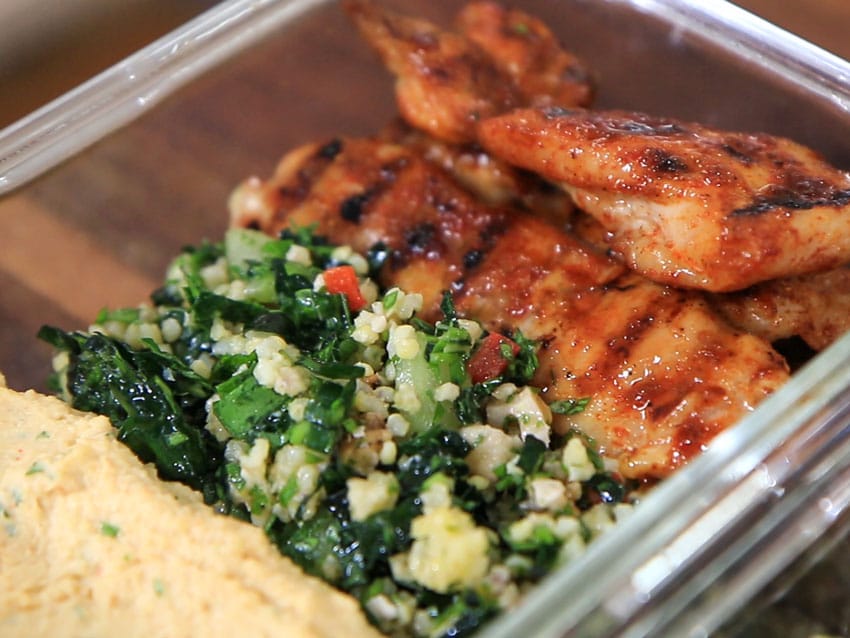 This budget meal prep makes 5 servings for the week, and everything will keep in the fridge, just make sure to store them separately. It's easy to make budget recipes when you buy in bulk and make everything yourself. Definitely try out this meal prep recipe and check out my other budget recipes on my site.