Stuffed Chicken Meal Prep
Tasty chicken meal prep stuffed with veggies and served with lentil salad and roasted cauliflower.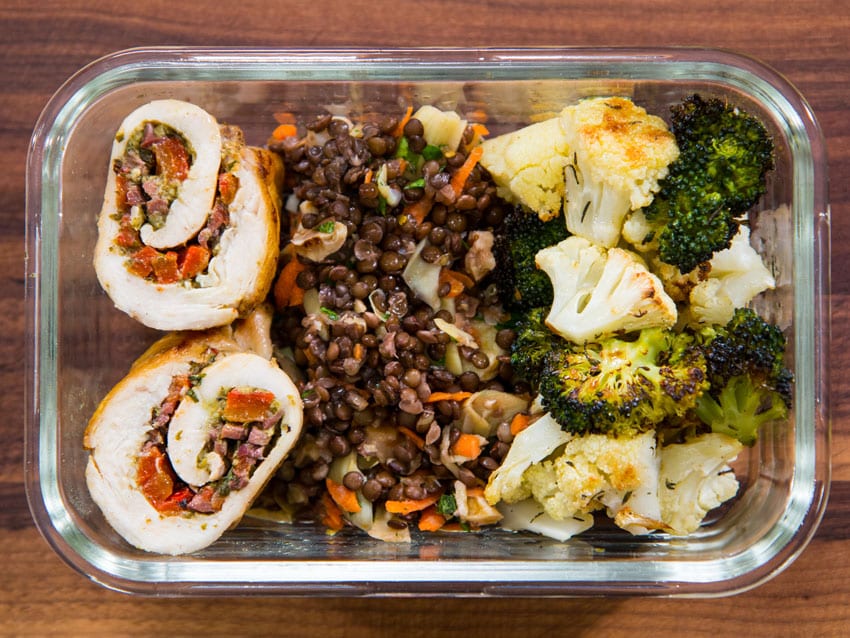 Healthy chicken meal prep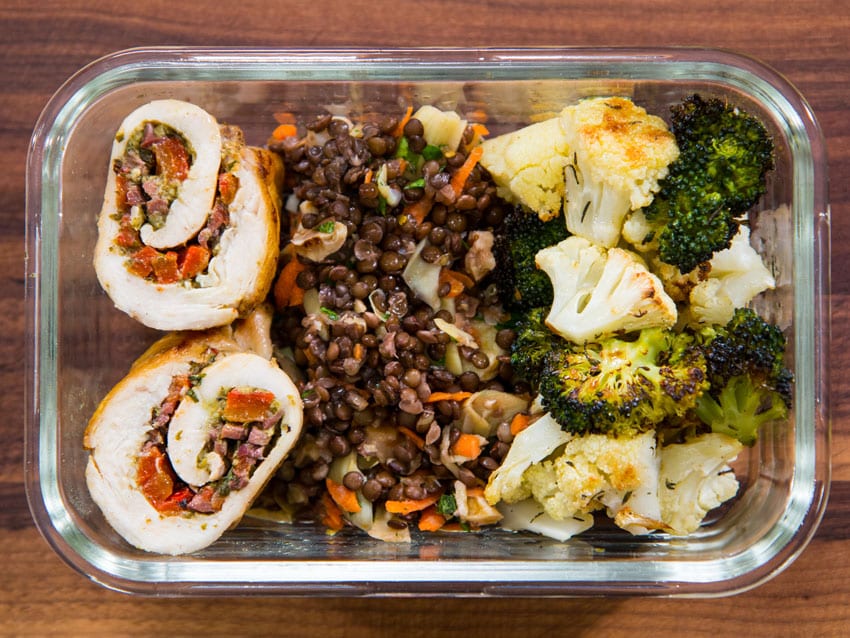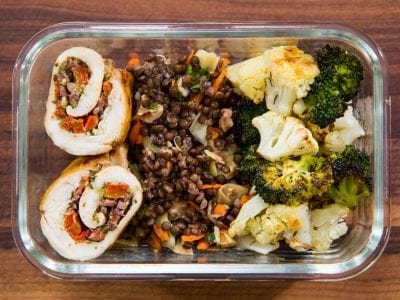 Stuffed Chicken Meal Prep, lentils
Print
Ingredients
For the chicken:
5

chicken breasts

butterflied & pounded very thin. Ask you butcher to do this

¼

cup

plus 1 tablespoon of pesto sauce

recipe below

1/3

cup

pitted kalamata olives

chopped

1/3

cup

roasted red peppers

finely diced

2-3

tablespoons

fresh Italian flat leaf parsley

chopped

¾

cup

low sodium chicken broth/stock

Kosher salt

Freshly cracked pepper

Olive oil

Butchers twine

I buy it from home depot
For the lentil salad:
1

cup

cooked lentils

I like black lentils

¾

cup

jarred artichoke hearts in water

chopped

2

carrots

peeled and grated

2

tablespoons

walnuts

chopped & toasted(optional)

3

tablespoons

fresh Italian flat leaf parsley

chopped

Zest & juice of ½ an orange

Fruit of 1 orange

cut into segments

Zest of 1 lemon

Juice of half a lemon

Kosher salt

Freshly cracked pepper

Olive oil
For the roasted veggies:
1

medium size head of cauliflower

12

ounce

bag of broccoli florets or 2 pounds of broccoli on the stalk

1

teaspoon

dried thyme

Kosher salt

Freshly cracked pepper

Olive oil
Instructions
Cook's Notes: Here is the link to my homemade pesto sauce: https://www.flavcity.com/chicken-meatball-meal-prep

If you want a shortcut, I recommend buying pesto sauce from Trader Joe's along with the pitted kalamata olives, roasted red peppers, artichoke hearts, and chicken broth/stock. I really like the quality and they have the great prices.

Make the lentil salad by bringing 3 cups of water to a boil and adding ½ a teaspoon of salt. Add ½ a cup of raw lentils and boil for about 25 minutes, or until the lentils are soft. Strain the lentils and run cold water over them for 1 minute to stop the cooking process. Let them drain for a few minutes then add them to a large bowl. Add all of the remaining salad ingredients to the bowl along with 1/2 teaspoon of salt, a couple cracks of pepper, and 2 tablespoons of olive oil. Mix well and check for seasoning, you may need a little more lemon juice or salt to make the flavors pop. Set aside.

For the veggies, pre-heat oven to 450 degrees F. Cut the cauliflower and broccoli florets into large bite size pieces and place on a sheet tray. Drizzle over 1 tablespoon of olive oil, 1 teaspoon of salt, a couple cracks of pepper, and the dried thyme. Mix well and roast in the oven for 25-30 minutes, or until the edges are well browned and cooked through. Remove from oven and set aside.

While the veggies are roasting, place your chicken breasts, smooth side up, on a plastic cutting board or platter. Season that side with a generous pinch of salt and a couple cracks of pepper, flip and repeat. Next, schmear 1.5 teaspoons of pesto sauce all over the side of the chicken breast that is facing up and then add a big pinch of olives, roasted red peppers, and parsley. Make sure the filling is spread out evenly and then roll the chicken breasts up, making sure it's a pretty tight roll. Use two pieces of butchers twine to securely tie the rolled breasts.

Pre-heat a large cast iron pan over medium-high heat for 2.5 minutes. Add 2 teaspoons of olive oil and let it pre-heat another 30 seconds then add all of the chicken breasts. If you pan is not big enough, only add 3 breasts. Sear on one side for 2-3 minutes, or until well browned, flip and turn the heat off the pan. If you need to sear the second batch, remove the first batch from the pan and sear the second batch on medium-high heat for another 2-3 minutes. Place all the breasts, browned side up, back in the pan. Add the chicken broth/stock, lower the temperature of the oven to 350 degrees F, and place the pan in the oven for 20 minutes. Remove from oven, take out of the pan, and set aside. Save some of the juice if you desire.

Cut the butchers twine off the chicken and slice the rolled breasts into 3 or 4 pieces. Assemble your meal prep containers and enjoy all week long!
Recipe Notes
Macros:
521 calories per meal
46 grams of protein per meal
23.8 grams of fat per meal
23.4 grams of carbs per meal
10.2 grams of fiber per meal