I've got 3 tasty kale recipes for you. Kale pesto, BBQ kale chips, and pickled kale stems.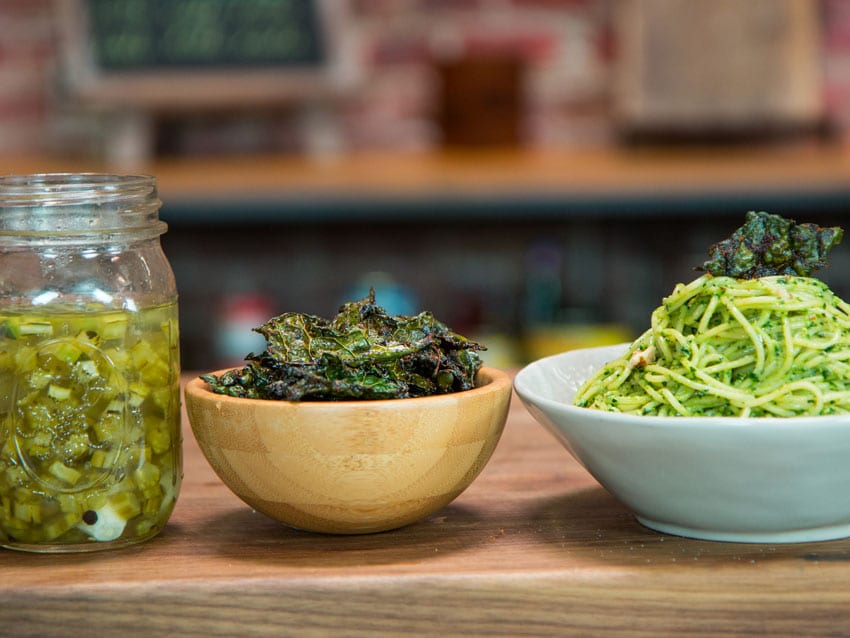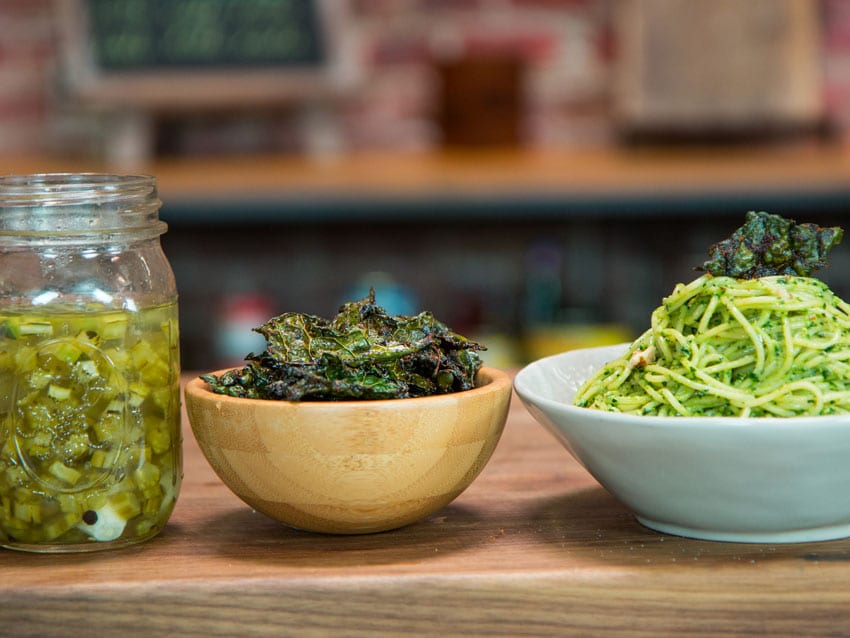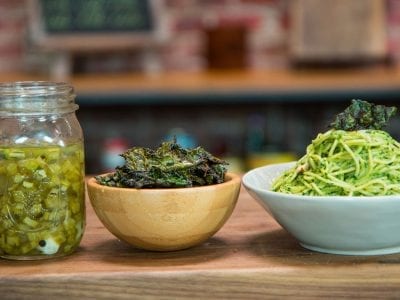 3 Recipes Using Kale
Print
Ingredients
For the kale chips:
1

bunch of black

lacinato kale

1

tbsp

ancho chili powder

1

tbsp

smoked paprika

½

tablespoon

brown sugar

½

tablespoon

garlic powder

½

tablespoon

onion powder

¼

teaspoon

cayenne pepper

Olive Oil

½

teaspoon

kosher salt

Couple cracks fresh black pepper
For the kale pesto:
1

bunch of black

lacinato kale

1

clove

garlic

Zest of 1 lemon & 1 tablespoon of juice

¼

cup

toasted walnuts

¼

cup

fresh Italian parsley

¼

cup

fresh grated pecorino romano or parmesan cheese

¼

cup

extra virgin olive oil

EVOO

¼

cup

veggie oil

Kosher Salt
For the kale stems:
½

cup

water

½

cup

white vinegar

3

tablespoons

sugar

2

tablespoons

kosher salt

3

garlic cloves

peeled

4

black peppercorns

Freshly cracked pepper
Instructions
For the kale leaves, pre-heat oven to 350 degrees F. Remove the center steam from the kale, tear into large bite size chunks, and put in a large bowl. Add 2 tablespoons of olive oil and all the remaining ingredients. Mix well using your hands and taste the kale for seasoning, it may need more cayenne or salt.

Arrange the kale in one single layer on a sheet tray(use two if needed), and bake for 15-20 minutes until crispy. Keep your eye on it because they will go from crispy to burned pretty quickly. Remove from oven and enjoy!

Bring a small pot of water to a boil and add 1 teaspoon of salt. Remove the center stems from the kale and blanch the leaves in the salted boiling water for 1 minute. Remove and place kale in a bowl of ice water to stop the cooking process and keep the color bright green. Once cooled, squeeze out all the water and place the kale aside.

For the kale pesto, In a food processor add the squeezed kale, garlic, next 3 ingredients, ½ teaspoon salt, and a couple cracks of pepper. Run the food processor until the mixture is thoroughly chopped and incorporated, scrape down the side of the bowl if necessary. With the machine running, slowly add both the EVOO and veggie oil and process until combined. Add the cheese and process until the pesto is smooth. Turn the machine off and taste the pesto, it might need more salt or lemon juice. If the consistency is a little dry, add 2-4 tablespoons more of oil while the machine is running.

For the pickled kale stems, bring the water and next 5 ingredients to a boil. Meanwhile, cut the kale stems in ¼ inch pieces. Put kale stems in boiling liquid, reduce to a simmer, and cook for 3 minutes. Turn off heat and let mixture come to room temperature. Keep the stems in their liquid in the fridge for up to 2 weeks. You will start getting that pickled flavor after 15 minutes.