Lamb Chops with Parsnip Fries
Spice crusted lamb loin chops served with roasted parsnip fries.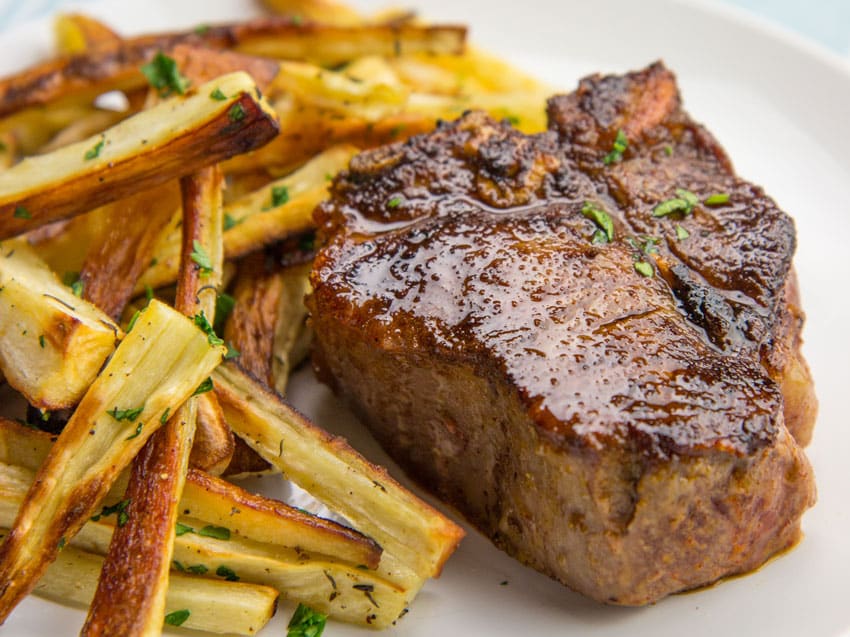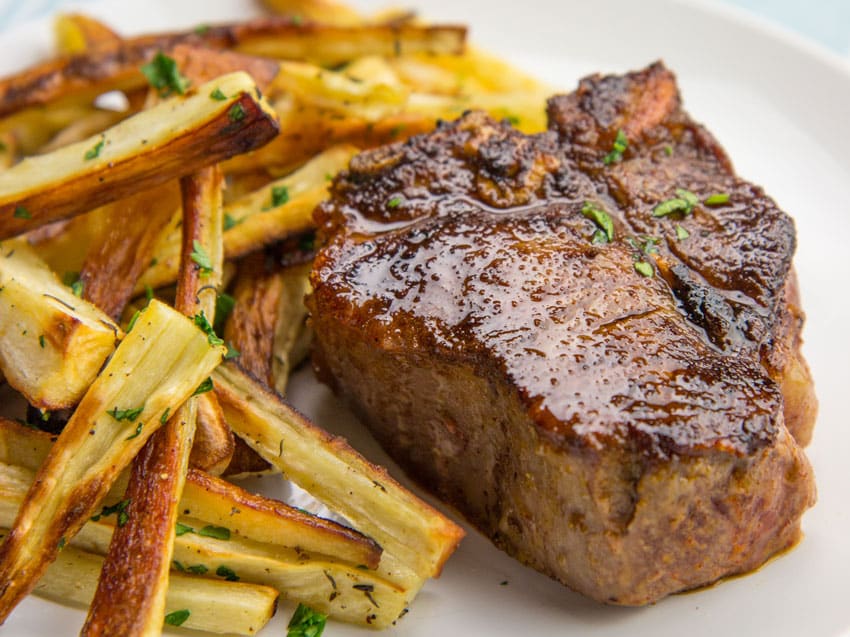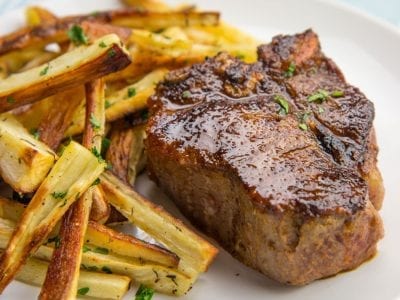 Lamb Chops with Parsnip Fries
Print
Ingredients
For the lamb:
4

lamb loin chops

1

tablespoon

smoked paprika

1

tablespoon

ground cumin

1/4

teaspoon

ground cinnamon

1/2

teaspoon

dried thyme or oregano

Kosher salt

Freshly cracked pepper
For the parsnips:
2

pounds

parsnips

peeled and cut in 1/2 inch thick fries

3

tablespoons

olive oil

1

teaspoon

dried thyme1

teaspoon

kosher salt

Couple cracks fresh pepper
Instructions
For the lamb, add the paprika and next 3 ingredients to a small bowl and mix well. Season the lamb with a good pinch of salt, a crack of pepper, and a generous dusting on the spice rub on each side. Let rest at room temperature for 30 minutes before you cook them.

Pre-heat oven to 425 degrees with a large sheet pan inside. Toss the cut parsnips with all of the remaining ingredients and mix well. Carefully arrange the parsnips on the hot sheet pan in one singe layer. Cook for 25 minutes, flip the fries over if they look well browned on top, and cook for another 10-20 minutes until well browned. If the fries are not browned on top after 20 minutes, don't bother turning them, just continue cooking.

When the parsnips are almost ready, pre-heat a cast iron pan over medium-high heat with 1-2 tablespoons of oil. Sear the lamb on one side for 3-4 minutes until its well browned. Flip over and transfer the pan to oven for 7 minutes. The lamb will be close to medium but still have a little pink inside. Cook 3-4 minutes longer for medium doneness.

Rest the meat for 5 minutes on a clean plate under some tin foil so the juices can redistribute. Serve with fries and enjoy!