You guys have been asking for low carb dessert recipes and Dessi has been hitting recipe testing hard! She is finally ready to share this epic low carb biscotti recipe with chocolate, citrus, and pecans. It takes a lot of work to make low carb dessert recipes that actually taste good and have a pleasant texture, but this biscotti recipe hits all the right flavor notes and has the perfect texture.
Not only is this low carb dessert recipe keto approved, but it's vegan and dairy-free thanks to a flax seed egg. All you have to do is mix flax meal with water and voila! You have a vegan sub for an egg. We also used virgin coconut oil to keep the recipe dairy free, but feel free to use good quality grass-fed butter.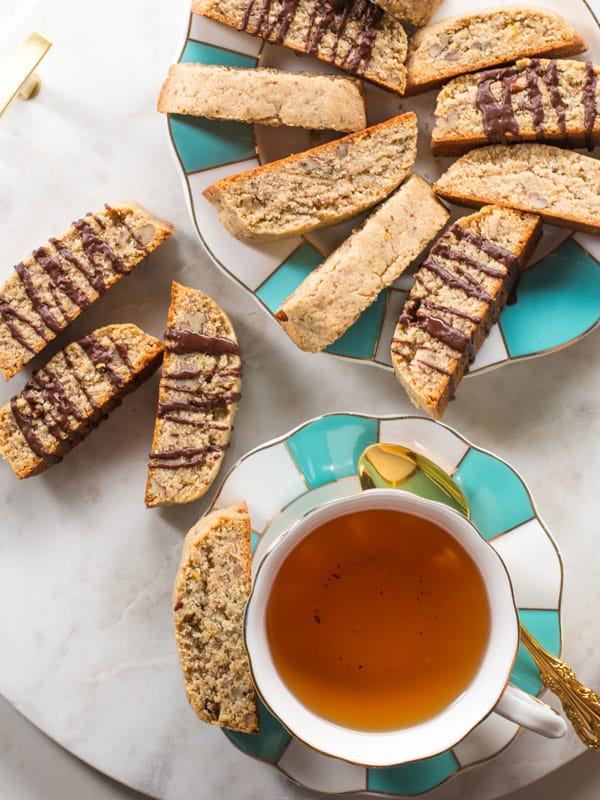 Dessi wanted to make such an easy low carb dessert recipe for you guys, so she ditched the food processor and make everything by hand. It's really just a matter of mixing the wet and dry ingredient and then using your hands to bring the dough together. This recipe is literally perfect for any keto, vegan, dairy-free diet and could not be any easier to make.
Quick and Easy Keto Desserts
No machines needed for this keto dessert biscotti recipe. Just mix the dough by hand and bake it in the oven. Biscotti means "twice baked" – the first bake is to cook the dough all the way through and the second bake is to make the biscotti nice and crispy so you can dunk the in a cup of tea or coffee. Just make sure to store this keto dessert biscotti in a paper bag at room temperature. If you keep them in a zip-top bag, they will get too soft from the humidity.
Dessi is working on some pretty epic keto dessert recipes coming soon, but in the meantime check out her Keto fat bread recipe, which is perfect for making sandwiches, and her keto breakfast muffins with spinach and feta.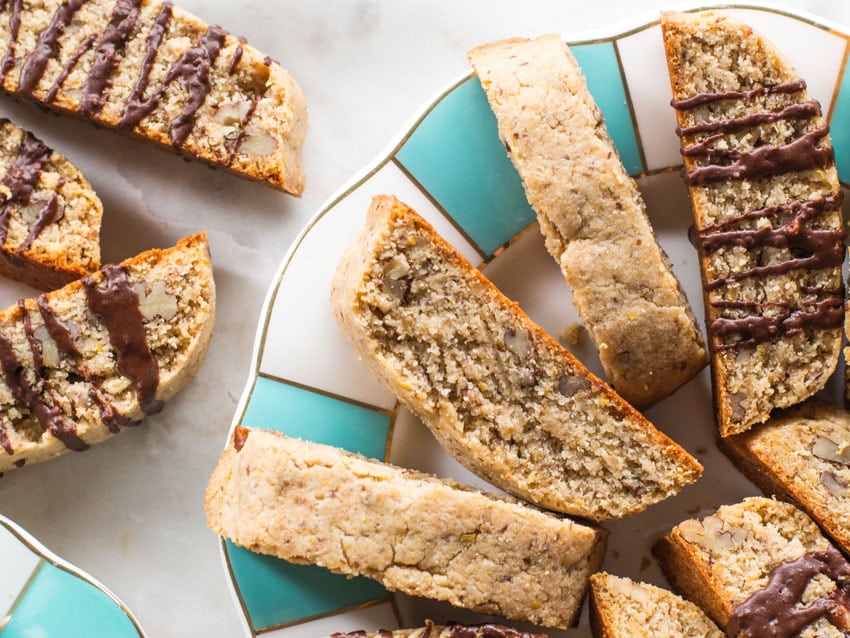 Easy Sugar Free Biscotti Recipe
The key to this keto biscotti recipe is using the right combination of flours like almond and sunflower seed. They make for the perfect texture for this biscotti recipe. When making these biscotti, keep the wet and dry ingredients separate and then always pour the wet on top of the dry. This biscotti recipe is so easy that you can mix the dough by hand. No food processor needed.
Make sure you allow these biscotti to cool before you slice them for the second bake. Otherwise they will fall apart. Also make sure you wait for the biscotti to cool down before you drizzle with the keto chocolate sauce. That will ensure the glaze doesn't melt into the biscotti. The entire biscotti recipe is sugar-free thanks to stevia and powdered erythritol . This sugar-free dessert is so tasty you won't even know that it is not the real deal, plus it's perfect for the keto diet and low carb lifestyle