You guys went bananas for Dessi's keto fat bread recipe the other week, so she decided to make the most epic low carb breakfast muffins loaded with spinach and feta cheese. These low carb muffins are made with 3 base ingredients: macadamia nuts, eggs, and coconut butter. It is amazing how these 3 ingredients make for a moist and tender low carb breakfast muffin that you can grab on the way to work or school.
We used a non-stick muffin tin and sprayed them to ensure they don't stick, but you can also make mini muffins and the kiddies will love them even more! The key to these low carb breakfast muffins is to blend the batter very well using a food processor or you can also use a powerful blender. Just make sure to get the batter in the tins and in the oven asap as you don't want the oil to start to sink to the bottom.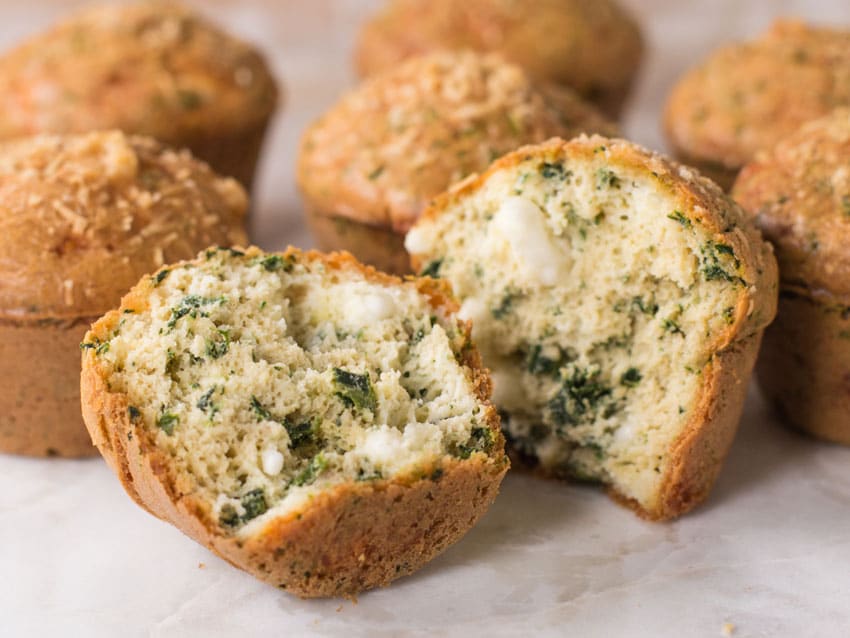 I have two other low carb bread options that you guys need to check out. My almond flour biscuits make the perfect keto sausage Mc'muffin sandwich. I also have a low carb cloud bread recipe that makes the perfect bun for my keto roasted chicken salad.
Use the same keto fat bread recipe and make my:
Keto Breakfast Recipes
This spinach and sausage muffin recipe makes 9 muffins, so you can make ahead and have the perfect keto breakfast ready in the morning to take to school or work. What makes these keto breakfast muffins so low carb is the fact that we did not use any starch of thickeners, only nuts, eggs, and coconut butter. We initially saw this recipe made in the Netflix documentary The Magic Pill. That is why we made the keto flatbread the other week, and since the batter is so versatile, we were able to use if for this moist and tasty keto breakfast muffins. Stay tuned for keto everything fat bagels coming soon. 😉
Many people have been asking if they can use coconut oil instead of coconut butter. No, it is a very different product and they do not have the same texture. Use my Amazon link below to buy the coconut butter. That is the best price you will find. The muffins will bake for about 25 minutes or until well browned and a toothpick comes out clean.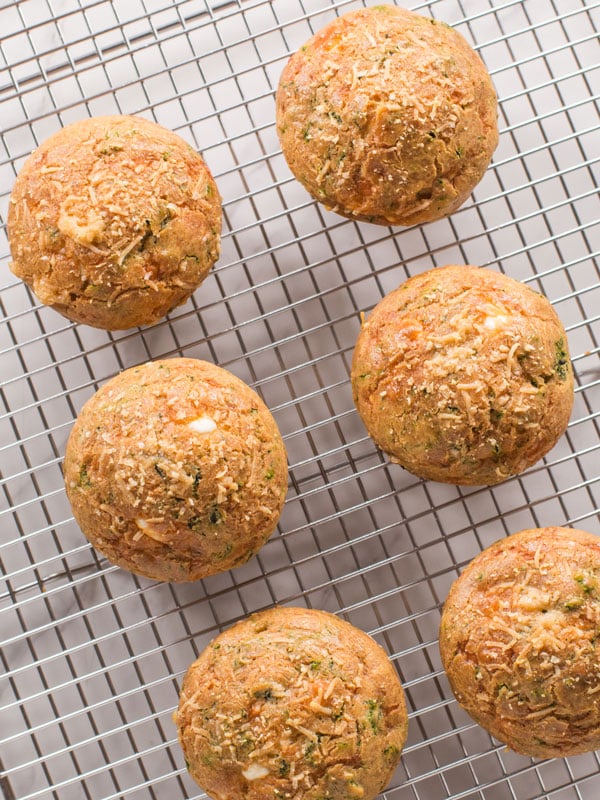 Low Carb Recipes
You will not find a tastier low carb muffin recipe anywhere else online. These muffins are moist, tender, and the consistency is perfection. Feel free to add different mix-ins or even add sugar free chocolate chips and stevia to make them sweet. For more low carb recipes that have huge flavor, check out the keto section of my website and YouTube channel. From breakfast, lunch, to dinner, I have some tasty low carb recipes for meal prep that you are sure to love.
We Paired the recipes with aryan yogurt drink, which is a cool and refreshing drink on a hot summer day. Aryan is very typical in Turkey & Bulgaria and is made with Greek style yogurt, water, and salt. This recipe for aryan goes so well the muffins.