This low carb bread recipe could be the best one I have ever seen or tasted! The texture of this bread is remarkable, golden and crusty on the outside, and moist and tender inside. As I type this blog, I am eating the same roast beef sandwich pictured below. What makes it even better is the fact that I griddled the bread slices in hot butter first. So epic!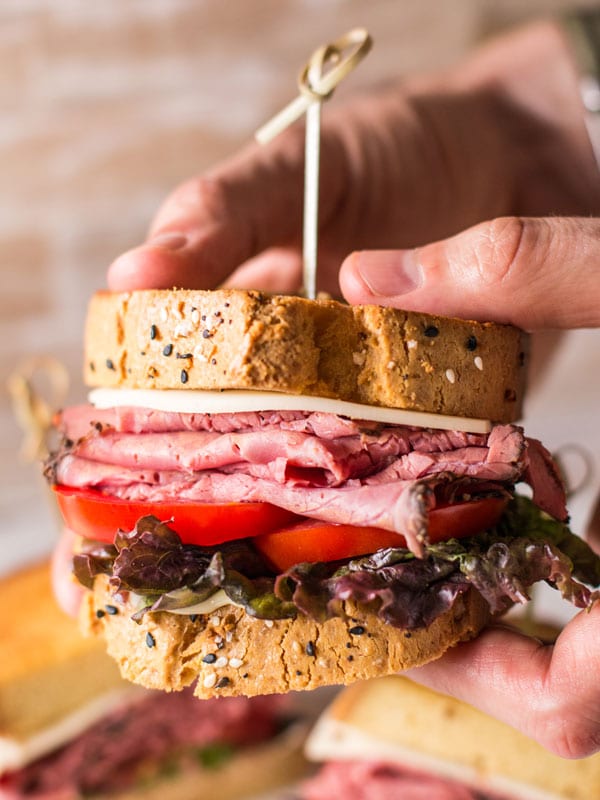 This keto bread is grain free, dairy free, and gluten free, but the texture still resembles that of starchy bread. It's crazy. We saw this bread being made on the Netflix documentary 'The Magic Pill'. They did not give the recipe, but we knew that we had to make it at home, and luckily for us, there were only a few ingredients and it could not be easier to make! This low carb bread is made with macadamia nuts, coconut butter (not oil), and eggs. I believe this recipe will work with almond butter as well.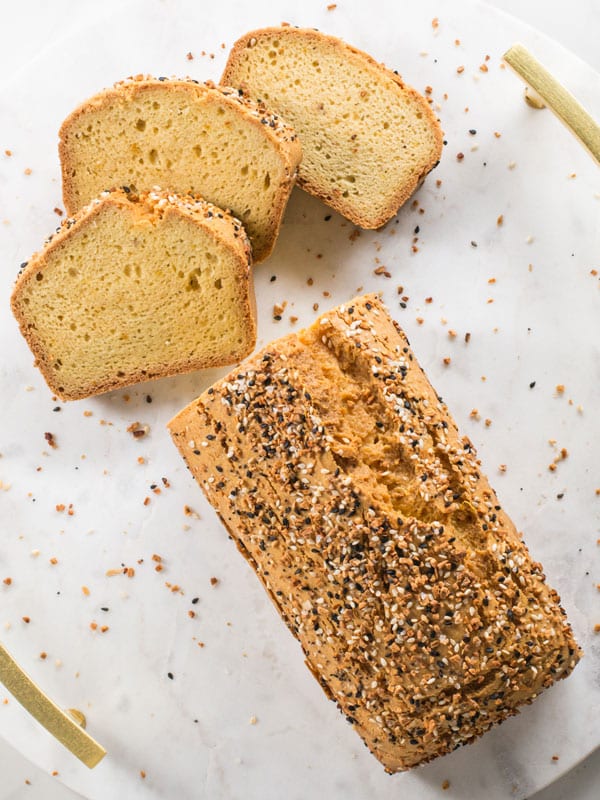 The Best Keto Bread Recipe Ever
The options for this bread are endless – think sandwiches, bagels, muffins… Check out the recipes below. The texture of this bread is what really surprised me. It's hearty, doesn't fall apart, and does not have an eggy flavor. I even used this keto bread to make french toast on my FlavCity Instagram story. It was perfect, especially when I fried the eggs in the rendered bacon fat. Naughty, naughty 🙂
Use the same keto fat bread recipe and make my: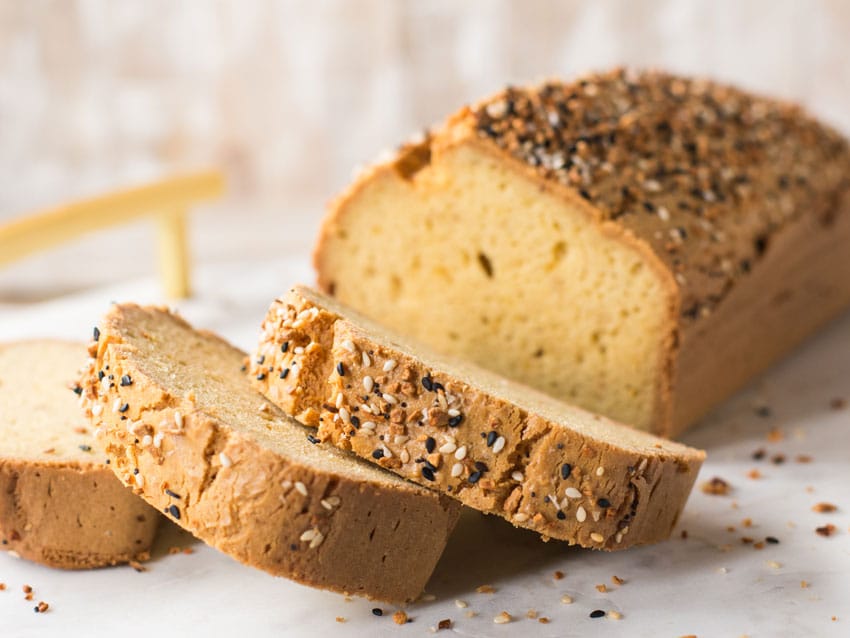 Since the bread has no gluten, you can mix it in the food processor without worrying about over mixing the batter. Very rarely can you actually mix a bread like this. You have to knead it. Just make sure to bake the bread in a non-stick or well greased bread or meatloaf tin. Don't use silicone molds because they don't conduct heat as well as metal.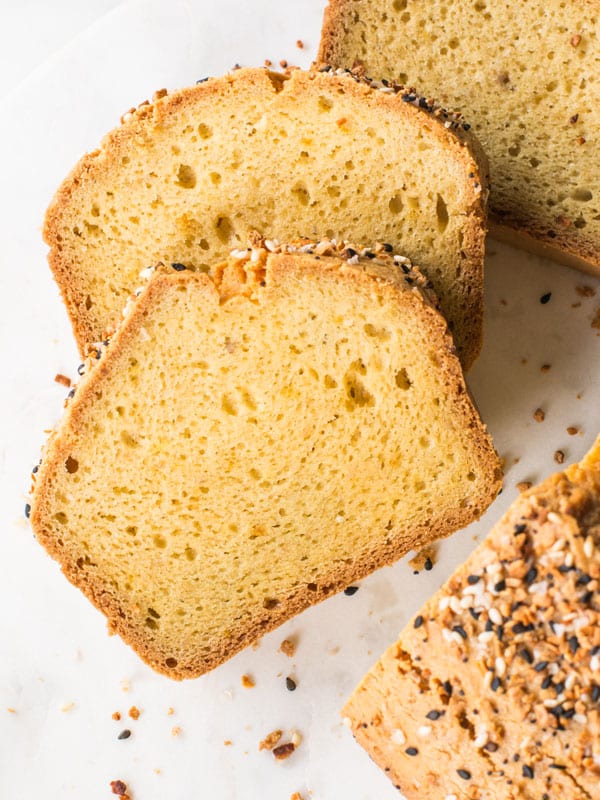 Here are some questions that are going through your mind right now about how to make keto bread.
Do I have to use macadamia nuts for this recipe?
Yes, the macadamia nuts have a high fat content, which makes the batter silky and smooth. You can try to do it with peeled almonds, but I am not sure it's going to work.
Can I use almond butter instead of coconut butter?
Yes, you can use almond butter. Just make sure it's soft and pour-able. However, note that the texture of the bread will be a bit different with the almond butter. I've done 50% coconut butter and 50% almond butter – it works great.  If you are allergic to coconuts, use almond butter and almonds to make the bread.
Where do I buy everything bagel seasoning?
You can buy it at Trader Joe's or use the Amazon link I have below. The flavors of the onion, garlic, and salt together are magical.
Why does my bread have a green tint to it?
To avoid the greenish off-color tint in your bread, first make sure you are using baking soda and lemon juice to activate it, and add them right after incorporating the eggs. In addition, add baking powder at the very end after mixing in the coconut butter/manna. The combination of baking soda and baking powder will eliminate the green color. Just be sure not to add them at the same time as that may change the texture of your bread. Follow instructions exactly as listed in the recipe box.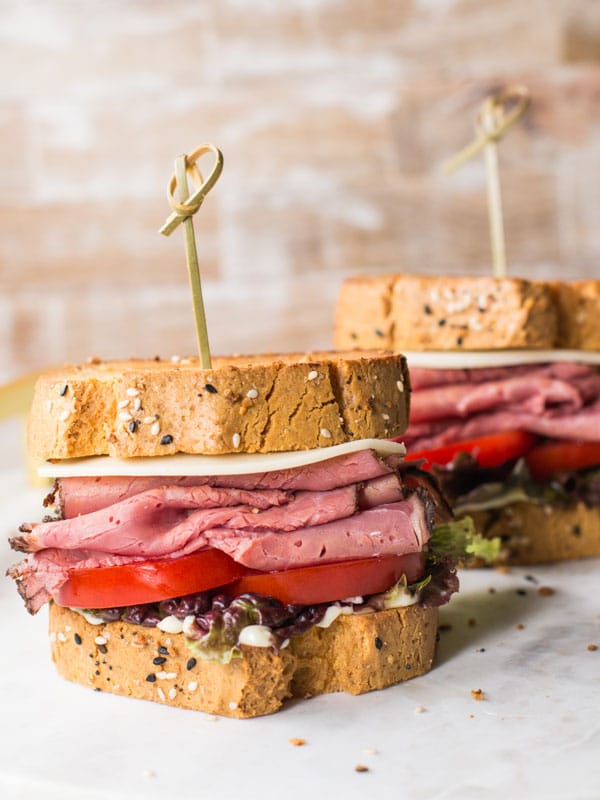 Gluten Free Bread
Most gluten free bread recipes have a lot of starch in them in the form of rice flour, tapioca starch, and potato starch. This bread is starch-free, so you don't have to worry about any bloating feeling or all those starches converting into sugar and spiking your glucose levels. I have tried many gluten free breads in the past. This one is my new go-to. I also have a gluten free bread recipe for Cloud Bread. It comes with a delish roasted chicken salad to make a killer lunch you can take to work or school.
Some other gluten free bread recipes that you need to check our are:
I just updated the recipe based upon some feedback I received from you guys. It's very important that you mix the coconut butter very well as the oil can sometimes separate from the butter. It's best to place the glass jar in water so it gets soft and then mix very well. Check the expiration date of your baking soda – that could prevent the bread from rising to its full potential. Once the batter is thoroughly mixed, transfer it to the bread or meatloaf tin asap and then into the oven. Otherwise the fat will start to pool at the bottom.