This is the season for comfort food and nothing compares to the low carb Mexican tater tot casserole. What makes this casserole so unique it that it is keto approved thanks to the cauliflower tots. I came up with this recipe a while back and recently thought it would be cool to make a Mexican tater tot recipe using them. I also wanted to give it a taco flavor, so I used my favorite homemade taco seasoning mix, and the flavors are off the charts.
Before making the low carb Mexican tater to casserole, be sure to make my keto cauliflower tots as you will need them for the topping. I decided to omit the cheese from the tot recipe since we are using a bunch of cheese in the casserole, but it's completely up to you.
How Do I Make A Mexican Tater Tot Casserole?
The first step to making a low carb tater tot casserole is to make the cauliflower tots. All you need to do is rice 1 head of cauliflower on a box grater or food processor and combine with eggs, seasonings, and pack them into mini muffin tins. I recent started using a silicone mini muffin tin because my tots kept sticking to the non-stick pan I had. This was driving me crazy, so I made the switch and love it.
Bake the low carb tots in a 400 degree F oven for 30 minutes or until golden brown. Click the link in the beginning of this blog post to get the full recipe. Next up, cook some onions, poblano peppers, and garlic in a large non-stick pan for 10 minutes and then add 1 pound of ground beef.
After the beef is cooked halfway, add 2 tablespoons of my homemade taco seasoning mix. It has smoked paprika, ancho chili powder, cumin, coriander, thyme, and cayenne pepper, and it's so tasty! Then add some beef stock and 2/3 cup of red enchilada sauce to make the filling of the tater tots casserole moist and saucy.
Cook for 10 minutes then transfer to an 8×10 baking dish and top with 1.5 cups of grated cheddar and jack cheese. Place the keto cauliflower tots on top and bake in the oven for 30 minutes. Add 1/2 more of cheese and bake another 10 minutes. Allow the casserole to cool for 20 minutes before serving or it will fall apart when you scoop it out.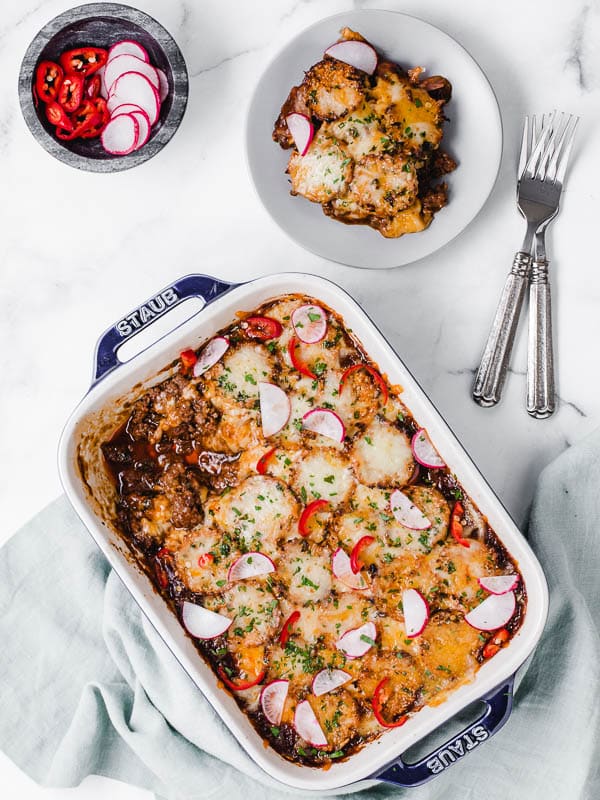 How Do I Make A Low Carb Mexican Casserole?
It's very easy to make a tater tot casserole low carb. Just replace the tots with ones made from cauliflower and use keto approved veggies. I like to add green or poblano peppers to the garlic and onions, but you can also add some spinach or broccoli. That is a great way to sneak some veggies. The kids won't even taste them because the taco seasoning mix and beef have so much flavor!
Each cauliflower tater tot only has 0.87 net grams of carbs, and you won't even be able to tell that it's not made of potatoes. Make sure to top he casserole with full fat shredded cheese, lower fat cheeses have more carbs, and bake in the oven. You can top with low carb toppings like avocados, full fat sour cream, radishes, and cilantro.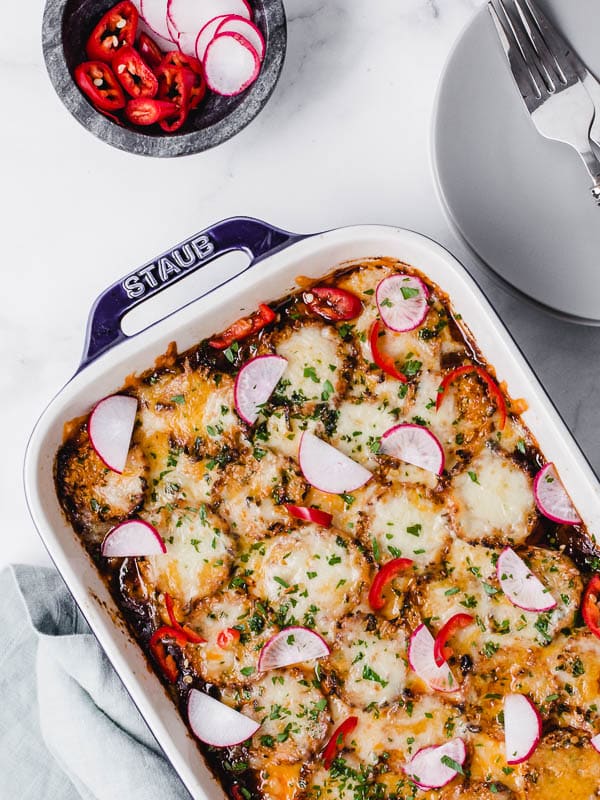 Can You Make A Tater Tot Casserole Ahead Of Time?
You can make a tater tot casserole one day ahead of time and reheat in a 350 degree F for 15 minutes or until hot. The flavors actually get better the next day! You can freeze the Mexican casserole for 3 months,. Just make sure to thaw before reheating in the oven. The tater tot casserole will keep in the fridge for 4-5 days.
Make sure to check out my other comfort food recipes: