It's about time I shared with you a life changing recipe for guacamole that I learned just outside of Mexico city. Dessi and I were heading home from a trip to the pyramids, and we stopped at a restaurant called La Gruta.
They had the most tasty guacamole I have ever tried, and when I asked them what the secret was, they said "never to add lime juice directly into the guacamole". You see, lime is a very strong acidic flavor and it can easily overpower the delicate flavor of the avocado.
Instead, finely dice red onions and pickle them with lime juice for 15-30 minutes. Doing so will take the raw flavor away from the onions and provide just the right amount of acid.
I have been following this technique for years now and my easy guacamole recipe is better than any other one I have tried!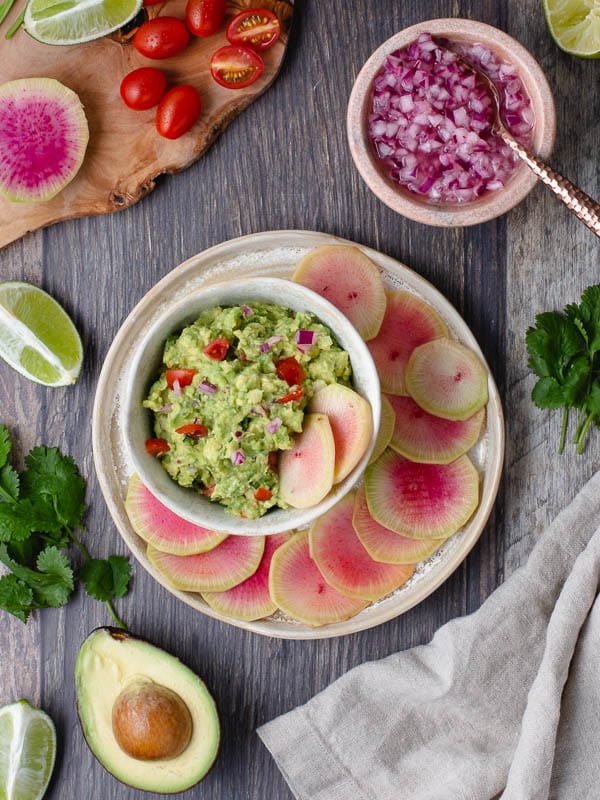 Here are the steps for making the best homemade guacamole:
Finely dice 1/4 cup of red onions and squeeze over enough fresh lime juice to cover. Allow to marinate for 15-30 minutes. This does two things: removes the raw flavor of the onions and mellows out the flavor of the lime juice.
Scoop two ripe avocados into a bowl along with a shot of really good extra virgin olive oil and 1/4 teaspoon of salt. Use a large fork or potato mashed to gently mash into a chunky consistency. Trust me – the olive oil adds great flavor!
Now add the toppings of your choice, avoiding watery items that will ruin the texture of the guacamole. If using tomatoes, remove the seeds and chop them. I like to add toasted pepitas, blistered poblano peppers, and chopped mango.
If not enjoying right away, press plastic wrap directly on to the surface of the guacamole so no air is trapped between. This will prevent the top from turning brown and oxidizing.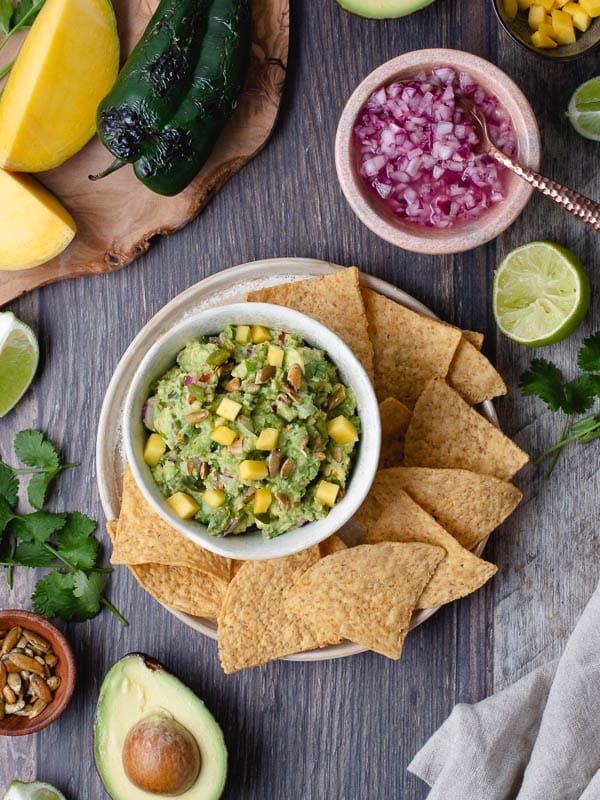 What Toppings Are Best For Guacamole?
It's best to keep guacamole simple and let the avocado flavor shine though. If adding toppings, make sure to season them thoroughly and avoid adding watery ingredients. For this easy guacamole recipe I toast some Mexican pumpkin seeds in a hot skillet with oil, cumin, and salt. They add a nice crunch and boost of flavor. I also chop some fresh mangos and season them with salt and chili powder, kind of like Tajín seasoning.
How Long Will Guacamole Last In The Fridge?
Prepared guacamole will only last for 1 day in the fridge, and it best eaten the same day it's prepared. If storing in the fridge, be sure to press plastic wrap directly to the surface of the guacamole so no air can touch it. This will help prevent the guacamole from turning brown. You store prepared guacamole on the counter for 1 hour before you need to place in the fridge.
How Do I Ripen Avocados?
Place unripe avocados in a brown paper bag with a few bananas. This gas omitted from the bananas will help speed up the ripening process for the avocados. It is best to buy avocados 4 days before you need to make the guacamole and store them in the fridge once they are ripe. You can not place avocados in the microwave or oven to help speed up the ripening process.
Make sure to check out my other snack and game day recipes: