It's finally summertime and the smell of grilled burgers is in the air. But when you are on the keto diet, it's tough to enjoy juicy hamburgers on pillowy buns served with starchy french fries – until now!
This recipe for keto burgers and low carb jicama fries makes 5 portions for meal prep and will satisfy your burger craving in a seriously delish way. My keto meal prep for this recipe only last 2 hours because a few friends were watching my Instagram story from Monday and decided to crash my kitchen, but hey, sharing is caring!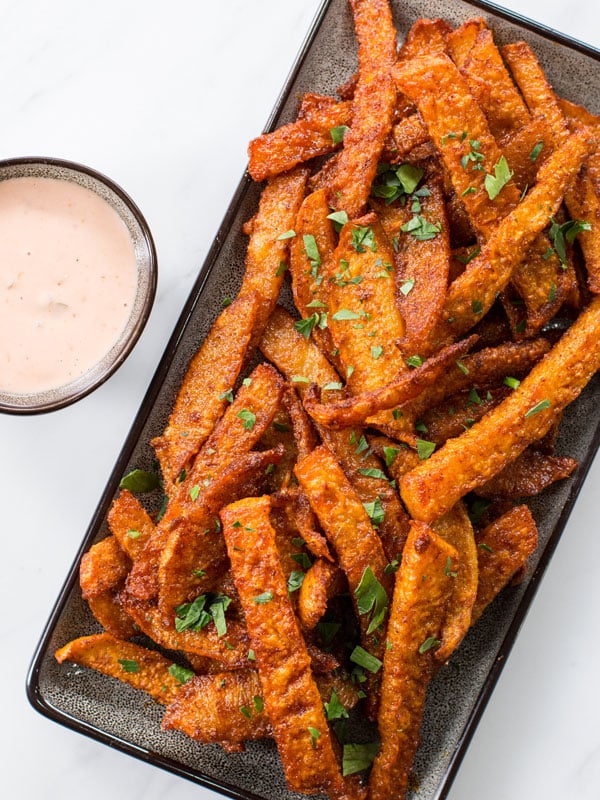 How To Make Jicama Fries
The only way to get your french fry on while doing the keto diet is to make jicama fries. You first have to boil the jicama to par-cook them and help draw out the excess starch, and then you can bake them in the oven. I coated my jicama fries with smoked paprika, cumin, cayenne, and baked them in the oven for about 40 minutes with a brief broil at the end to make them crispy.
This shrimp burger recipe is juicy, full of flavor, and so darn unique. I mean, how many of you have made a burger from ground shrimp before? Shrimp burgers can pretty much be treated just like salmon burgers. Season them aggressively and puree them in the food processor. The key for this shrimp burger recipe is not to puree them too smooth – you want them to be slightly chunky monkey. Texture is a good thing y'all!
Tasty Recipes For Keto Weight Loss
If you haven't noticed, my blog is loaded with a bunch of meal prep recipes for keto weight loss. Many of you guys have been asking me when I am going back to making weight loss recipes, and I am constantly reminding them that the keto diet is perfect for losing weight. Sometimes you can adjust the amount of oil used or use low fat dairy. Keto diet weight loss is the way to go!
Check out my other keto weight loss recipes on y blog like my keto burrito bowl with low carb Mexican cauliflower rice and al pastor pork chops. Also check out on of the most popular keto recipes on my FlavCity YouTube. This Moroccan chicken with golden cauliflower rice is a symphony of flavors!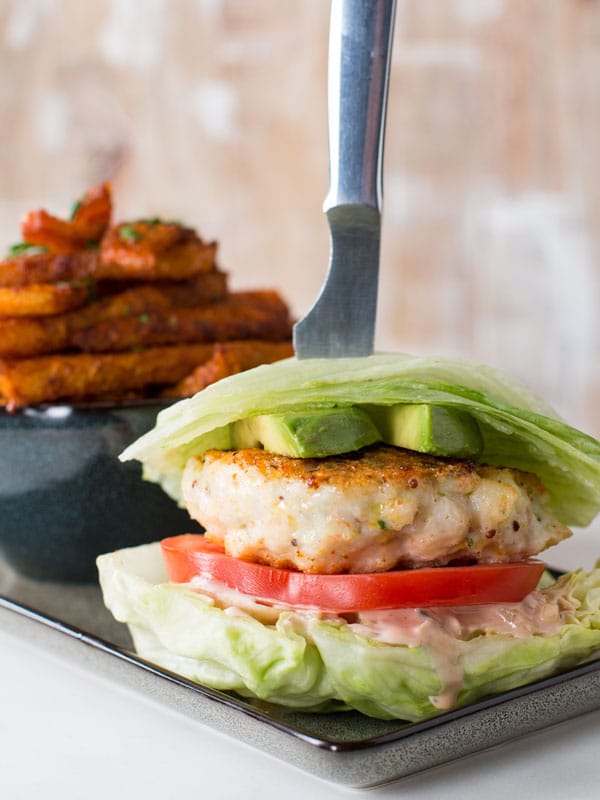 This shrimp burger and jicama fries meal prep recipe contains my recipe for keto special sauce. Think McDonalds pink sauce w/o all the yucky ingredients and sugar. The key to this sauce is using keto ketchup, meaning it has no sugar. You can buy this or make it yourself.
Also, the secret sauce contains dill relish, not sweet relish. The later contains sugar, and that is a no-no on the keto diet.
I know a few of you guys will ask if you can make the shrimp burger recipe in a blender if you don't have a food processor, and the answer is maybe! If you have a good blender where you can control the speed of the blade and feel confident the machine can puree the shrimp, without making it too smooth, go for it.
But check out the video recipe in this post. I want you guys to see the texture of the shrimp burger after I process it. I call it chunky monkey style and don't like when everything is smooth and there in no texture to the shrimp burger patty.
Normally I cook in a cast iron pan 90% of the time, but for this recipe, I don't want the shrimp burgers to stick, so a large 14 inch non-stick pan will do the trick. Check out my Amazon links to see the one I use.
You will still have to cook the shrimp burgers in two batches because if you overcrowd the pan, they won't get golden brown and crusty. Check out the video to see how darn crusty and beautiful my burgers got. 😉