Last week I shared with you guys my sugar free ketchup recipe on YouTube, and you were eager for a keto version of my honey bourbon BBQ sauce. This homemade BBQ sauce recipe tastes just as good as your favorite brand, except mine is keto and paleo approved, and not loaded with refined sugars. This BBQ sauce recipe takes 2 minutes of active prep time, and only 45 minutes to simmer away, until the sauce is thick, rich, and tangy.
I think the two reasons why the sugar free BBQ sauce tastes so good, is that I use my keto ketchup as the base, and quite possibly the best brown sugar substitute I have ever seen. The keto brown sugar is soft, pack-able, and has that molasses flavor, I would definitely scoop some on Amazon, it's my new fav.
How Do I Make Homemade Sugar Free BBQ Sauce?
It's much easier than you think to make homemade BBQ sauce that is keto and paleo approved. Here are the steps for making my low carb BBQ sauce.
Start by adding 1 cup of your favorite sugar free ketchup to a medium size pot, you can always use my keto ketchup recipe, which is insanely tasty.
Add some brown sugar substitute to the pot along with water, tamari soy, Worcestershire sauce, dijon, vinegar, spices, and liquid smoke.
Cook everything on a low simmer for 45 minutes so the sauce can reduce and thicken. Blend on high for 30 seconds until smooth and creamy.
Low Carb BBQ sauce will last in the fridge for 3 weeks, and gets even tastier the second day.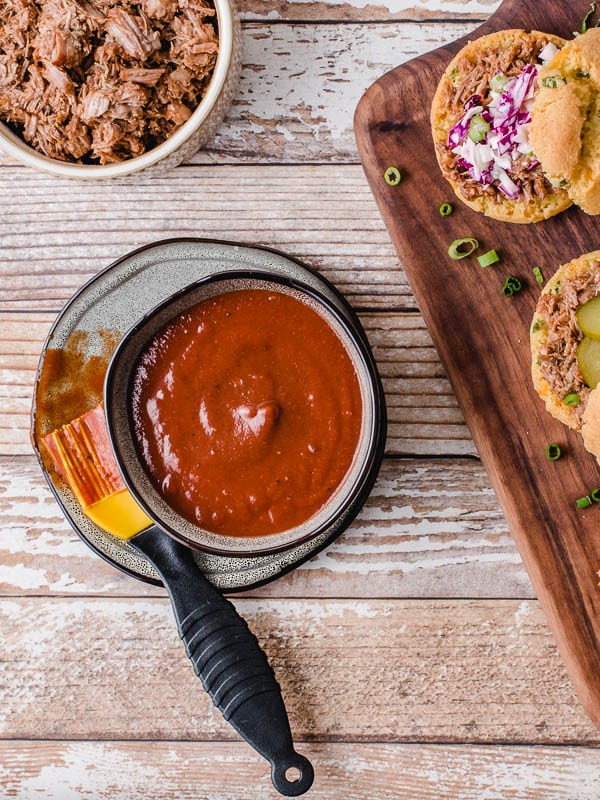 What Sugar Substitute Is Best?
I have experimented with different low carb sugar substitutes, and can now say that Sukrin brown sugar is my favorite, especially for this BBQ sauce. The brown sugar substitute is soft and pack-able, and has that molasses flavor we all love. It does not have that strange erythritol flavor or make you mouth cool and numb. The brown sugar substitute measure 1:1, which makes it an easy replacement for sugar.
Last week I made the keto ketchup with monk fruit sweetener, which I really like too, but it's lacking that depth of flavor that the brown sugar has.
How Many Carbs Does BBQ Sauce Have?
This sugar free keto BBQ sauce only has 1.40 grams of total carbs(1.22 net) per tablespoon and 7 calories. This compares with over 5.5 grams of carbs for store bought sauce loaded with refined sugar.
Can I Freeze Homemade BBQ Sauce?
Homemade BBQ sauce can be frozen for 6 months or stored in the fridge for 3 weeks. It actually tastes better on day two.
Here are some recipes to use the sugar free BBQ sauce on: