Rose and I made these french fries and ketchup on Facebook this week and they were epic! Baked russet french fries, extremely crispy, and dipped in a sweet and tangy homemade ketchup.
Your kids will love this recipe, so make sure to double it. Most ketchup is made with high fructose corn syrup, this one is made with coconut sugar. The fries are tossed in best in class avocado oil and baked to crispy and creamy.
How To Make French Fries In The Oven
To make crispy baked french fries, preheat oven to 400F convection or 400F bake. Peel the russet potatoes and slice then into 1/4 thick fries. Russet potatoes are the best for making fries.
You want to remove the excess starch in the potatoes, otherwise they won't get crispy in the oven. Soak the slices potatoes in a large bowl with cold water and use your hands to shake the starch out. Drain the water and repeat one more time.
Make sure to thoroughly dry the potatoes then transfer to a large bowl and season with avocado oil and salt. Toss well and transfer to a large sheet tray and make sure the french fries are in one even layer. Bake for about 40 minutes, flipping the fries halfway.
How Do I Make Ketchup?
The process for making homemade ketchup that is sugar-free only takes 45 minutes and is about as easy as they get. Here are the steps and what you will need to make sugar-free ketchup.
Add tomato paste, water, monk fruit sweetener or coconut sugar, apple cider vinegar, salt, and spices to a medium size pot.
Mix well and simmer the ketchup over low heat for 30 minutes with a lid on the pan. Make sure you stir the ketchup every 5 minutes. Remove lid and let it cook another 15 minutes.
To make the homemade sugar-free ketchup smooth and creamy, blend it or use a hand blender for 30 seconds on high. Allow the ketchup to cool and store in the fridge for 3 weeks or freeze for 6 months. The favor of the ketchup will get better the second day.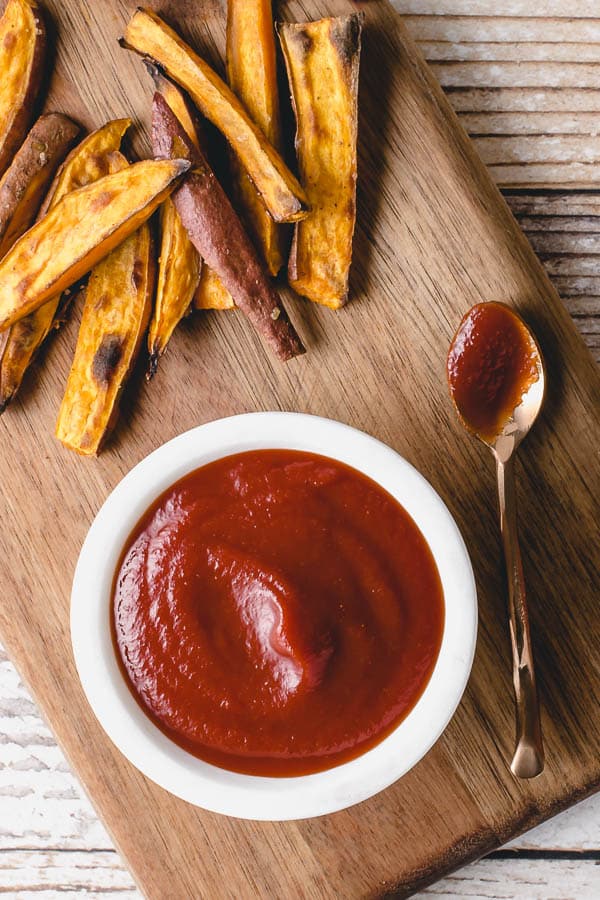 Make sure to check out my other recipes: