A couple of weeks ago on the FlavCity Instagram stories, I asked you guys if you want to see how to make homemade ketchup. The answer was a resounding "yes" because all of us are tired of overpaying for sugar-free, keto, and paleo ketchup at the grocery store. Why are these brands charging us so much just because they are removing the sugar? My homemade sugar free ketchup only costs $3.06 for 12 ounces.
Well enough is enough! This homemade ketchup recipe could not be any easier to make. It's all about balancing the sweet, salty, and sour flavors, and lucky for you guys, I nailed this one! Seriously, the flavor tastes just like Heinz tomato ketchup, except without all the high fructose corn syrup! This homemade sugar-free ketchup recipe makes 12 ounces, will store in the fridge for 3 weeks, or can be frozen for 6 months.
Once you have a fresh batch of my homemade ketchup, feel free to use it in many recipes. You can use it for the special sauce in my keto shrimp burgers and fries recipe , homemade sugar free BBQ sauce, or for the glaze of my Keto cheese stuffed meatloaf and veggies.
How Do I Make Sugar-Free Ketchup?
The process for making homemade ketchup that is sugar-free only takes 45 minutes and is about as easy as they get. Here are the steps and what you will need to make sugar-free ketchup.
Add tomato paste, water, monk fruit sweetener, apple cider vinegar, salt, and spices to a medium size pot.
Mix well and simmer the ketchup over low heat for 30 minutes with a lid on the pan. Make sure you stir the ketchup every 5 minutes. Remove lid and let it cook another 15 minutes.
To make the homemade sugar-free ketchup smooth and creamy, blend it or use a hand blender for 30 seconds on high. Allow the ketchup to cool and store in the fridge for 3 weeks or freeze for 6 months. The favor of the ketchup will get better the second day.
What Type Of Tomatoes Are Best For Making Homemade Ketchup?
It is best to used organic tomato paste from the can to make homemade ketchup as it will have the same texture as your favorite stuff from the bottle. Using fresh or canned tomatoes will work for making ketchup too, but keep in mind the consistency will never be rich and smooth like traditional ketchup. Perhaps in the summer when you have incredible fresh heirloom tomatoes you can use them to make ketchup, but I would stick to organic tomato paste.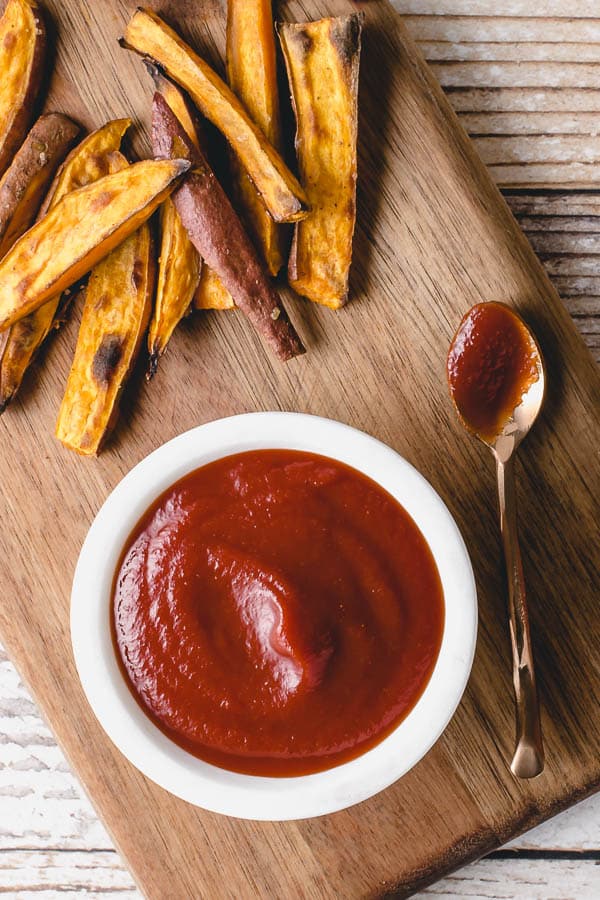 How Long Will Homemade Ketchup Last?
Homemade ketchup can be stored in the fridge for 3 weeks in an airtight jar. Just make sure to cool it down to room temperature after making it. This recipe makes 12 ounces of paleo ketchup which is the perfect size to keep in the fridge. Feel free to double the recipe in the summer if you know that you will be going through lots of it.
Can I freeze Homemade Ketchup?
Homemade ketchup can be stored in the freezer for 6 months in an airtight container. Make sure to allow the ketchup to col down after making it before putting in freezer. When ready to use sugar-free homemade ketchup, allow it to thaw in the fridge overnight or leave it on the counter for a few hours. You can gently reheat the ketchup in a pot if needed.
Make sure to check out my other recipes that use ketchup:
Turkey burger with low carb cauliflower rice pilaf
Double turkey cheeseburger with keto cloud bread bun
Meatloaf meal prep with parsnip fries