Last night I made these juicy Asian shrimp cakes on the FlavCity Instagram stories. So many of you guys wanted the recipe, that we snapped a pic and I wrote up the recipe asap! The flavor on these shrimp cakes is dynamite, just the right amount of garlic and ginger, and the texture is soft and juicy.
Don't forget about my homemade recipe for sweet chili sauce that only has 3 ingredients. You know that stuff in the glass bottle you love to buy, well it's loaded with refined cane sugar and nasty ingredients. This sweet chili sauce recipe only has agave nectar, sriracha sauce, and rice wine vinegar.
How To Make  Shrimp Cakes
To make homemade shrimp cakes, all you need is a food processor. Just add 2 pounds of cleaned shrimp to the processor along with avocado oil mayo, 1 egg, green onions, salt and pepper, garlic, and ginger. Buzz it up until the texture is smooth, but you still have some chunks of shrimp here and there. I always love a bit of texture.
You can make this in a blender, but do it in batches because you want the mixture to be evenly blended, and I don't think the blender does this as well as the food processor.
Grab 3-4 tablespoons of the shrimp mixture, form into a ball, and place in a hot non-stick pan that has a shot of avocado oil. Carefully use your hand to press it down into the shape of a cake. Do this a few more times, making sure not to over-crowd the pan, and work in batches. Cook until golden brown on each side, about 3 minutes then cook the next batch. Keep the cooked cakes warm in the oven.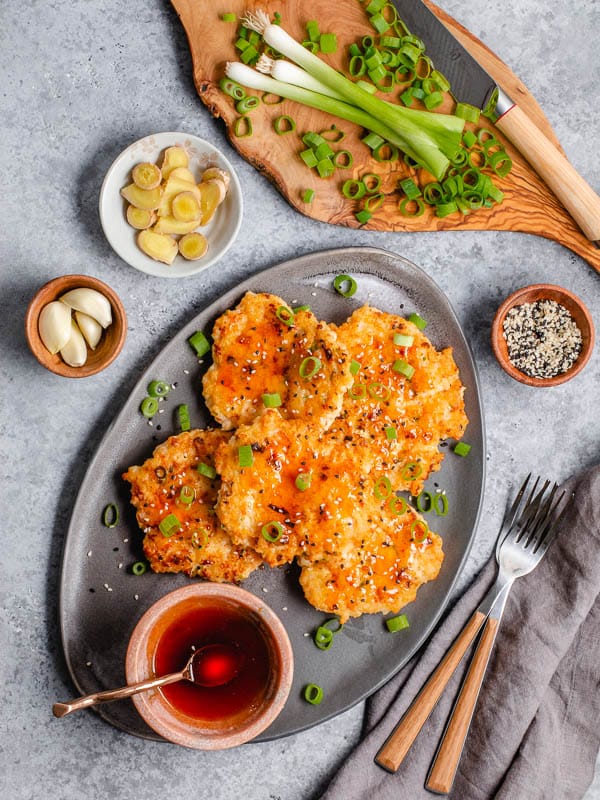 How Do I Make Sweet Chili Sauce?
My homemade sweet chili sauce recipe only has 3 ingredients. Add the agave nectar, sriracha or sambal oelek, and rice wine vinegar to a pan. Bring to a boil and immediately turn down to a bare simmer and check for seasoning. You want a good balance of heat, sour, and sweet, so adjust accordingly. Take sauce off the heat and pour over the cooked shrimp cakes and garish with sesame seeds and sliced green onions.
What Binder Do I Need For Shrimp Cakes?
The only binder you need for shrimp cakes is 1 egg and mayo. There is no need to use breadcrumbs because the shrimp are very sticky. This recipe is paleo approved and if you skip the sauce, the shrimp cakes are perfect for the keto diet. You could actually use keto maple syrup instead of agave nectar and the sweet chili sauce would be keto!
What To Serve With Shrimp Cakes?
To keep everything low carb, I would serve a shirataki noodle and veggie stir fry with the shrimp cakes. You could also make my keto cauliflower fried rice loaded with veggies.
Check out my other healthy Asian recipes: