I teased this keto coconut shrimp recipe on Instagram last week and you guys went nuts! I had no choice but to share the low carb recipe with you, and you have the option of cooking the coconut shrimp in the air fryer or pan fried. The key to making these keto is replacing panko bread crumbs with crushed pork rinds! They are low carb, salty, and crunchy. What else can you ask for!
If you are looking for more low carb shrimp recipes, then you gotta try my keto shrimp burger with jicama fries.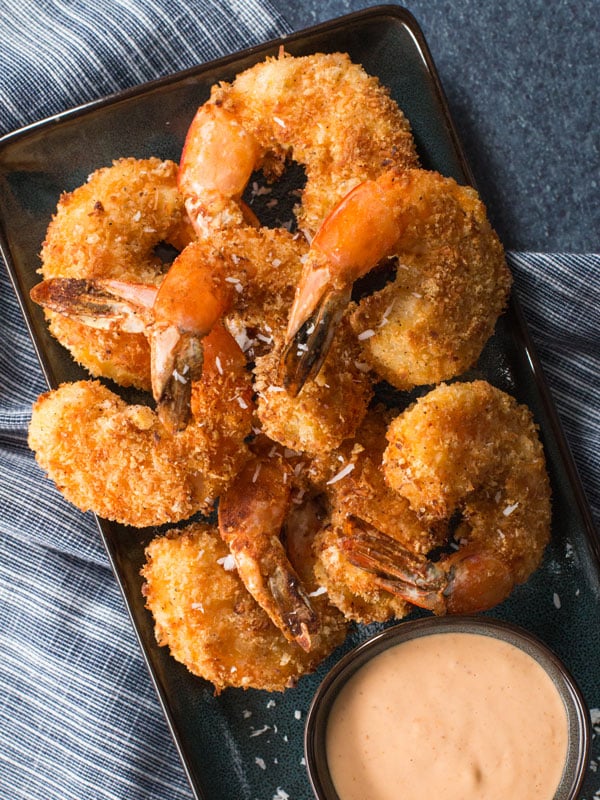 How Do I Make Low Carb Coconut Shrimp?
The first step to making coconut shrimp is setting up a dredge station. This will consist of seasoned coconut flour, beaten eggs, and 1/2 cup each of crushed pork rinds and unsweetened coconut flakes. Season the shrimp with a pinch of salt and then dredge in the coconut flour, the eggs, and the panko mixture.
I will also include the traditional coconut shrimp recipe down below including the macros for each technique. This method uses all-purpose flour and panko bread crumbs.
Allow the battered shrimp to sit on a wire rack for 10 minutes so the coating can firm up and really stick to the shrimp. In the meantime, you can make the dipping sauce.
How Do I make a Coconut Shrimp Sauce?
To make a low carb sauce that pairs wit the fried coconut shrimp, combine mayonnaise, grated garlic, lime zest & juice, and sriracha in a small bowl. You can adjust the amount of sriracha based upon how spicy you like it.
Typically coconut shrimp is paired with a sweet chili sauce, but that is loaded with sugar and not keto friendly.
How To Fry Coconut Shrimp In The Air Fryer
There are two methods to fry the coconut shrimp. First option is to use the air fryer. Spray basket with non-stick, and cook at 390 degrees F for 8 minutes, flipping halfway. The shrimp will be golden brown and crispy when ready.
To pan fry the low carb coconut shrimp, pre-heat 2 inches of oil in a fry pan until it reaches 350 degrees F. Fry the shrimp for 2-3 minutes on each side or until golden brown. Remove from the pan and place on a wire rack set in a sheet tray. Once the shrimp are ready, sprinkle a little pinch of salt over the top while they are hot.
Can I Use Frozen Shrimp To Make Coconut Shrimp?
You can use frozen shrimp. Just make sure to thaw them under cold running water and pat them dry before coating with the batter. Do not used pre-cooked shrimp as they will get over-cooked and tough once they are fried.
Make sure to check out my other shrimp recipes: