You guys loved Dessi's low carb gluten free bread post a few weeks ago that she decided to make the ultimate gluten free bagel recipe. You can use this batter to make bagels or bread, either way you are in for some of the best starch and grain free bread you will ever try! Most gluten free bread recipes are loaded with starches like potato, tapioca, and rice, bu this gluten free bagel recipe is 100% starch free, making it perfect for the keto diet.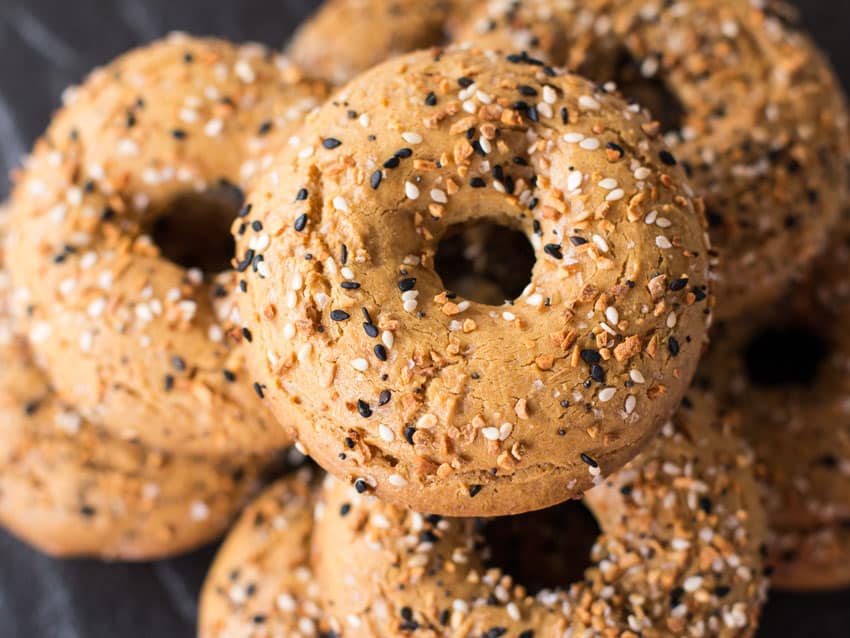 If also have a recipe for gluten free cloud bread, it's made with cream cheese and eggs and is light and airy like a cloud. This gluten free bread recipe has 3 main ingredients: macadamia nuts, eggs, and coconut butter. Many people have been asking me where you can buy coconut butter. The best price is on Amazon. It is very hard to make it because they use fresh coconut meat, not flakes. So don't bother trying it at home.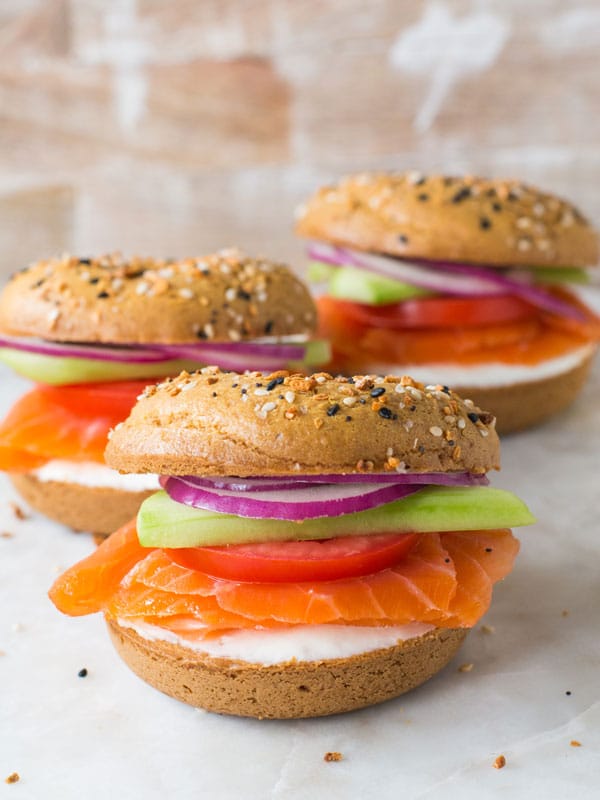 The key to making this gluten free bagel recipe is to thoroughly mix the batter in a food processor or powerful blender. You have to mix it very well and them get the batter in the oven asap so the oil does not start to sink to the bottom. We used a gallon size zip top bag to pipe the bagels into a doughnut tin. Just cut the end off of the bag and squeeze away.
Use the same keto fat bread recipe and make my:
Low Carb Keto Bagel Recipe
Just look at that bagel, cream cheese, and salmon sandwich. How good does that look!? Growing up, we would go to the deli and have fresh bagels all of the time, but now Dessi & I avoid flours and starches most of time, plus the wheat they use to make bagels is so refined these days that it has no nutritional value. This low carb bagel recipe is just about as close as you can get to the real deal, and when you make a sandwich from it, you will be in heaven.
Once you fill the doughnut tins with the bagel batter, tap them on the counter to settle the batter, and then transfer to the oven until golden brown. Make sure the bagels have a nice golden brown color on them and then pull from the oven. Schmear the low carb bagel with full fat cream cheese, some smoked sugar free salmon, tomatoes, and red onions. You will be one happy camper!