Here's another easy recipe from our new semi-homemade 5 ingredient cookbook. The cheese sauce is made from cauliflower and cashews, but it's so silky and rich, no one will know the difference.
This is serious comfort food done with great ingredients and easy enough that anyone can make it. Once you try this recipe, make sure to try my 5 ingredient hot cocoa.
How To Make Mac And Cheese With Cauliflower
To make the cauliflower cheese sauce, boil the florets from half a head of cauliflower with 1 heaping cup of cashews for 10 minutes. Make sure not to boil too long or the cauliflower gets too mushy.
Save the boiling liquid to cook the pasta and blend the cauliflower and cashews with olive oil, lemon zest and juice, parmesan, and some of the reserved cooking water. Keep adding enough water to make the consistency the same as a runny cheese sauce and check for seasoning.
Combine the cheese sauce with the cooked chickpea pasta shells and make sure to save some of the pasta water. Add enough water to the pasta mixture to make it loose and a bit watery, that way the mac and cheese won;t get dry in the oven.
Transfer to a baking dish, add a splash more water, top with cheddar, and bake for 30 minutes at 400F. Remove foil and broil for a few minutes until golden brown and bubbly on top.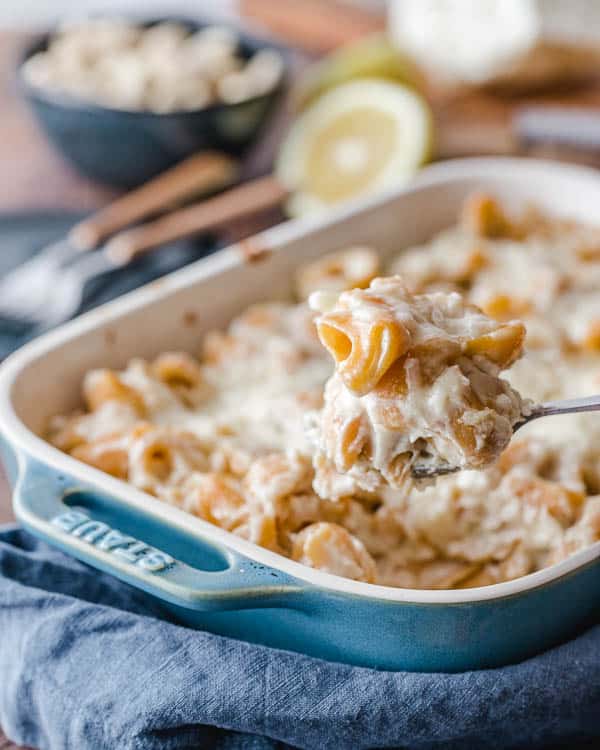 Can I Make Cheese Sauce With Cauliflower?
It's very easy to make a real deal cheese sauce with cauliflower, and it tastes like the real deal! You will need half a large head of cauliflower, and cut into large bite size pieces, trying not to use too much of the stalk.
It helps if you soak the cashews in water for a couple hours, but certainly not necessary. The key to making the cauliflower cheese sauce rich and smooth is saving some of the boiling water. Once you blend everything the texture will be too thick, you will need to add enough boiling water to make the consistency smooth and creamy, like a cheese sauce.
Can I Use Nutritional Yeast To Make Mac And Cheese?
You can easily make this recipe vegan by swapping the cheese for nutritional yeast. The call that stuff vegan parmesan because it has a salt and nutty flavor. Add 1-2 tablespoons of nutritional yeast to the cauliflower cheese sauce and blend well.
The key is checking for seasoning and adding more if necessary. To keep this recipe vegan, top the mac and cheese with my favorite plant based cheese, either miyokoks or violife, and then bake in the oven just like the recipe says.
Make sure to try my other comfort food recipes: