Rose and I made these chicken nuggets on Instagram stories the other day and they were a hit. These homemade chicken nuggets are gluten free and low carb, and made from grinding chicken thighs in a food processor. I am not a fan of making nuggets from chunks of chicken, I want them to be like the one from Mc'Donalds.
The nuggets served at fast food places are made with scary ingredients and cooked in the worst quality oil, my nuggets are what you want to feed you kids. I have options for frying in avocado oil, baking in the oven, and cooking in the air fryer, but I recommend shallow frying in avocado oil like I did.
Get some more healthy'ish recipes after you have made these, like my grilled cheese recipes.
How To Make Chicken Nuggets
The key to my homemade chicken nugget recipe is grinding the organic chicken thighs in a food processor. This will give them the same texture as the one at Mc'Donalds, only way better for you. Add the chicken thighs, spices, and along flour soaked in water to a processor and blend away.
The almond flour is important, as it make the texture of the chicken nuggets like, just like breadcrumbs do for a meatball. Grab 2 tablespoons of meat mixture using wet hands and form nugget shapes and place on a piece of parchment paper.
Dip the nuggets in seasoned tapioca flour, egg wash, and pork rind panko. Pork panko makes this recipe low carb and gets nice and crispy in the avocado oil, but you can also use gluten free panko or breadcrumbs.
Fry in small batches for 5 minutes or until golden brown and move nuggets to a wire rack sheet inside a shett tray. Immediately sprinkle over some salt and fry some more. Make sure to smash the nuggets and really press down before frying, as they tend to plump up while cooking.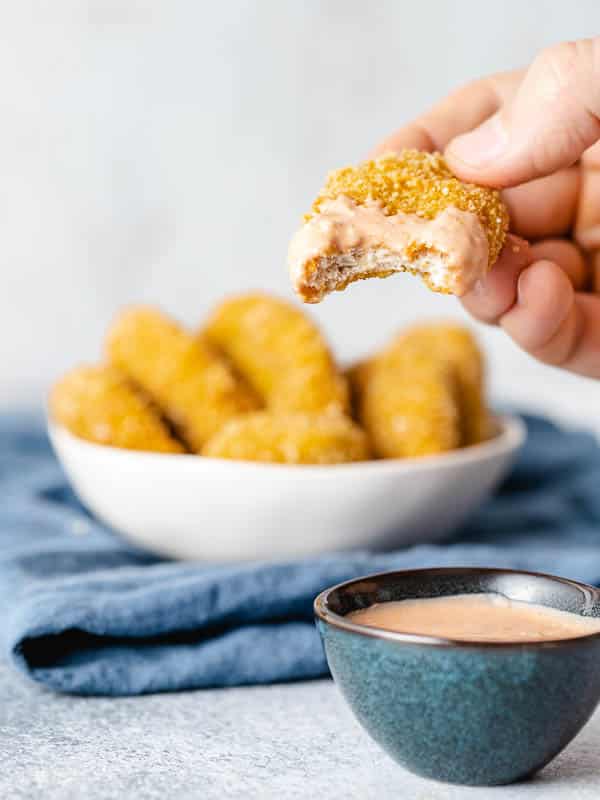 Should I Use White Or Dark Meat For Nuggets?
Always use dark chicken thigh meat for making nuggets, white breast meat dries out way too easily and won;t have the right texture. Some folks like to make chicken tenders and not puree the meat in a food processor.
If doing this, I would still following my recipe but use chicken thigh tenders. The coating will be super crispy and the meat won't dry out.
How To Make Gluten Free Chicken Nuggets?
It's easy to make chicken nuggets gluten free and even low carb. For this recipe I used pork rind panko, which fries up incredibly well, but you can also use gluten free panko breadcrumbs. Ian's gluten free panko is pretty good, or you can also get puffed rice crumbs from Trader Joe's.
Check out more of my recipes: