Dessi has cracked the code for the easiest and most tasty chocolate chip cookie recipe. These cookies are gluten free and refined sugar free, and you only need 5 ingredients to make them along with a few pantry staples.
The edges of these chocolate chip cookies get slightly crispy, but the inside is so moist and studded with insanely big chocolate chips. After you nail this recipe, check out Dessi's gluten free amaretti cookies!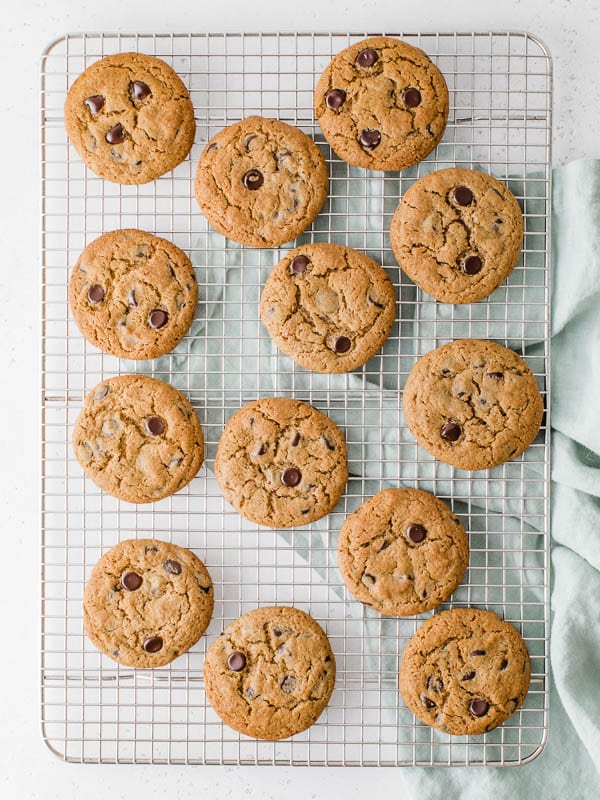 How To Make Chewy Chocolate Chip Cookies
The key to making a chewy chocolate chip cookie is using the right amount of butter to sugar. For this recipe we used coconut sugar and kerrygold butter, either salted or unsalted will work. Cream the butter and sugar together in a bowl for a good 3 minutes until the mixture is very pale and creamy.
Most home bakers don't beat the sugar and butter together long enough, this will help give the chocolate chip cookies a lovely chewy texture. Next up, add the vanilla extract, salt, and other wet ingredients listed down below in the recipe.
Add the paleo baking flour to the wet ingredients and mix by hand using a spatula until well combined. Since these chocolate chip cookies are gluten free, you can mix all you want and it won't affect the batter.
For this recipe, we used Bob's Red Mill paleo flour mix, You van get it anywhere, but Thrive Market has a great price on a two-pound bag, or make it at home using our recipe below. Add the chocolate chips, we used Hu Gems, they are massive and made with coconut sugar, easily the best chocolate chips you can buy!
Scoop the cookies on to a lined baking sheet and bake for 13 minutes. Cool and enjoy!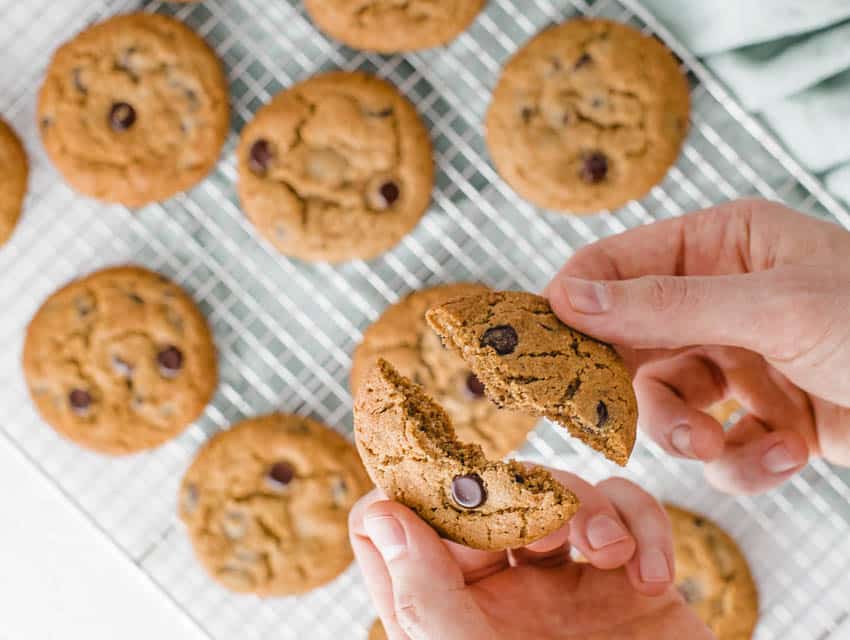 Homemade Paleo Baking Flour Mix
To make a homemade version of Bob's Paleo Baking Mix, combine these ingredients in a bowl and then store in a air-tight container.
2 cups almond flour
1 cup arrowroot starch
2/3 cup coconut flour
1/3 cup tapioca starch
Can I Use Coconut Sugar To Make Cookies?
You can swap coconut sugar for cane sugar 1:1 for almost any recipe. We never used white sugar because it is highly processed and really bad for your health. Coconut sugar is a natural paleo sweetener that is also lower on the glycemic index than cane sugar.
Check Out More Of Dessi's Dessert Recipes: