It only takes 6 ingredients to make this crispy skin lemon chicken with tender asparagus. Although Art argues that it's really 7 ingredients because of the butter, I'll let you be the judge! This lemon chicken recipe is perfect for the keto diet and only takes 20 minutes to make. Talk about easy dinner ideas!
I have boatloads of keto chicken recipes for you to check out, but maybe my favorite one is Moroccan chicken stew with golden cauliflower rice. This is one of the over 125 low carb keto recipes in our new cookbook, so make sure to order a copy!
How Do I Make Keto Lemon Chicken?
The truth is you only need a handful of ingredients to make the most easy and tasty lemon chicken at home. First off, buy yourself some good quality organic bone-in and skin on chicken thighs. Then march over to the butcher's counter and kindly ask the person working there to take the bones out. They will be happy to do it for you. Of course, save those bones in your freezer to make stock.
Cooking boneless chicken thighs with the skin on is the best case scenario. The chicken thighs cook quickly and you get to eat crispy, fatty skin. Season the chicken thighs with a generous pinch of salt and pepper on both sides and preheat a cast iron pan over medium heat. Add 1 tablespoon of ghee or avocado oil in the pan and place the chicken skin side down.
I like to start with the heat a bit lower than usual so the fat has a chance to render out and the skin gets insanely crispy. Cook for 7-8 minutes or until deep golden brown and then flip. Cook another 4 minutes and then remove from the pan.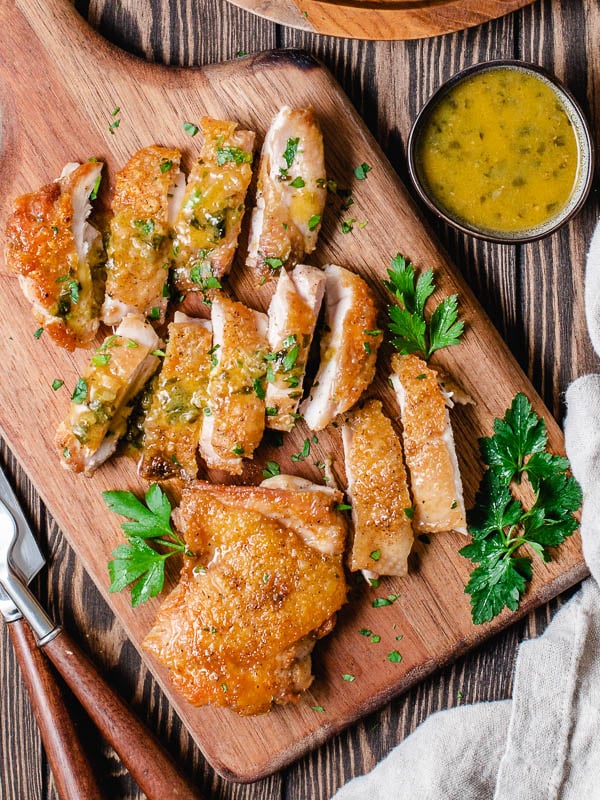 How Do I Make A Lemon Pan Sauce?
Take a look inside that cast iron pan. All those sticky bits on the bottom are flavor bombs. Add 1 cup of chicken stock/broth to the pan along with the lemon juice and capers. Simmer for 10 minutes and watch the sticky bits melt into the pan sauce. To finish the sauce, add some fresh parsley and 2 tablespoons of grass-fed butter. The butter will thicken up the sauce perfectly. Season with a pinch of salt, a few cracks of pepper, and the sauce is done.
What Is A Good Side Dish For Lemon Chicken?
It's asparagus season, so why not blanch some in hot water and pour over some of that yummy lemon pan sauce you just made!? Bring a medium size pot of water to a boil and add 1 tablespoon of salt. Gently boil the asparagus for 2-3 minutes. You know they are ready when you can bend a spear, but it still has some resistance.
Immediately drain the asparagus and put them in a bowl of ice water. This is called shocking the asparagus and will stop the cooking and help retain that beautiful green color. Serve the asparagus with the crispy chicken thighs and pour over some lemon pan sauce. Enjoy!
Make sure to check out my other keto chicken recipes: