Did you see Dessi's video for this no bake paleo granola recipe on the FlavCity YouTube channel? Send her a message if you want to see more of her! I get so excited when she makes this homemade granola. It tastes great and is the perfect snack or topping for my breakfast bowl. The granola is gluten free, made in one pan, and only takes 10 minutes.
Make sure to also check out Dessi's carrot cake cupcakes and her almond milk recipe.
How To Make Homemade Paleo Granola
To make this paleo granola recipe, preheat a large pan over medium-low heat with 2 tablespoons of virgin coconut oil. You can also use ghee or avocado oil for this recipe. Add the almonds, walnuts, pecans, pumpkin and sunflower seeds to the pan and cook until slightly browned. It's best to use raw nuts for this granola recipe.
After the nuts have browned, add the unrefined salt, cinnamon and unsweetened cocoa powder and cook for 1 minute. Add the maple syrup, unsweetened coconut flakes, and cook another minute. Dessi used agave nectar in the video, but we are moving away from that because it's quite high in fructose, same levels as white sugar. That blocks the insulin receptors in your body which can lead to diabetes.
Allow the paleo granola to cool down and store it at room temperature in an airtight container for 2 weeks on the counter.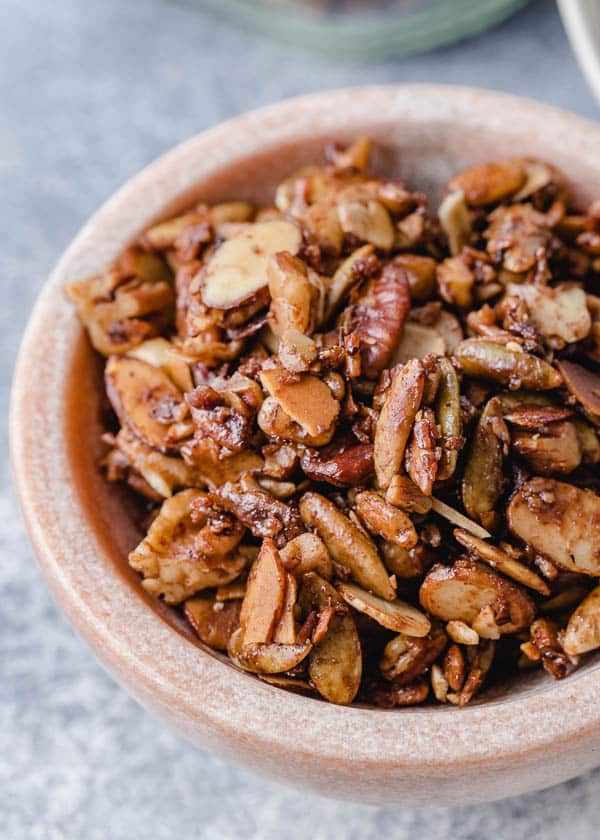 Is Granola Gluten Free?
Most all granola recipes are gluten free, but they usually contain oats. Oats are grains, therefore they are not paleo compliant, but you may also have issues digesting them if you are gluten intolerant. Both Dessi and I tested intolerant to oats. When we eat them our stomachs get heavy and bloated, and we feel tired. For this reason, I highly recommend staying away from granola recipes with oats.
Stick with granola recipes that are paleo approved like this one, or buy paleo granola at the store.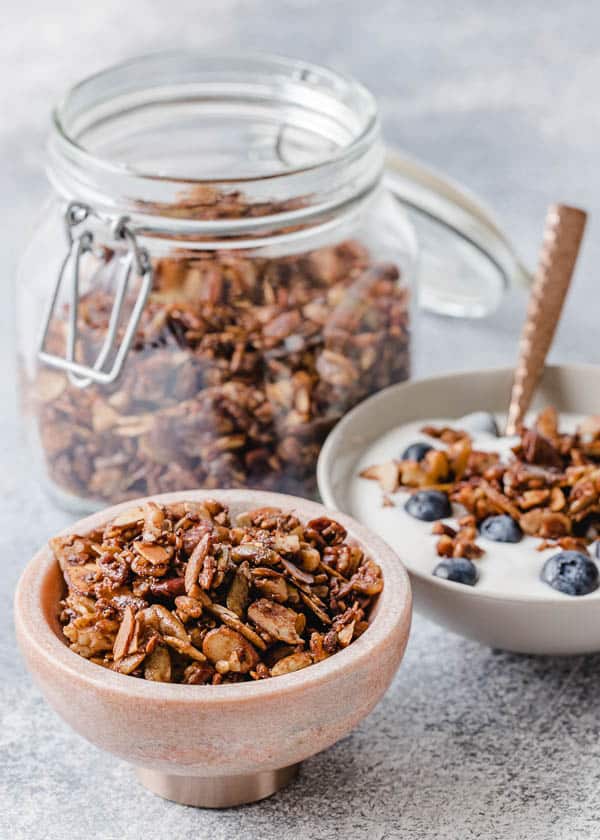 How Do I Make Keto Granola?
This homemade granola can easily be made keto by substituting the maple syrup with monk fruit sweetener or keto maple syrup. Use 2-3 teaspoons of monk fruit sweetener or 1/4 cup of keto maple syrup. Here are the macros for this granola recipe using a keto sweetener.
Macros per ¼ cup serving, recipe makes about 12 servings:
201 calories
2.6 grams of net carbs
5.8 grams of total carbs
40 grams of fat
5.7 grams of protein
3.1 grams of fiber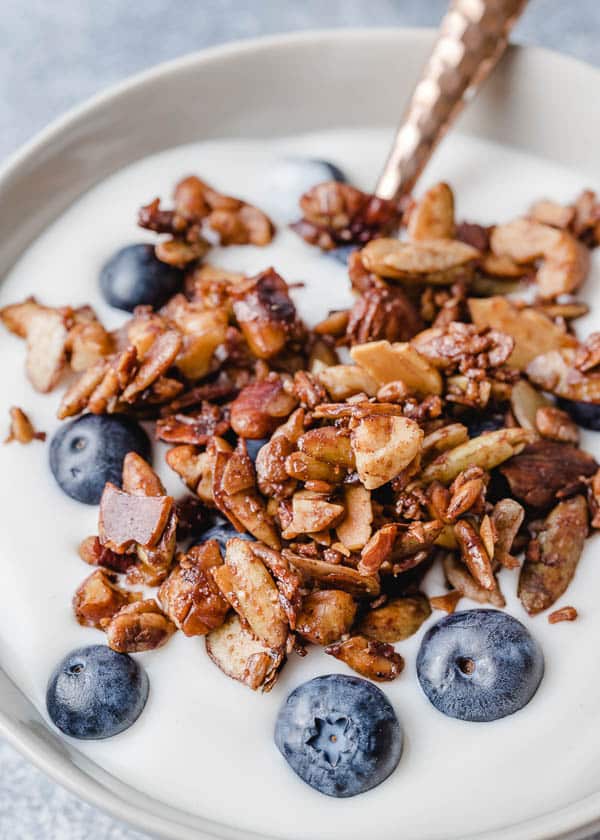 Make sure to check out more of Dessi's recipes along with some breakfast ideas: