Pumpkin Bread Recipe
This pumpkin bread is everything you'd hope it would be plus more. It has a crusty exterior and a soft decadent moist interior. The flavors of cinnamon, nutmeg, cloves, and ginger feel like a warm hug on a crisp fall morning and the orange zest sneaks up on you for an unexpected kiss of freshness. It's loaded with pecans and chocolate chips for delicious crunch and sweetness. I'm just drooling writing this blog! This gluten free pumpkin bread, which is also dairy free (I'm using coconut oil), will be my go-to dessert to make for my family or bring to a party this entire season.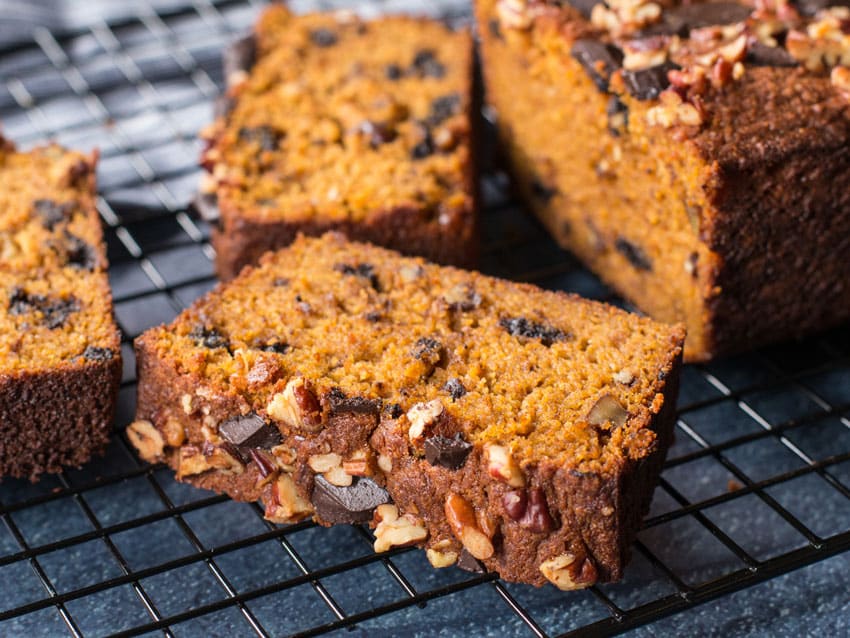 Flour Substitute For Gluten Free Baking
Gluten free flours can be very starch-heavy, so I prefer to stick to more low carb flours like almond and coconut flour. However, to achieve that nice soft luscious texture, you do need a bit of starch. That's why I'm using a paleo mix that includes arrowroot starch and/or tapioca starch. To make your our paleo flour mix use this recipe:
Paleo Flour Mix (makes 4 cups):
2 cups almond flour
1 cup arrowroot starch
2/3 cup coconut flour
1/3 cup tapioca starch
Check out a few of my other gluten free desserts: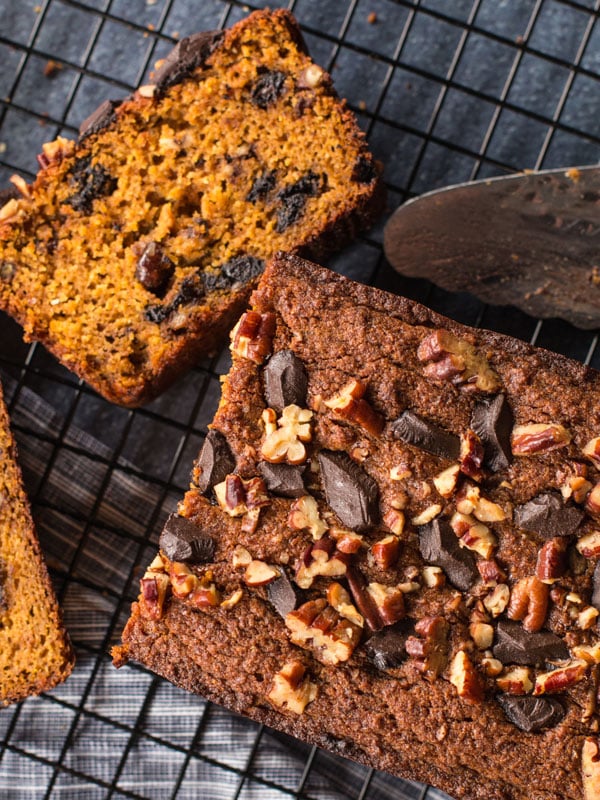 What is Coconut Sugar?
Traditionally, pumpkin bread is made with brown sugar and/or maple syrup, both of which have a high glycemic index (white sugar 65, maple syrup 54 ). However, I prefer coconut sugar, which is made from the sap of flower buds from the coconut palm tree, for two reasons: 1) it has a lower glycemic index (35) and 2) it tastes just like brown sugar and has very delicious caramel-like flavor. On the other hand, brown sugar is a combination of white sugar and molasses, which makes it even more unhealthy.
What is Pumpkin Spice?
Pumpkin spice or pumpkin pie spice is a mix of ground cinnamon, nutmeg, ginger, cloves, and sometimes allspice. If you don't have it you can make your own from the listed spices. When I first tested the recipe, I made my own blend of 1 and 1/2 teaspoons of cinnamon, 1/4 teaspoons of cloves, and 1/4 teaspoons of nutmeg, and it worked out great. If you have ginger and allspice, you can add 1/4 of each to complete the blend.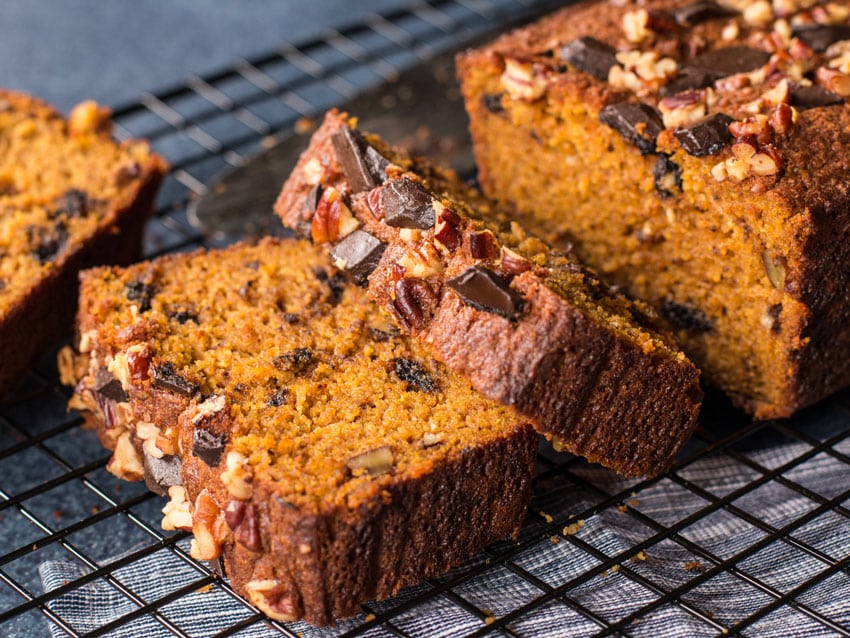 How to make pumpkin puree?
For this recipe you can use canned puree, but it's the pumpkin season so why not make it yourself?! It will be so much tastier! Just cut a pumpkin in half, take out the seeds (you can save them and roast them later in 300F  oven) and bake the halved pumpkin facing up on a sheet tray at 475F for an hour. To test if the pumpkin is cooked through, just pierce it with a knife and if it goes in and out with relative ease it's done. If it feels hard, cook it a bit longer. Once the pumpkin cools down, scoop out the flesh and put it in a food processor and blend it until smooth. You can also use a Vitamix or an immersion blender. You can then store the puree in the fridge for up to a week.