This pumpkin bread recipe is very versatile. Rose and I made it into muffins on Facebook the other day, and it's just as good. The recipe is gluten free and paleo, but the pumpkin bread is so moist and full of flavor, no one will know the difference.
How To Make Pumpkin Bread
Start off with the dry ingredients Mix the paleo flour with orange zest, baking soda, baking powder, and lots of yummy pumpkin spice.
In a separate bowl, beat two eggs with half a cup of coconut sugar until foamy, about 2 minutes. Add 1 cup of pumpkin puree. Remember, that puree is only the cooked pumpkin meat, you don;t want pumpkin pie filling because it is seasoned and has tons of sugar.
Mix the wet ingredients on top of the dry and then add chocolate chips and chopped pecans. I used Hu Gems, they are sweetened with coconut sugar and taste incredible.
In the Facebook video with Rose, I make a strudel topping by combining 1/3 cup chopped pecans, 1/4 cup unsweetened coconut flakes, and a couple tablespoons of maple syrup. Mix well and top the muffins or the loaf and bake until a toothpick comes out clean.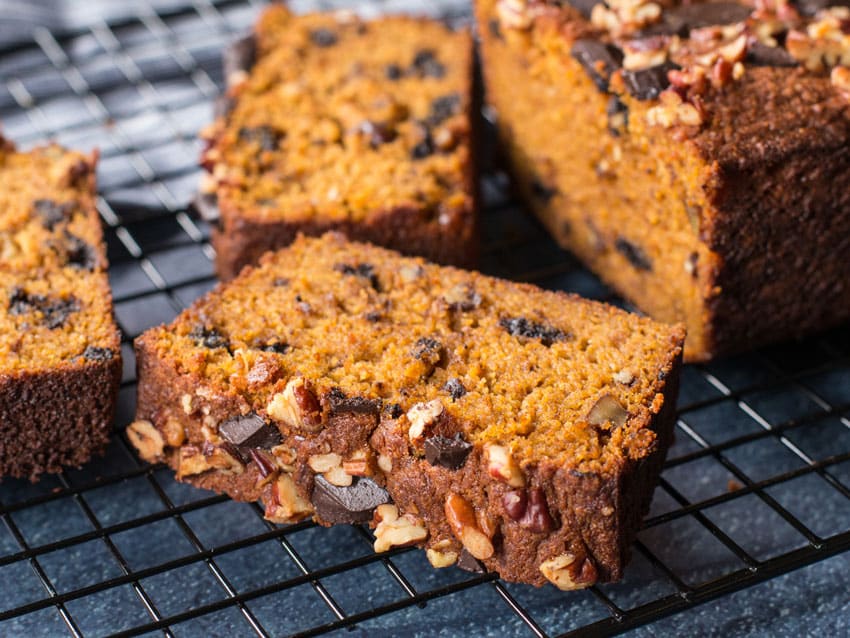 Flour Substitute For Gluten Free Baking
Gluten free flours can be very starch-heavy, so I prefer to stick to more low carb flours like almond and coconut flour. However, to achieve that nice soft luscious texture, you do need a bit of starch. That's why I'm using a paleo mix that includes arrowroot starch and/or tapioca starch. To make your our paleo flour mix use this recipe:
Paleo Flour Mix (makes 4 cups):
2 cups almond flour
1 cup arrowroot starch
2/3 cup coconut flour
1/3 cup tapioca starch
Check out a few of my other gluten free desserts: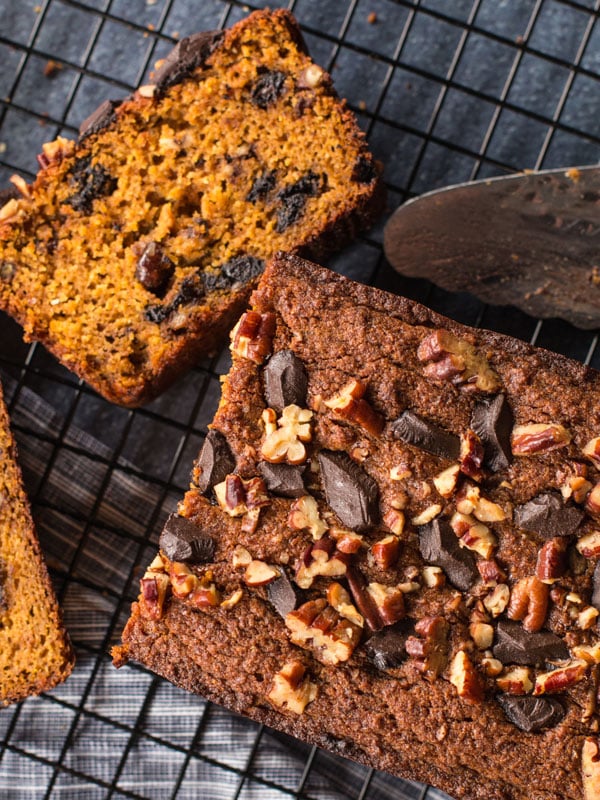 What is Coconut Sugar?
Traditionally, pumpkin bread is made with brown sugar and/or maple syrup, both of which have a high glycemic index (white sugar 65, maple syrup 54 ). However, I prefer coconut sugar, which is made from the sap of flower buds from the coconut palm tree, for two reasons: 1) it has a lower glycemic index (35) and 2) it tastes just like brown sugar and has very delicious caramel-like flavor. On the other hand, brown sugar is a combination of white sugar and molasses, which makes it even more unhealthy.
What is Pumpkin Spice?
Pumpkin spice or pumpkin pie spice is a mix of ground cinnamon, nutmeg, ginger, cloves, and sometimes allspice. If you don't have it you can make your own from the listed spices. When I first tested the recipe, I made my own blend of 1 and 1/2 teaspoons of cinnamon, 1/4 teaspoons of cloves, and 1/4 teaspoons of nutmeg, and it worked out great. If you have ginger and allspice, you can add 1/4 of each to complete the blend.