It's apple season, and Dessi recently made this apple coffee cake on the FlavCity Instagram and everyone wanted the recipe. So, she fine tuned the recipe, made it even better, and came out with a dairy free vegan caramel sauce to go with the cake.
This apple coffee cake with vegan caramel sauce is gluten and dairy free, and 100% paleo. But forget about the dietary restrictions, this cake tastes amazing, no one would even know, or care, that is paleo!  Be sure to check out my Gluten Free Pumpkin Bread recipe as well!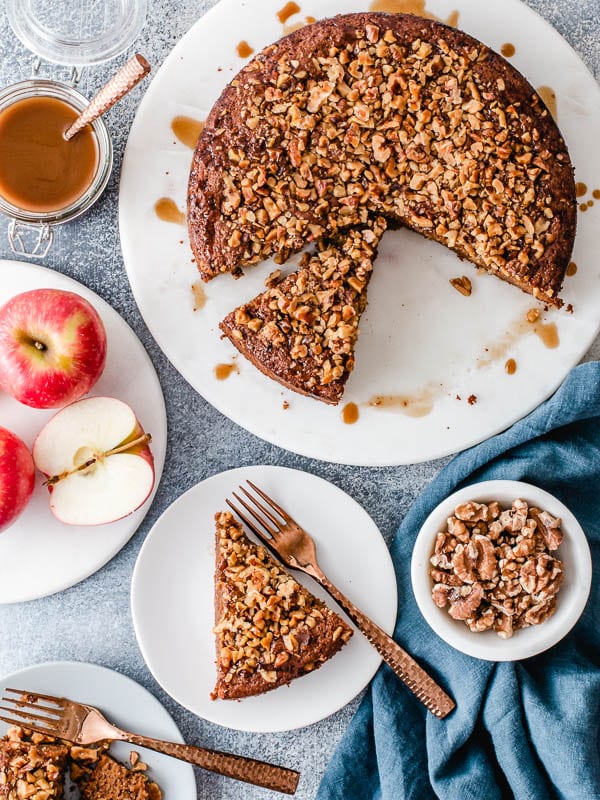 How To Make Apple Coffee Cake?
For this recipe I recommend using a sweet variety apples such as Honey Crisp, Gala or Fuji. The first thing you want to do is combine the wet ingredients. Do this be beating egg whites, eggs, coconut sugar, and vanilla extract on high using a hand mixer.
The dry ingredients consist of almond flour and arrowroot starch, which makes the apple cake gluten and diary free. You can also use tapioca starch if you don't have arrowroot. To get some of those fall flavors that we all love, add some cinnamon, cloves, and nutmeg to the flours along with baking powder (baking soda and cream of tartar to keep it paleo).
Combine the wet ingredients on top of the dry ingredients and mix well. Add one cup of freshly grated apples to the batter. Be sure to squeeze out all the moisture from the grated apples. Pour batter into a springform baking pan lined with parchment paper, and top with chopped walnuts. Bake in a 350F oven for 40-45 minutes or until inserted toothpick comes out clean.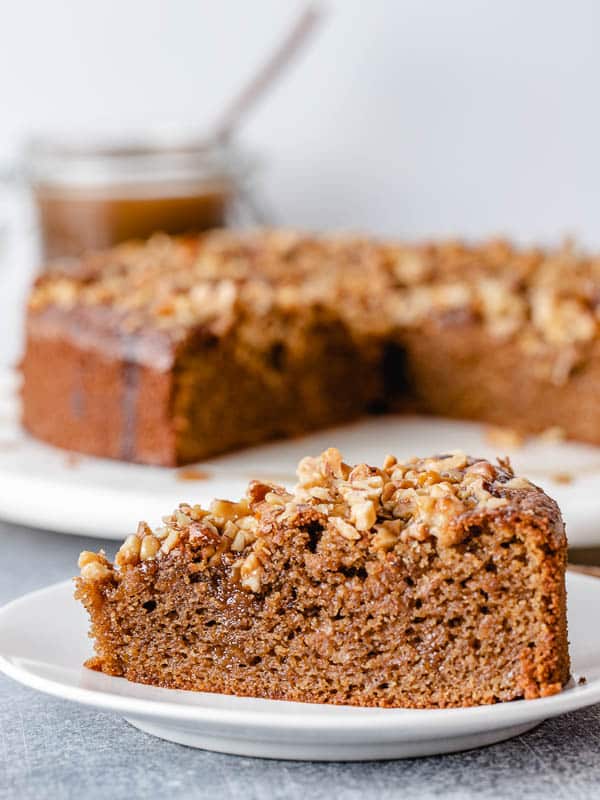 How To Make Vegan Caramel Sauce?
It cannot be easier to make vegan caramel sauce! You basically need 2 ingredients – coconut milk and coconut sugar. Place these two ingredients in a pot with a couple of pinches of salt and bring to boil, then turn the heat down to low and simmer for about 40 minutes, while stirring occasionally. The caramel sauce is totally optional for this recipe but let's be honest, it's not really optional!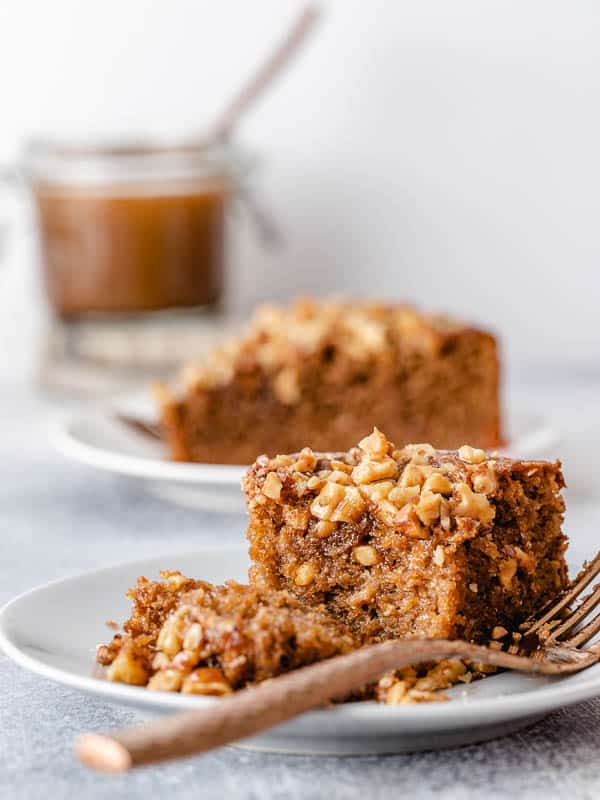 What Apples Are Best For Making Cake?
It's best to choose apples that are firm and have a sweet and slightly tangy flavor when making a cake. I find that Honey Crisp, Gala or Fuji work well for the apple coffee cake. Granny smith is better for making pies.
Make sure to check out my other cake recipes: