The other day, Rose and I made this cauliflower pizza on Facebook and it was perfection. The crust is made with frozen and thawed cauliflower rice, but contains none cheese. Unlike many from the grocery store, our cauliflower pizza crust does not have any starch and has a crispy texture that helps make the perfect crust for pizza.
After you crush this recipe, take a peek at our keto Red Lobster cheddar bay biscuits and low carb tater tot casserole.
How To Make Cauliflower Pizza Crust?
There is no need to add cheese to a cauliflower crust recipe. You can easily make it dairy free while keeping it low carb. The most important part of the recipe is to use frozen cauliflower rice from the store. We get the big bag from Costco. This is the only time I like to use frozen cauliflower rice. It's always soft and watery, and that's exactly what we what.
Place 24 ounces of thawed cauliflower rice in the middle of a kitchen towels and flex those biceps to squeeze as much water out as possible. The more water you squeeze out, the crispier the crust will get when baked in the oven.
The reason why I don't use frozen cauliflower when I make cauliflower rice is because it's just to wet and mushy. But we can use this to our advantage when making keto pizza crust. Try this with fresh cauliflower rice and it's almost impossible.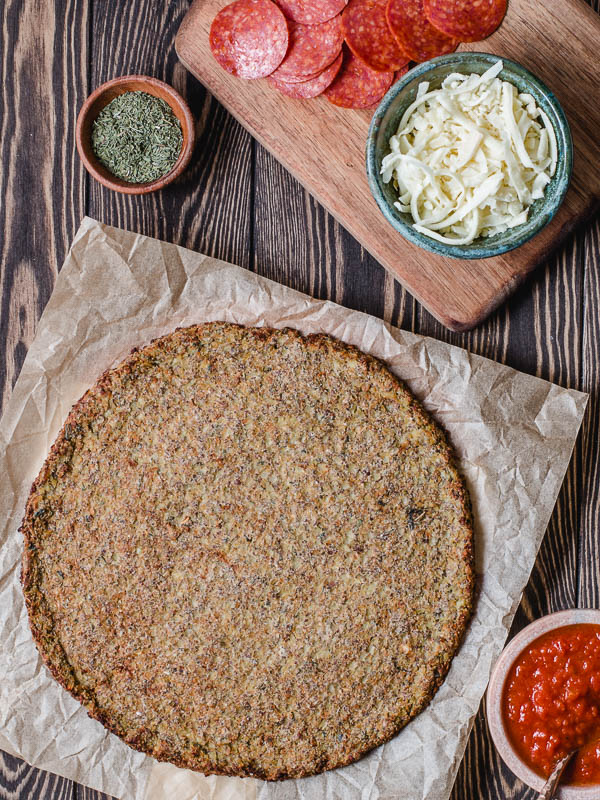 What Temperature Do I Bake Cauliflower Pizza Crust At?
To dry the cauliflower rice out even more, spread it on a parchment paper lined sheet tray and bake it in a 425 degrees F oven for 25 minutes, stirring halfway. Once that is done, add the cauliflower rice to a large bowl with the egg, almond flour, flax seed meal, onion and garlic powder, oregano, basil, and salt. The almond flour and flax seed meal will bind the cauliflower rice together instead of using cheese.
This makes the cauliflower crust dairy free while also keeping it keto. The Trader Joe's cauliflower crust is loaded with corn flour and starches making it a carb bomb, plus it does not even get crispy.
Mix the cauliflower rice well with the ingredients and place in-between two sheets of parchment paper and roll into a thin crust – about 10 inches in diameter. Use the back side of a knife or a bench scrapper to form the edges into a circle and make an edge so the toppings won't spill out. Bake the cauliflower pizza crust for about 30 minutes on the parchment paper in the sheet tray until deep golden brown.
Now you can add some pizza sauce, cheese, and toppings of your choice and bake for another 7-10 minutes until the cheese is melted. Don't go crazy with the toppings. The crust can't support a lot of weight, so a fully loaded pizza is not a good option.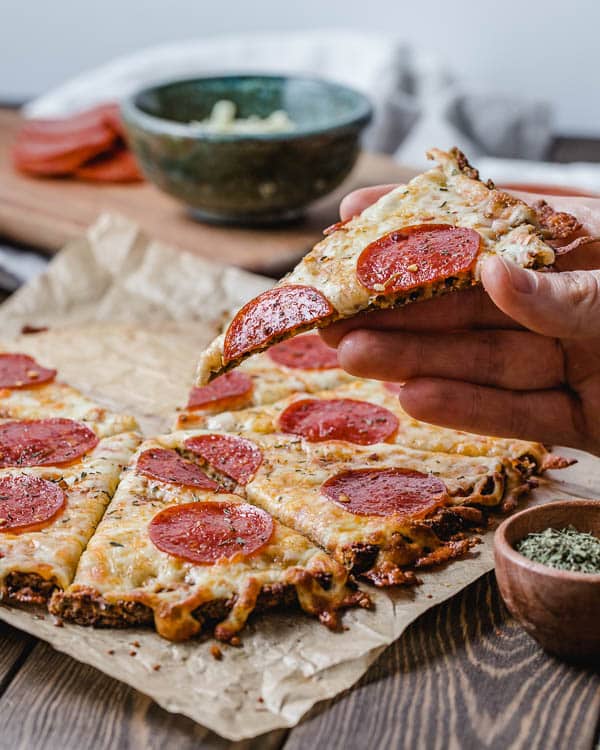 What Type Of Cauliflower Rice To Use For Pizza Crust?
I highly recommended using frozen organic cauliflower rice from Trader Joe's. You will need two 12 ounce packages, or 3 packed cups. Frozen cauliflower rice is optimal because it's very easy to squeeze the moisture out of it. You can't do that with fresh cauliflower rice. Squeezing the water out is how you make the cauliflower crust crispy.
Is There An Alternative To Keto Fat Head Pizza Dough?
While fat head dough is low carb, it's loaded with cheese and that may be overload when you are making a pizza. You can easily make a dairy free pizza crust using cauliflower, egg, almond flour, and flax seed meal. The result is a thin, crispy pizza crust that is keto and dairy free.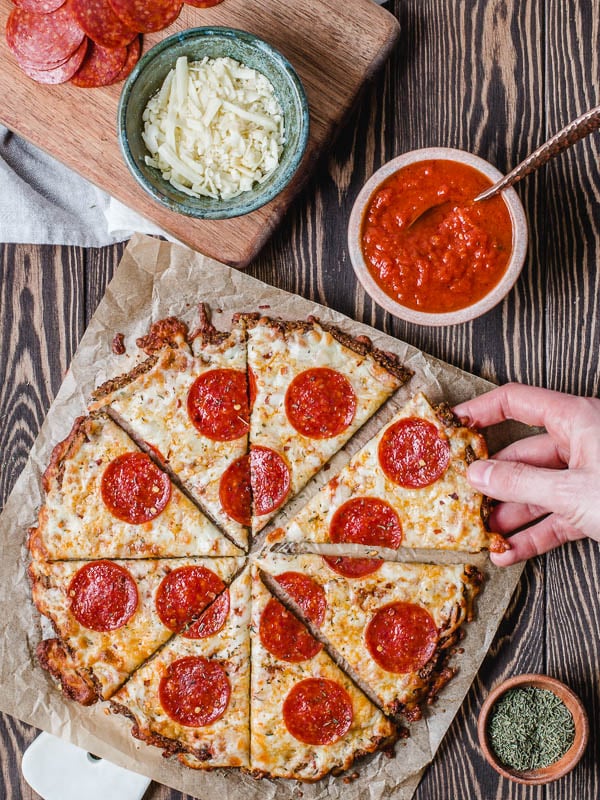 Do I Need A Pizza Stone To Make Cauliflower Pizza Crust?
There is no need to use a pizza stone when making cauliflower crust. Just use a metal sheet tray to bake the crust on. That being said, if you have a pizza stone, use it to bake the crust and the pizza once it has the toppings. It may make the crust a bit more crispy, but there is no need to buy one just for this recipe.
Make sure to check out or other keto comfort food recipes: