I have been made these grilled kebabs on stories the other week, and they were so good I had to make them again and post this recipe. We call them "Ka-Bobby's", they are highly seasoned and a crowd favorite.
I used pasture raised ground pork, but any ground meat works for this recipe. Add a bunch of spices and a big spoonful of red curry paste and your kebabs will be juicy and flavorful.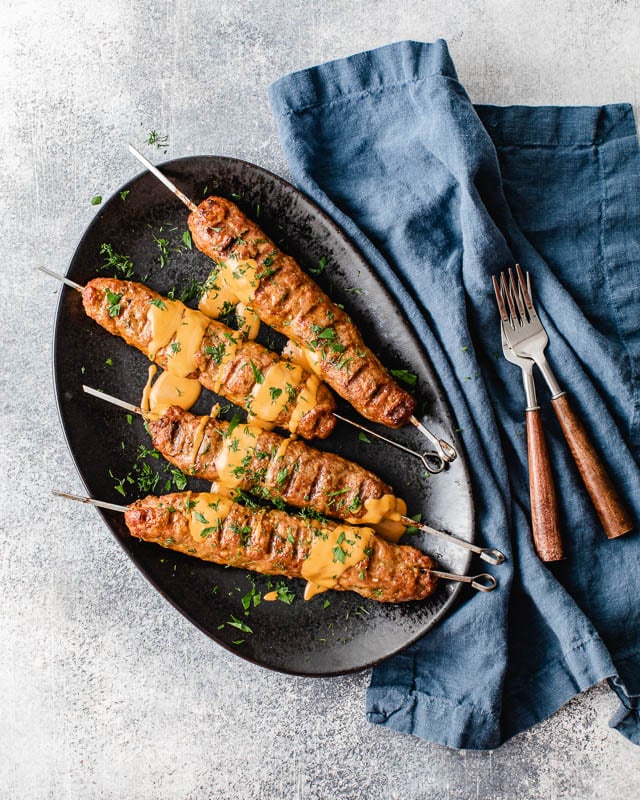 How To Make Grilled Kebabs
Start off with 2 pounds of ground meat, if using beef, try to get 80/20 or at least 85/15, the fattier the better. That is why I used ground pork, it's fatty and juicy.
To the ground meat, add smoked paprika, ground turmeric, a dash of cinnamon and my secret ingredient, red curry paste. You can find red curry paste by the ethic condiments, I always have it in my pantry. I normally get the thai kitchens brand, but they were out at whole foods, so I tried one from panage thai. It's basically a flavor bomb, loaded with lemongrass, lime leaves, and more.
Mix the meat with the spices well and allow to sit in fridge for at least 2 hours, or overnight so the flavors can develop.
Preheat grill to medium-high. Form the mixture into 4 long kebabs and place a skewer in the middle. Make sure the kebab mixture is evenly on the skewer from top to bottom. If using wooden skewers, soak them in water first. I used metal skewers.
Spray the kebabs with avocado oil or what I used, ghee oil spray from 4th & heart. Grill with the lid down for 8 minutes, flip, and cook another 8 minutes, or until cooked through.
Allow kebabs to rest for 5 minutes then serve. I served with a wild rice salad with roasted cauliflower, recipe coming soon.
Make sure to check out these recipes too: