I made these salmon patties on the FlavCity Instagram a few weeks ago, and they were so tasty I had to write the recipe on our blog. This salmon patty recipe is easy to make, everything happens in the food processor, they are keto, and the entire recipe is dairy free thanks to a few hacks! The flavor and texture of these salmon patties is so good, you would never know they are keto or dairy free.
Make sure to also check out my shrimp cake recipe with sticky sweet chili sauce.
How To Make Salmon Patties
The first thing you want to do is have the fish monger at the grocery store take the skin off the salmon and cut it into 1.5 inch cubes. This will save you loads of time and they are happy to do it. Place two pounds of wild salmon in a food processor with the avocado oil mayonnaise, mustard, and remaining ingredients. I swapped breadcrumbs with almond flour soaked in almond milk, this makes the salmon patties keto and dairy!
Once the salmon mixture is smooth, but still a bit chunky, store it in the fridge for 15-30 minutes so it can firm up. To cook the low carb salmon patties, add enough avocado oil to cover the bottom of a large non-stick pan and preheat just below medium-high. Cook the salmon patties until deep golden brow on the first side, about 4 minutes. Flip and cook another 3 minutes. make sure not to overcrowd the pan, or the salmon patties won't get nice and crusty.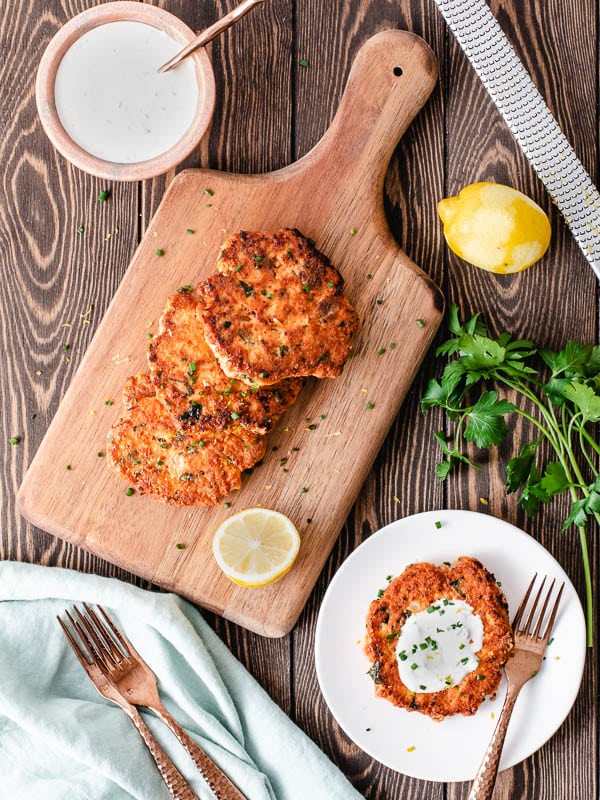 What Is A Good Sauce For Salmon Patties?
I love a good tartar sauce with salmon patties, but my version is dairy free and a little funky. It starts with 1/2 cup each of avocado oil mayonnaise and dairy free almond milk yogurt. I like the tang of the yogurt and the creaminess of the mayonnaise. I would either use Kite Hill plain almond yogurt or Forager plain cashew yogurt, those are my favorites.
Mix the yogurt and mayonnaise together with horseradish, dill relish, lemon zest and juice, and salt & pepper. Check for seasoning, you want the flavor to be on the tart side to cut through the richness of the salmon cakes. Served the salmon patties with the dairy free tartar sauce and enjoy!
How Do You Make Salmon Patties Keto?
To make keto approved salmon patties, just use some fine ground almond flour that's either soaked in water, cream, or unsweetened plain almond milk. The almond flour is the perfect substitution for breadcrumbs, and binds the salmon patties together perfectly. Add enough liquid to 3/4 cup almond flour to make it wet and mushy, allow to sit for 5 minutes so the flour hydrates, then add it to the salmon patty mixture.
Make sure to check out my other salmon and keto recipes: