I have been making pulled pork in the instant pot for quite some time. So many folks over on the FlavCity Instagram and Facebook stories have been asking for the recipe, so now is the time.
All you need for this juicy pulled pork recipe is 4 ingredients, an instant pot, and a little patience. If you don't have an instant pot, the recipe is almost exactly the same, I will break it down each way for you.
How To Make Pulled Pork In The Instant Pot
Start off with a 3.5-4.5 pound pork butt. A boneless pork butt is the perfect cut for making pulled pork, it will fall apart after being cooked under pressure in the instant pot.
Make a spice rub by adding the cumin, smoked paprika, chile powder, and other spices to a small bowl and mix well. Meanwhile, preheat the instant pot to saute high, or preheat a stove-top pressure cooker over medium-high heat.
Season the pork all over with the spice rub and a good dusting of salt. Add 3 tablespoons of avocado oil to the instant pot and add the pork butt. If using a stove-top, follow the same instructions.
Sear on all sides until dark brown and crusty. Add 1 cup of enchilada sauce and enough water to almost cover the pork butt.
Put the lid on the instant pot and pressure cook on high for 1 hour. If using stove-top pressure cooker, cook time begins once pressure has been achieved.
The most important part of this pulled pork recipe is to let the pot rest for at least 1 hour after the cook time is up. You can even let the pork rest in the pot without opening the lid for 3 hours. The pork butt needs time to relax and the muscle fibers will get super soft.
If using an instant pot, you can use the keep warm setting. For stove-top, if the temperature gets to low after you open the pot, just reheat until warm.
Shred the pork, serve with leftover sauce, and enjoy!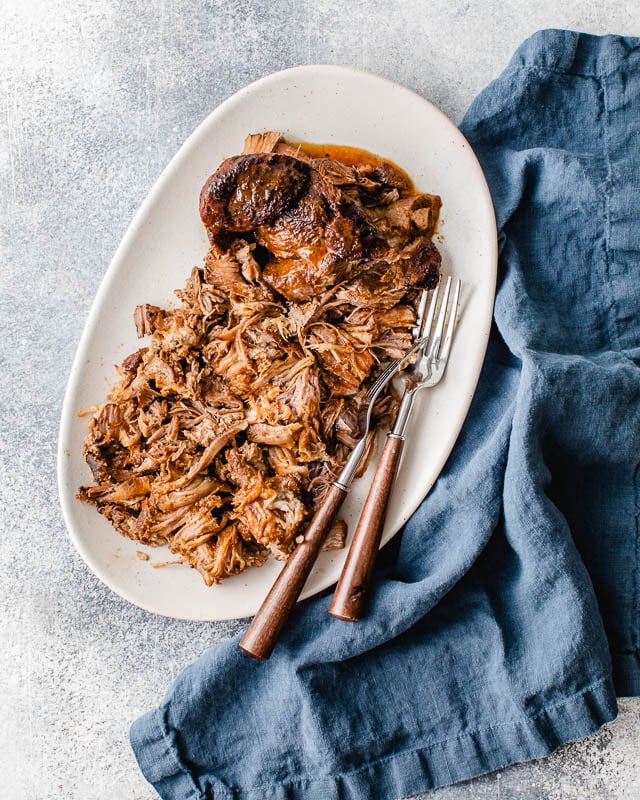 What Cut Of Meat To Use For Pulled Pork?
Boston butt is the ideal cut of meat for making juicy pulled pork. I recommend buying a 3.5-4.5 pound of boneless pork butt and having the butcher cut it in half for you. When you cook a boneless pork butt in the instant pot undert pressure, the collagen and gelatin break down and the meat becomes insanely tender and flavorful.
Check out my other pork recipes: