You guys have been asking for keto recipes for salmon lately, so I came up with a tasty crispy skin low carb meal that only takes 20 minutes to make. Salmon is one of good to weeknight meals because its easy to make and has a nice fat content which makes it the perfect keto recipe if you are following that diet. I have been rocking lots of tasty keto recipe lately and you have been loving it, so make sure to check out these recipe:
Crispy chicken thighs with summer coleslaw
Shrimp burgers with low carb jicama fries
Keto burrito bowl with low carb cauliflower rice
The absolute key to making the best crispy skin salmon recipe is allowing the salmon to sit in the fridge skin side up for at least 30 minutes. This allows the skin to dry out – any moisture on the skin will prevent it from getting nice and crispy. Ideally you want 1 hour in the fridge or up to 4 hours. I have even done overnight and the skin was so dry that it made for a potato chip-like skin when cooked!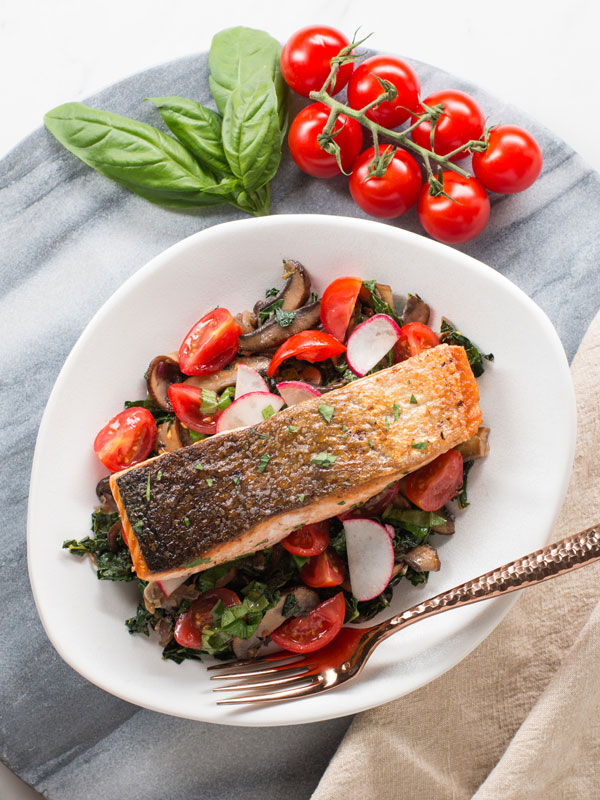 Low Carb Recipes For The Keto Diet
If you follow the keto diet, then you are looking for low carb recipes that have big flavor and allow you to attain ketosis and lose weight. This salmon recipe is high in healthy fats and incorporates low carb veggies like kale, mushrooms, and tomatoes. Imagine making this entire low carb recipe in only 20 minutes which serves two people – absolutely brilliant.
I have been working on the best low carb recipes for you guys, meaning they actually have flavor and creativity unlike lots of the recipes out there. I made this entire meal on my FlavCity YouTube channel in 20 minutes. Check out the macros under the recipe. This is the perfect quick and easy keto recipe for a low carb diet.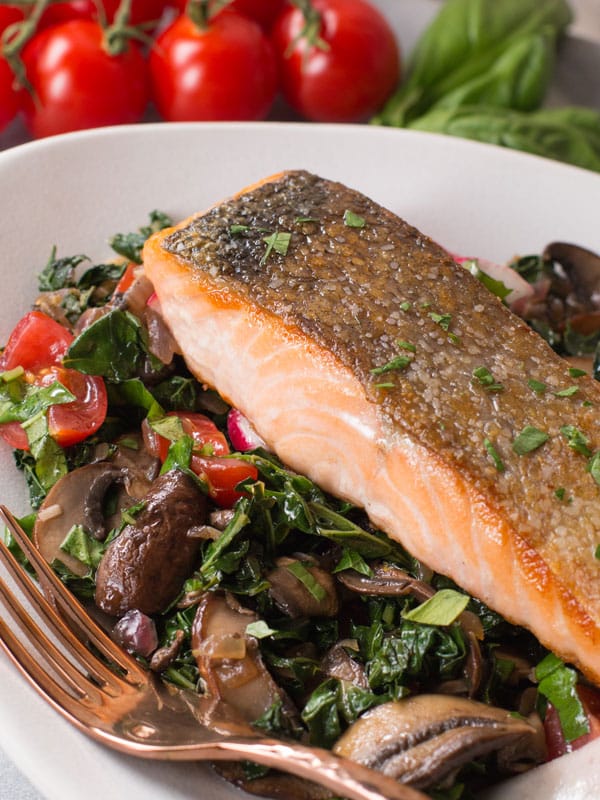 Quick and Easy Salmon Recipes
You have to know what kind of salmon to buy at the store. I usually buy high quality farm-raised salmon from Whole Foods. Farm-raised gets a bad wrap because much of it is done improperly, but when you buy high quality farm-raised Atlantic salmon, its buttery and delish. Because the salmon has a higher fat content, you can make salmon recipes that are juicy and don't dry out.
You need to cook the salmon for this recipe over medium-high heat skin side down for 80% of the cooking process, and then flip and finish cooking on the fleshy side over medium heat. Watch the video to see how I do it. I have two other yummy salmon recipes that you guys should check out. Asian salmon patties with low carb noodle stir fry and salmon lunch meal prep with a roasted cauliflower salmon.