I made this low carb shrimp and cauliflower grits recipe on stories the other week, and so many people were asking for the recipe. I swapped out starchy corn with freshly riced cauliflower, and cooked that in veggie stock and coconut milk, and finished it with cheese and herbs. The result was creamy, full of flavor, and the cauliflower had a texture similar to grits!
The shrimp and covered in a smoked paprika based spice rub and cooked in ghee, so easy and full of flavor. You can make the whole recipe dairy free by swapping the Pecorino Romano cheese for nutritional yeast or vegan cheddar. One the cool things about aged cheeses like Pecorino Romano, is that most of the lactose has been eaten by the bacteria, so most people with dairy issues can eat it!
If you want more keto seafood recipes, check out my juicy salmon patties with dairy free tartar sauce.
How To Make Shrimp And Cauliflower Rice Grits
The key to making low carb cheesy grits is to use freshly grated cauliflower rice. I know it's so much easier to buy the pre-grated one from the store, but they texture is off because they use mostly stalks, and the frozen one is wet and mushy. Start off by cooking some diced onions in a wide pot with a bit of avocado oil, and after 8 minutes, add 4 cloves of minced garlic.
Cauliflower rice has lots of moisture, so I like to cook it with the onions and garlic for good 10 minutes before adding the cooking liquid. You will notice how much moisture gets cooked away, and that's a good thing. Add the coconut milk and vegetable stock and cook for 25 minutes, stirring often. Make sure to check for seasoning after 15 minutes, you will most certainly need more salt.
Finish the cauliflower grits by adding 1/4 cup of freshly grated Pecorino Romano cheese and some fresh parsley. You can use any cheese you like, even vegan cheese or nutritional yeast to make the grits dairy free.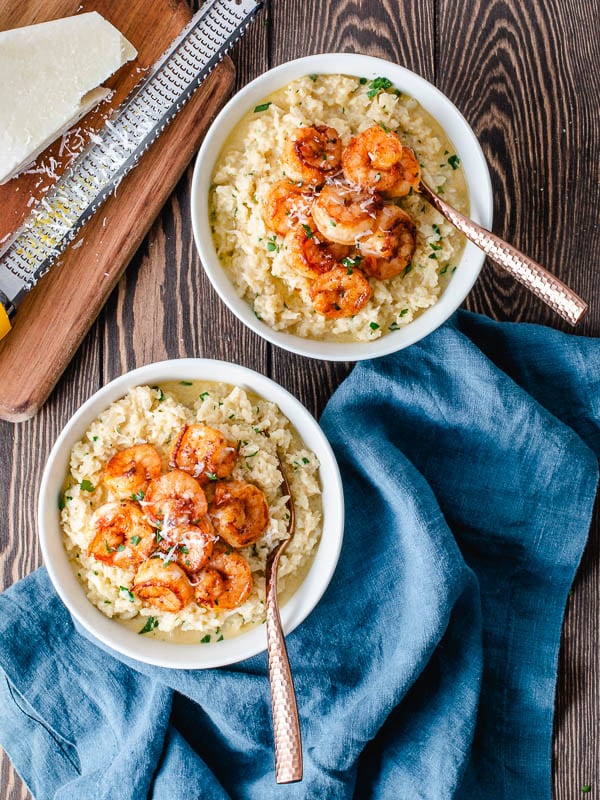 How Do I Cook Juicy Shrimp?
Now that the low carb grits are done, you can make the spice crusted buttery shrimp. The first thing you want to do is make sure the shrimp are dry as can be. Wet shrimp will never get crusty in the pan, so sandwich 1 pound of peeled and cleaned shrimp in-between a few layers of paper towels and pat dry.
Season the shrimp with 2 teaspoons of avocado oil, and 3/4 teaspoon each of smoked paprika, onion powder, and garlic powder. Hold off on adding any salt until right before the shrimp go in the pan, as salt draws out moisture and will make the shrimp wet. The key to making the best shrimp of your life is a smoking hot cast iron pan.
Make sure the pan is preheated just above medium-high heat with 3 tablespoons of ghee, and once the ghee is smoking add half of the shrimp to the pan. Never add too many shrimp otherwise you will overcrowd the pan and they won't get crusty. Cook for 2-3 minutes, until deep golden and crusty, flip and cook another 1 minute ten remove from the pan.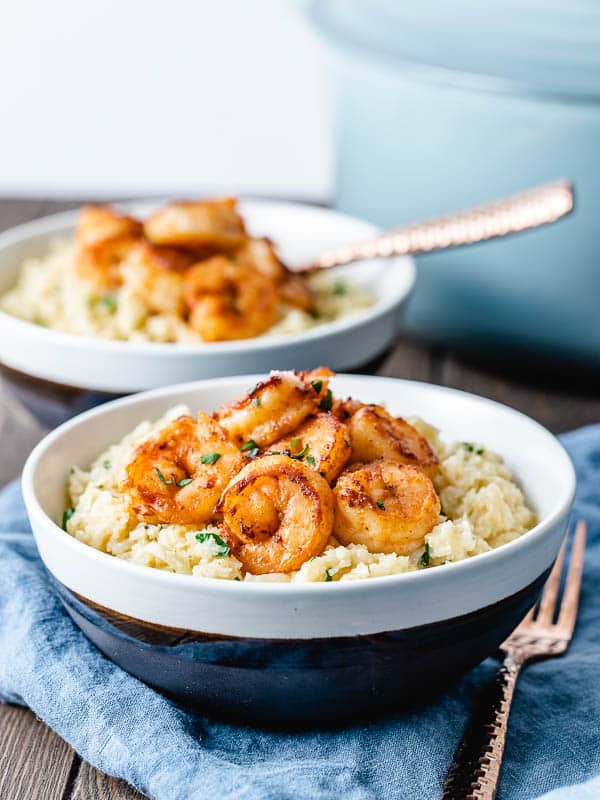 How Long Will Shrimp Keep In The Fridge?
Cooked shrimp will only last for 3 days in the fridge, I advise against freezing them because the texture becomes rubbery. Fresh shrimp can be stored in the fridge for 2 days before cooking them, or you can freeze for 3 months. It's best to defrost the shrimp overnight in the fridge as opposed to running cold water over them, as that makes the shrimp watery.
The cauliflower grits will last for 5 days in the fridge, or can be frozen for 3 months if desired.
Make sure to check out some more keto and seafood recipes: