If you are looking for the best way to make sweet potatoes, you just found it! This sweet potato mash recipe is everything you want and more. The mash is light and airy, seasoned perfectly, and tickles the taste buds with all your favorite fall spices like cinnamon, nutmeg, and maple syrup.
As if that does not sound good enough, the sweet potato mash is topped with toasted pecans for a bit of crunch. Once you try this recipe, it will earn a spot on your holiday table and your family will love it.
If you want to pair this mashed sweet potatoes with a meal, try pairing it with spice crusted pork chops and funky kale salad.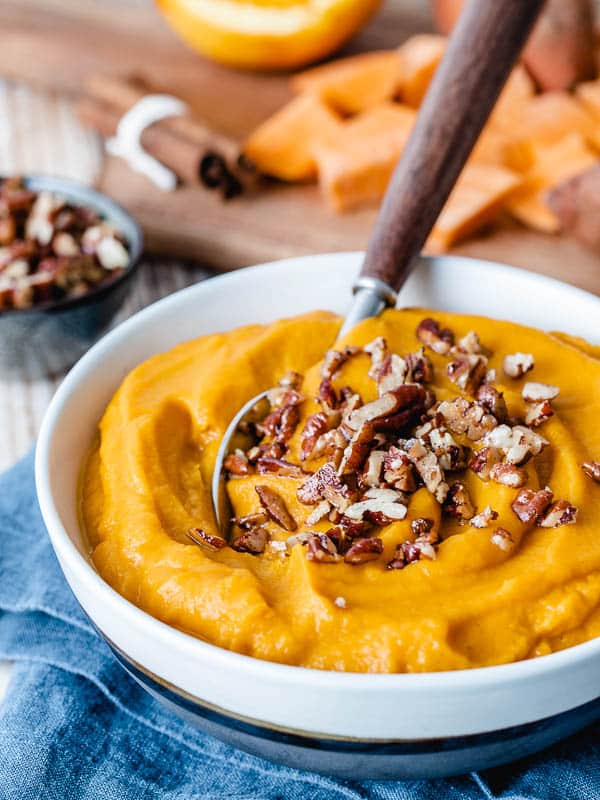 How To Make Mashed Sweet Potatoes
The key to making creamy mashed sweet potatoes is not to boil them too long, otherwise they get watery and mushy. Start by adding some salt to a medium size pot of boiling water and add the peeled and cubed sweet potatoes. Only cook them for 7-10 minutes, until they are fork tender, meaning they still have a touch of resistance and are not completely soft.
Drain the sweet potatoes but make sure to save 1 cup of the cooking liquid in case you need to thin out the mash later on. Add the hot potatoes to a blender along with grass-fed ghee or butter, maple syrup, orange zest and juice, vanilla bean paste, spices, and salt. The combination of savory spices with dessert flavors is pure magic!
Blend on high and use a plunger attachment if you have it. The blender will whip lots of air into the sweet potato mash and make the texture light and silky. If the mash is too thick, and a splash of the reserved cooking water. Check for seasoning, you will most certainly need more salt and perhaps more maple syrup.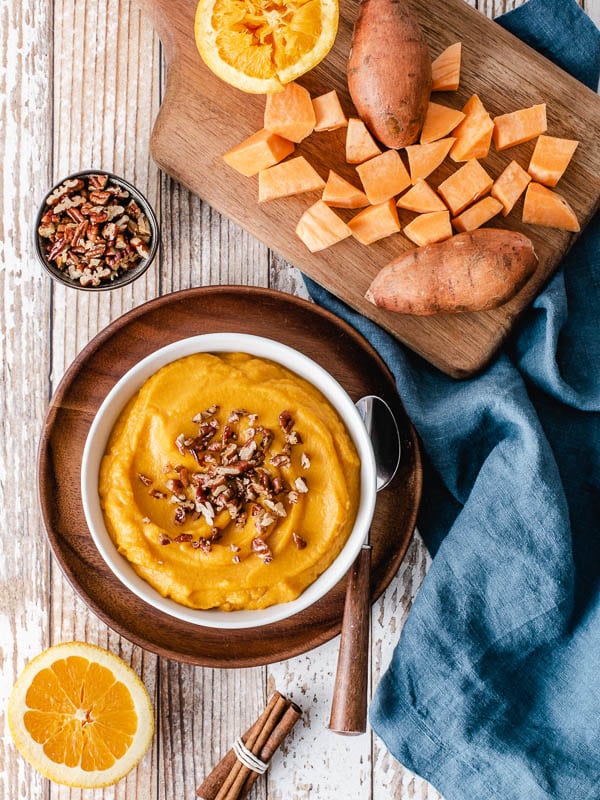 Can Sweet Potato Mash Be Frozen?
The best thing about making a mash is that it can be frozen and it won't affect the texture one bit. Store sweet potato mash in an air tight container in the freezer for 3 months, or in the fridge for 5 days.
Do I Need A Blender To Make Mashed Sweet Potatoes?
If you don't have a blender, you can use a hand mixer or even a potato masher to make sweet potato mash. The goal is to whip as much air into the sweet potatoes to make them silky and smooth.
Make sure to check out my other sweet potato and fall recipes: