I am always trying to hit you guys up with healthy meal prep recipes that actually have flavor unlike some other blogs. 😉 So I dialed the flavor up to 11 for this keto chicken thigh recipe that is spice crusty and crispy as can be. You may be asking yourself: how the heck can boneless chicken thighs be crispy? That's because I asked the butcher to take the bone out but leave the skin on. 😉
Many people don't realize that when you buy chicken thighs, you can ask the butcher (you know the person who stands behind the meat counter at the grocery store) to take the bone out for you, which leaves that luscious skin still on the chicken thighs for them to all crispy crisp when you cook them in a hot cast iron pan. Just make sure to save the bones from the butcher as it will make a yummy chicken stock down the road. One of my most popular keto chicken recipes with thighs is my Moroccan chicken stew with low carb golden cauliflower rice. You must check that one out!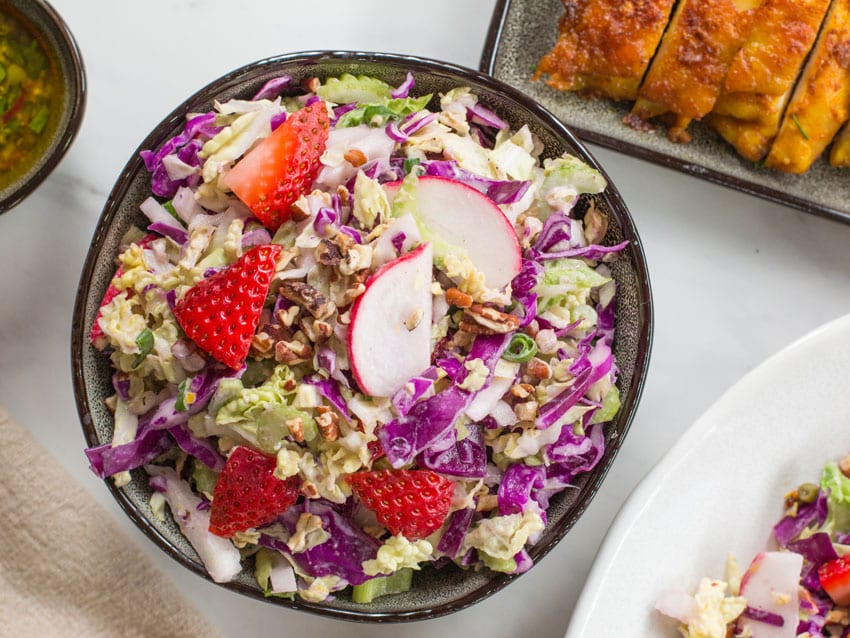 The easiest coleslaw recipe ever
Start off your homemade coleslaw by thinking outside the box, or should I say the bag. If you buy those premade coleslaw bags at the grocery store, you are already losing! Those are overpriced, dry, and been sitting on the shelf for a long time. The key to making an easy and tasty coleslaw recipe is to buy two kinds of cabbage like red and napa, and finely slice it yourself.
I have made coleslaw dressing recipes in the past that have a mayo base, but this time I made the dressing with tahini. It is nutty, earthy, and nice if you want to mix it up and try something new. If you want to try my traditional coleslaw recipe with a mayo dressing, definitely check out this chicken meal prep with potato pancakes and red cabbage crunch slaw. So yummy.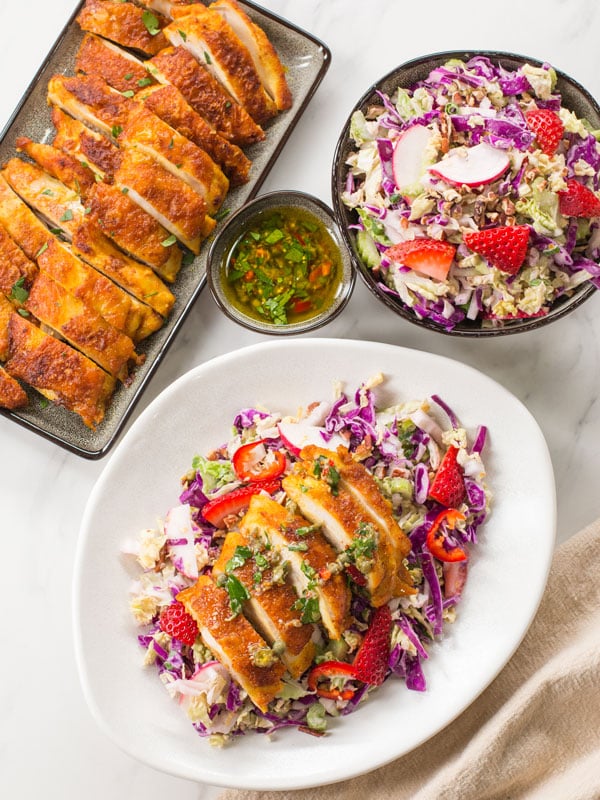 Salsa Verde Recipe
I made up this funky little salsa verde recipe to top the chicken with – and oh my is it yummy! It's not a traditional salsa, you can't dip chips into it, and it's not a Mexican salsa. This salsa verde is American in style and based in extra virgin olive oil. It can be spooned over almost any protein, from hot chicken, to steak, to pork chops, to fish. It's so zesty, herby, and packed with flavor that the salsa verde recipe just makes the flavor of the cooked chicken sing!
I get my extra virgin olive oil for this salsa verde recipe from the oil club. They deliver the best extra virgins from around the world every quarter, and the flavor is dynamite! Make sure to use my promo link to try one bottle for just $1, no strings attached. 😉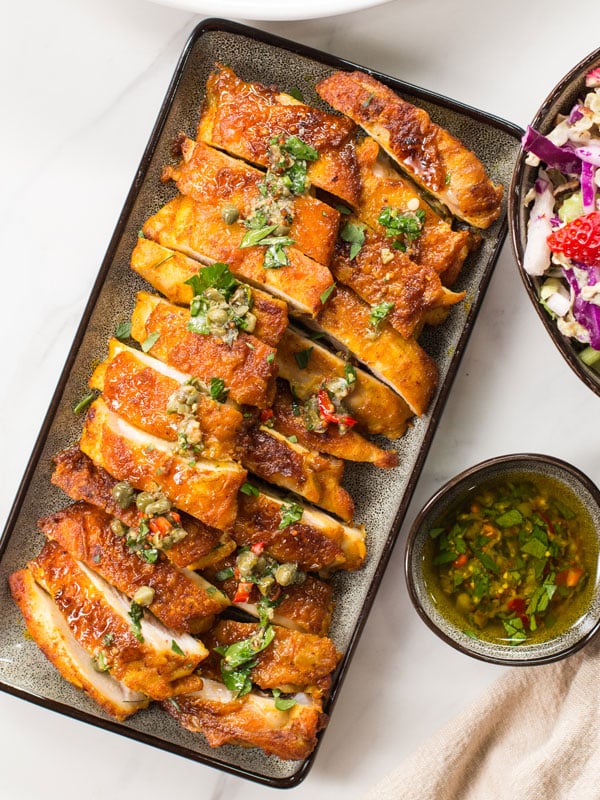 Keto Chicken Recipes
My website is full of some of the most tasty keto chicken recipes online, including full video tutorials from the FlavCity YouTube channel. Enough bland chicken recipes that are dry and overcooked. This keto chicken recipe using juicy thighs is perfectly cooked, spice crusted with smoked paprika and turmeric, and has the epic crispy skin that will make you swoon.
Make sure to check out my other keto chicken recipes with full video tutorials. I am sure you will love them:
Keto lunch meal prep with chicken thighs and roasted cauliflower & broccoli salad
Keto buttery chicken with creamed spinach
Whole grilled lemon herb chicken