Here's a keto recipe from the new cookbook that is perfect for summer. These pulled pork sandwiches are life, and the fact that the recipe is low carb and sugar free is gangbusters! Start off with some cubed pork shoulder, dust over my smoky coffee spice rub, cook in the instant pot with my sugar free BBQ sauce, and use my keto Red Lobster cheddar biscuits as the bun.
Make sure to also check out my sugar free ketchup and avocado oil mayonnaise recipes, which are perfect for the summer.
How To Make Low Carb Pulled Pork Sandwiches
First off, have the butcher at the grocery store cube just over 3 pounds of pork shoulder. It will ave you time if they do it for you. The key to making this taste like your favorite BBQ joint is using my smoky coffee spice rub with a bit of keto brown sugar.
Mix together the smoked paprika, cumin, cinnamon, and other spices then cover the pork shoulder wit the spice rub and a generous amount of salt. Sear the pork in a hot instant pot until crusty on all sides, you will need to do this in 3 batches. You can also use a large dutch oven for this pulled pork recipe.
After the pork is well browned, add some beef stock, sugar free BBQ sauce, apple cider vinegar, and hot sauce. Pressure cook on high for 45 minutes, followed by a 10 minute no pressure release.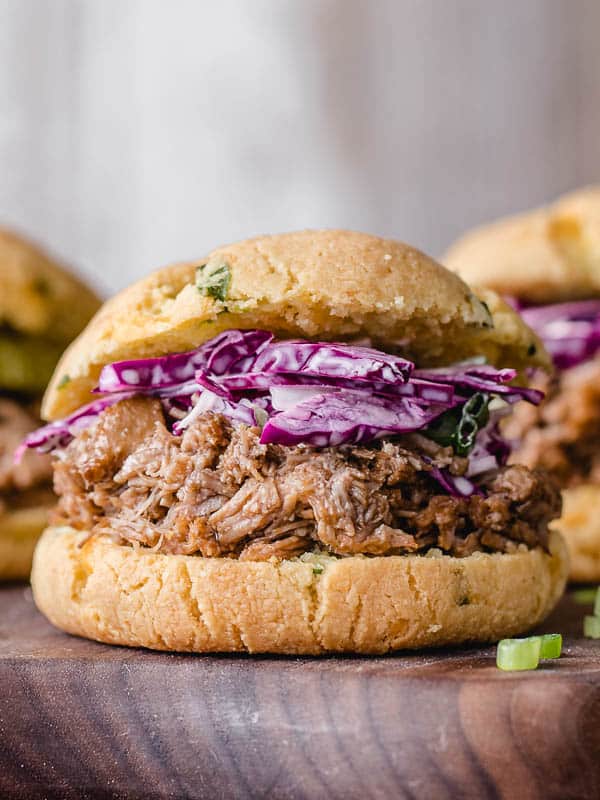 How Can I Make Keto BBQ Pulled Pork?
To make sugar free keto BBQ pulled pork, you will need a few things. First you need to make a sugar free BBQ sauce. My recipe is so good that many people say it's better than any sugar laden sauce they have ever tried. The flavors are smoky, sweet, tangy, and spicy. The sauce will last in the fridge for 3 weeks, so you may wanna make a triple batch for the summer.
You will need to replace the brow sugar normally used in BBQ recipes with sugar free brown sugar substitute. This one from Sukrin is my favorite, it's soft and pack-able like the real thing. Once you make the sugar free sauce, then you need a keto approved bun for the pulled pork sandwiches. Luckily my low carb cheddar bay biscuits are a fan favorite and make the perfect bun.
How Do I Make Pulled Pork In A Pot?
If you don't have a instant pot, you ca still make this pulled pork recipe on a heavy bottom dutch oven. Follow the exact instructions in the recipe below, and cook for 2-2.5 hours over low heat with the lid on the pot. Alternatively, you could place the pot in a 325F oven, this will result in more even cooking than doing it on the stove-top. Stir the pork every 40 minutes, until fork tender.
How Do I Store Pulled Pork?
Cooked pulled pork can be kept in the fridge for 5 days or frozen for 3 months. It's best to thaw before reheating, and heat in a pan with a bit of BBQ sauce to keep it moist. You can also season the pork shoulder with the coffee spice rub and marinate in the fridge overnight, make sure to omit the salt until right before cooking.
Make sure to check out my other keto summer recipes: